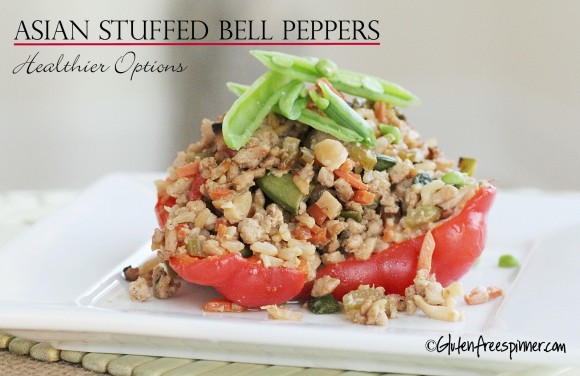 Asian Stuffed Bell Peppers
A delicious healthier option for the holidays.  It even looks like Christmas doesn't it?  These are a wonderful choice for a holiday gathering keeping things light and flavorful.  You could even cut the bell peppers in quarters and serve as a holiday appetizer at your next party.  They won't last long and will be a welcomed change at the appetizer table.
The generous folks at San-J sent me a package of 3 gluten free sauces, Szechuan, Teriyaki, and Orange Sauce and I could hardly wait to get cooking.
Have you visited the San-J site?  You may be surprised at how many gluten free products are available, many of which are a staple in my home like the Teriyaki and Tamari.  They also have recipes you'll want to try like the Cranberry Orange Baked Brie Appetizer.  A festive holiday classic.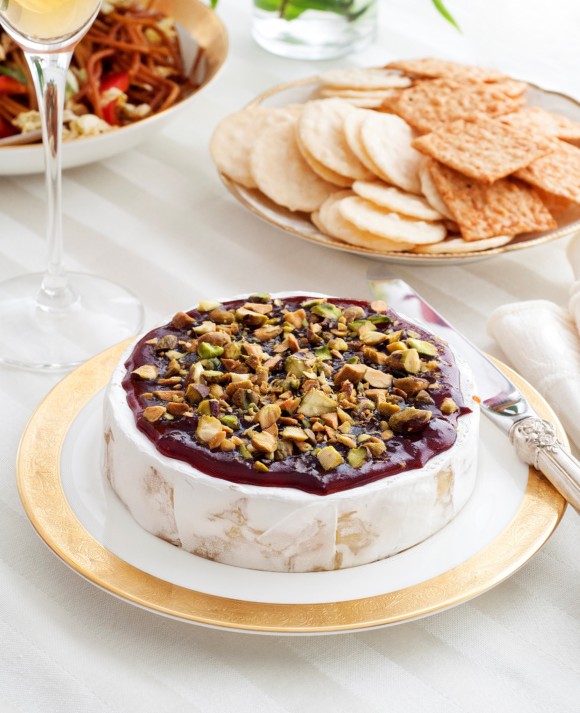 I've used San-J products for years, and in my opinion they are some of the best.  Creating this recipe for Asian Stuffed Bell Peppers was a welcomed addition to my posting schedule knowing the sauces are consistently flavorful and easy to use.  And who isn't looking for healthier options, especially this time of year?
My Asian Bell Peppers are light, flavorful, easy to assemble, and offer a beautiful presentation.  The ingredient list looks long and there is some chopping, but it really is easy.  There is one very surprising ingredient which isn't traditional in Asian cooking, white cheddar.  I know, it sounds strange but it adds a nice creaminess and flavor to the Asian aromatics….trust me, it's a wonderful addition.  Mr. Spinner and I had these for dinner and again for lunch the following day.  They were equally great both times.
Enjoy the holidays and try a few of the flavorful sauces from San-J, they're sure to become staples in your home as well.
Asian Stuffed Bell Peppers
Ingredients:
5 Red Bell Peppers (Rinse and cut 4 of the peppers in half, seeds removed.  Place cut side up in glass baking dish and add 1/4 cup water to bottom of dish.  Microwave 2 minutes to make them tender.  Drain water from dish and set aside.  (Drain any from inside the peppers too)  Reserve the 5th pepper for the stuffing.
1.25 lbs ground turkey breast (1 lb is fine too)
2 Tbsp olive oil
1 Tbsp Grill seasoning
1 Tbsp minced ginger
2 stalks celery, small dice
1/4 cup chopped onion
1/2 cup chopped red bell pepper
1/2 cup chopped carrot Matchstix (or cut carrots very thin and small dice)
1/4 cup chopped green onions
1/2 cup chopped pea pods
1/4 cup chopped cashews
3 Tbsp San-J Orange Sauce
2 Tbsp Tamari
1 Tbsp Szechuan Sauce
1/2 tsp sesame oil
1 tsp toasted sesame seeds
1/2 cup finely shredded good quality white cheddar cheese (Cabot)
An extra drizzle of Orange sauce for top
Directions:
Preheat oven to 350 degrees.
Add the olive oil to a large skillet over medium-high heat and brown the turkey breast, breaking it up into small pieces and adding the grill seasoning as it browns.  Add the garlic and ginger and cook 2-3 minutes.  Add the remaining ingredients EXCEPT  for the cheese and toss well to combine all.  Lastly, add the finely grated cheddar cheese and toss into the stuffing.
Stuff the peppers – full – and drizzle a little of the Orange Sauce over each one.  Bake, uncovered in preheated 350 degree oven for 18-24 minutes.  Allow to cool for 5 minutes and serve with garnishes of sliced pea pods.