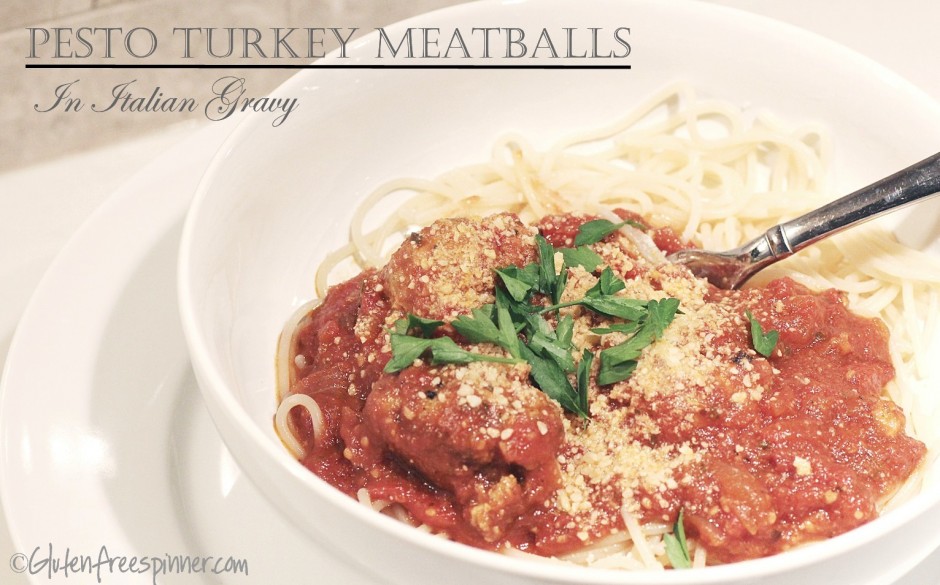 Pesto Turkey Meatballs in Italian Gravy
Italian gravy you ask?  But this isn't gravy, it's a sauce.
So goes the debate.  Typically, to be referred to as 'gravy', the sauce must be slow cooked in the pan drippings from which meat has been cooked.  Yes, this is a gravy.  Italian Gravy.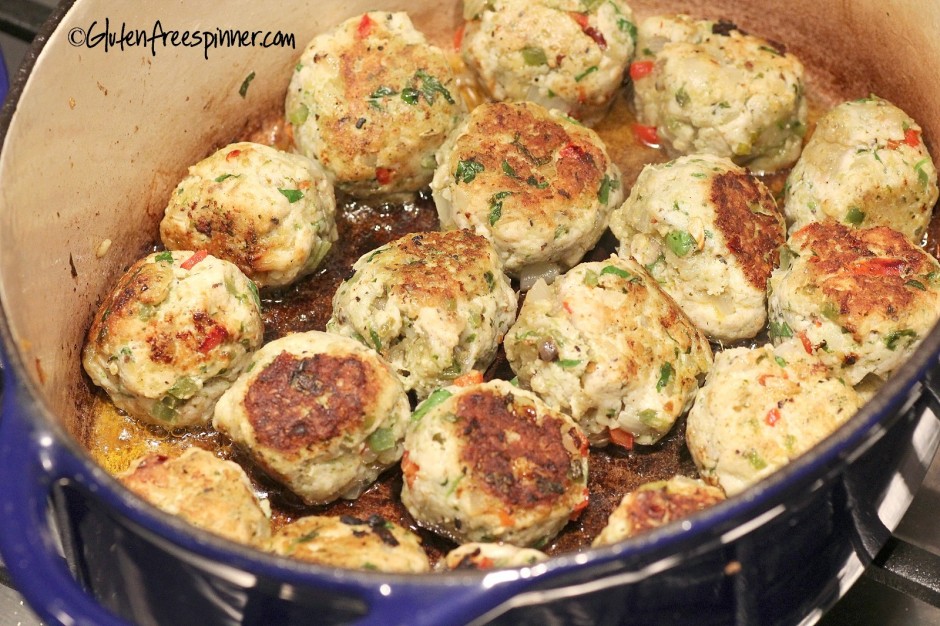 These turkey meatballs are packed with flavor starting with fresh ground turkey breast, sauteed red and green bell peppers, onions, garlic, fennel, Parmesan, and the secret key ingredient, Pesto.  I then rolled them into 18 ginormous balls and browned them on all sides giving a nice outer crust.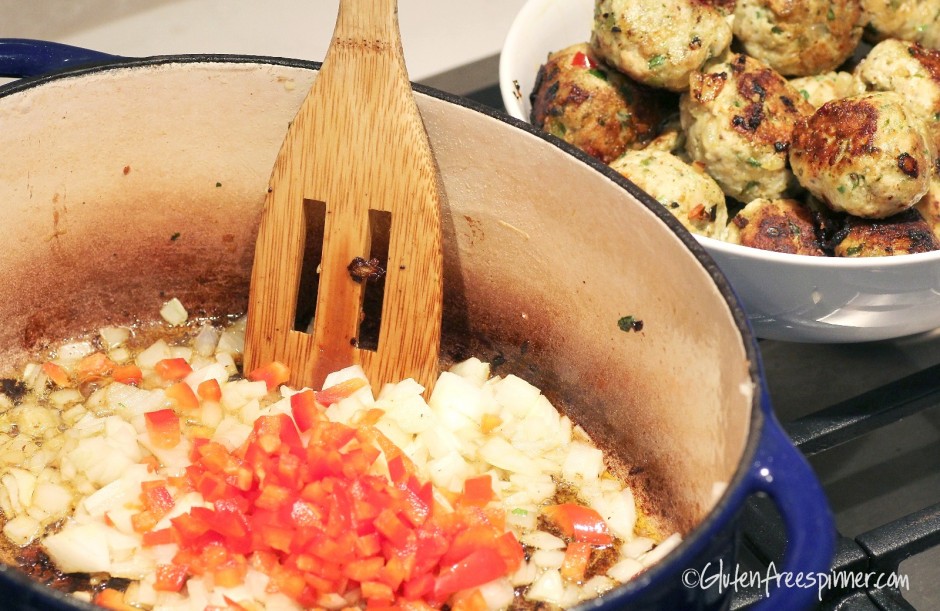 I removed them from the pan and set aside even though not all the way cooked through as they will continue to cook in the gravy.  I then sauteed the peppers, onions, and garlic in the pan drippings…..this creates the beautiful flavor.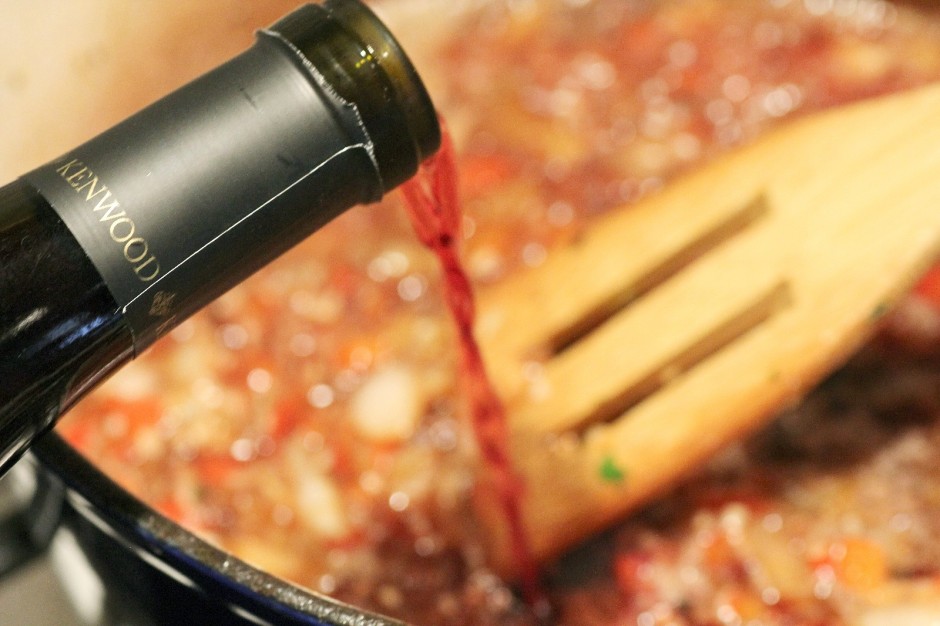 Once the veggies are tender I deglaze the pan with red wine and scrape all the yummy bits of flavor creating the base of the sauce…whoops, I mean gravy.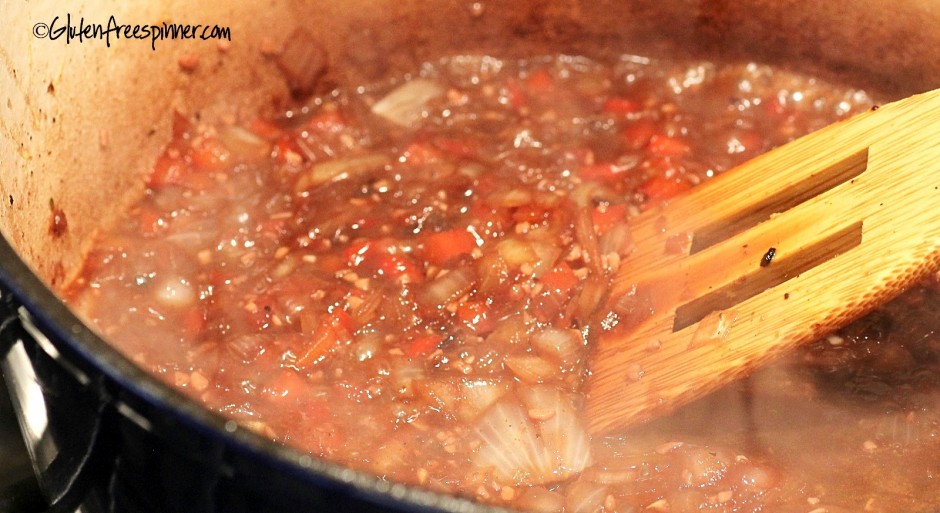 Simmer a few minutes to allow the alcohol to evaporate.  Then add the beef bouillon, 2 kinds of crushed tomatoes, a jar of prepared sauce, and yes……..more pesto.   The garlic, basil, and Parmesan in the pesto add incredible depth to the sauce.  A tip for the bouillon:  if you haven't tried "Better than Bouillon" yet, you must purchase a jar and experience the difference.  It's by far the best I've had adding terrificly balanced flavors and it comes in 11 varieties.  Be sure to read all labels for gluten free, I have used the chicken, beef, and turkey with success.  They have a FAQs page that is helpful for any questions.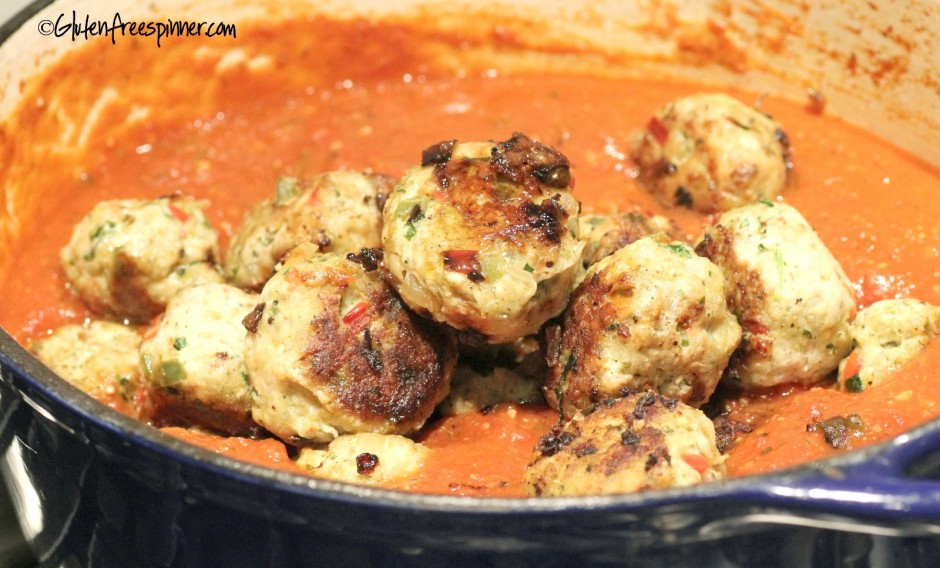 When the sauce is complete, add the meatballs back-in, gently stir, cover, and allow to simmer for 1 1/2-2 hours on very low.  The flavors will meld into a thick, rich, flavorful gravy.  Serve over a good quality gluten free spaghetti noodle, I prefer Schar brand as they are firm, white, hold up to the sauce, and even delicious the following day.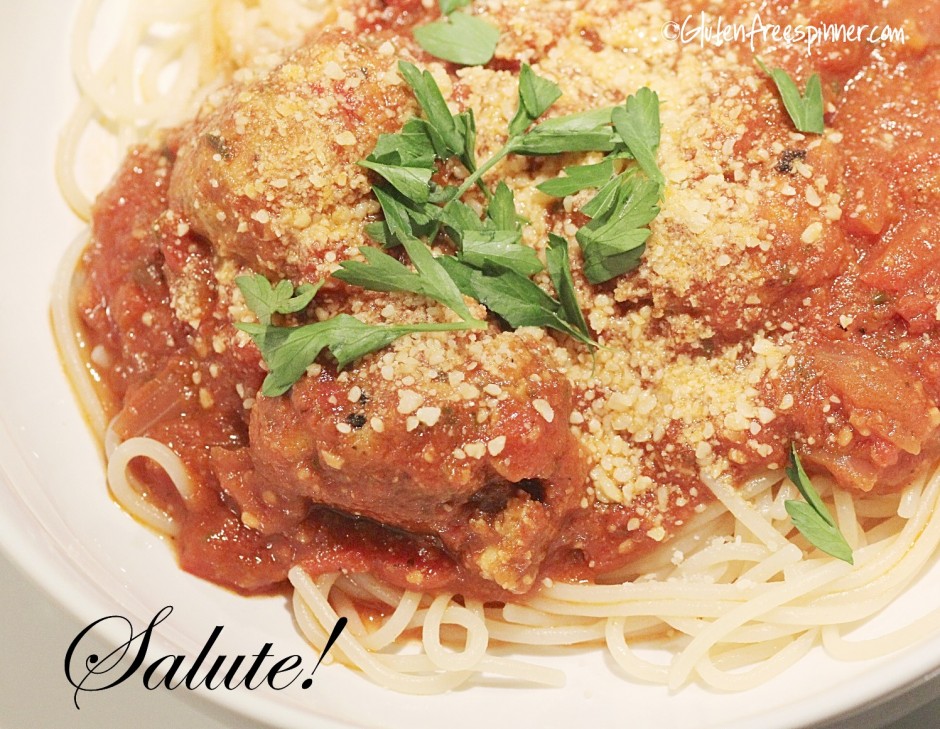 Serve with a simple side salad and a glass of red wine.
Pesto Turkey Meatballs in Italian Gravy
Ingredients:  (I've separated the meatballs and the gravy in steps)
Meatballs:
1 Tbsp olive oil and 1 Tbsp butter
1.25 lbs ground turkey breast (prefer Jenny-o)
1 cup each – chopped green and red bell pepper, divide each into 1/2 cup portions (meatballs and sauce)
1 cup chopped onion, divided into 1/2 cup portions
1 Tbsp minced garlic
1 1/2 tsp Italian seasoning
1 tsp fennel seeds, crushed
1 Tbsp grill seasoning (prefer McCormicks)
1/2 cup GF dry breadcrumbs
1 egg
1/3 cup grated Parmesan
1/4 cup good prepared GF pesto
2-3 Tbsp olive oil
Prepare Meatballs:
In a large cast iron dutch oven, add the 1 Tbsp olive oil and 1 Tbsp butter and over medium heat saute'  1/2 cup red, 1/2 cup green bell pepper and 1/2 cup chopped onion.  When they start to become tender, about 3-4 minutes, add the garlic, Italian seasoning, and crushed fennel seeds.  Saute for 1 minute and remove from pan to a large glass bowl.  Turn off heat and set pan aside.
Let the vegetable mixture cool a bit then add all remaining meatball ingredients into the bowl, including the olive oil (turkey breast needs the extra moisture and this amount has proved perfectly balanced with the pesto to create a very moist meatball).  With your clean hands, combine the turkey with the ingredients until well blended.  Form the mixture into 18 – 1  1/2″ balls, being sure to press tightly as you form.
Return the dutch oven to the burner and heat on medium high, adding a little olive oil  to bottom if needed.  Once hot, add the meatballs – gently, one at a time so as not to break – and cook all at once for at least 3 minutes before attempting to turn.  Gently turn them to cook the other side for another 3-4 minutes.  Roll them around a bit in the pan to ensure all were nicely browned.  Remove from pan to a large bowl (separate from the raw bowl used previously) and set aside.
Gravy Ingredients:
Remaining 1/2 cup red and 1/2 cup green bell peppers
Remaining 1/2 cup chopped onion
2 Tbsp minced garlic
1/2 cup dry red wine (I used Kenwood Pinot Noir)
1 tsp Better Than Bouillon beef base
1 – 28 oz can crushed tomatoes with basil
1- 14.5 oz can fire roasted crushed tomatoes
1 – 24 oz jar your favorite GF spaghetti sauce (or tomato sauce – just be sure to season to your preference)
1/4 cup prepared GF pesto
2 Tbsp sugar
2 Tbsp grated Parmesan
2″ Parmesan rind (if you don't have you can skip, but it makes a world of difference.  You can buy inexpensive parm and cut the rind for this.  Then shred the parm for later use.)
1 – 12 oz pkg Schar GF Spaghetti noodles (or your favorite brand) cooked to package directions
Prepare Gravy (sauce):
In the same dutch oven used for the meatballs, return to medium high heat and saute the peppers and onions until tender.  Add the garlic and saute another minute.  Add the wine and deglaze the pan scraping the drippings from the bottom and sides and simmer for for about 2-3 minutes to allow alcohol to evaporate.
Add the remaining gravy ingredients and stir well to combine.  The pesto and meatball drippings add terrific flavor, but taste for seasoning to your preference.  Remember the Parmesan rind and meatballs will add flavor while it simmers so don't over season.
Add the meatballs back, gently stirring and submerging them into the gravy.  Cover and simmer on lowest setting for 1 1/2 to 2 hours, stirring occasionally.
Serve over prepared GF spaghetti noodles with a side salad and remaining red wine.
Salute!!