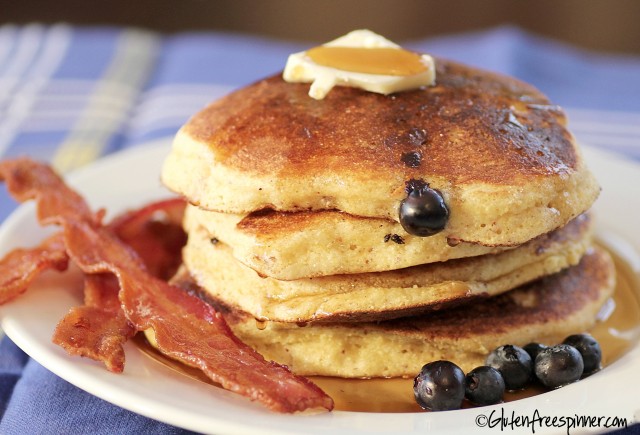 Blueberry Cornmeal Pancakes
In honor of Veterans Day I share my Blueberry Cornmeal Pancake Recipe
But most importantly
I share a very special man, my stepfather, Walter Patrek…an honored veteran.
Pat was the Nose Gunner on the B-24 Liberator in WWII
The Thirteenth Air Force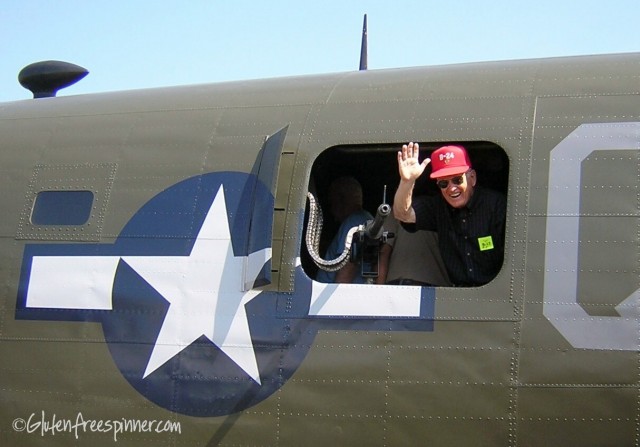 Thirteen has always been his lucky number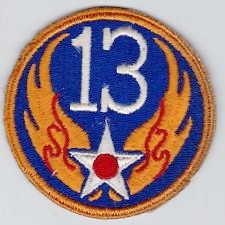 My Moms' birthday is on the 13th.
Their address just happens to be 313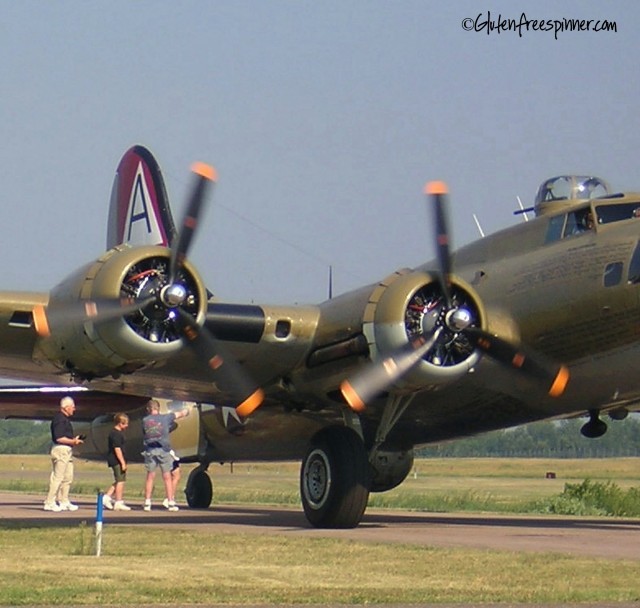 For Pat's 80th birthday we went to see the B-24 Liberator and he was able to take a memorable flight.
Imagine the feeling…after all these years….it was breathtaking to watch the plane take off, we stood in awe.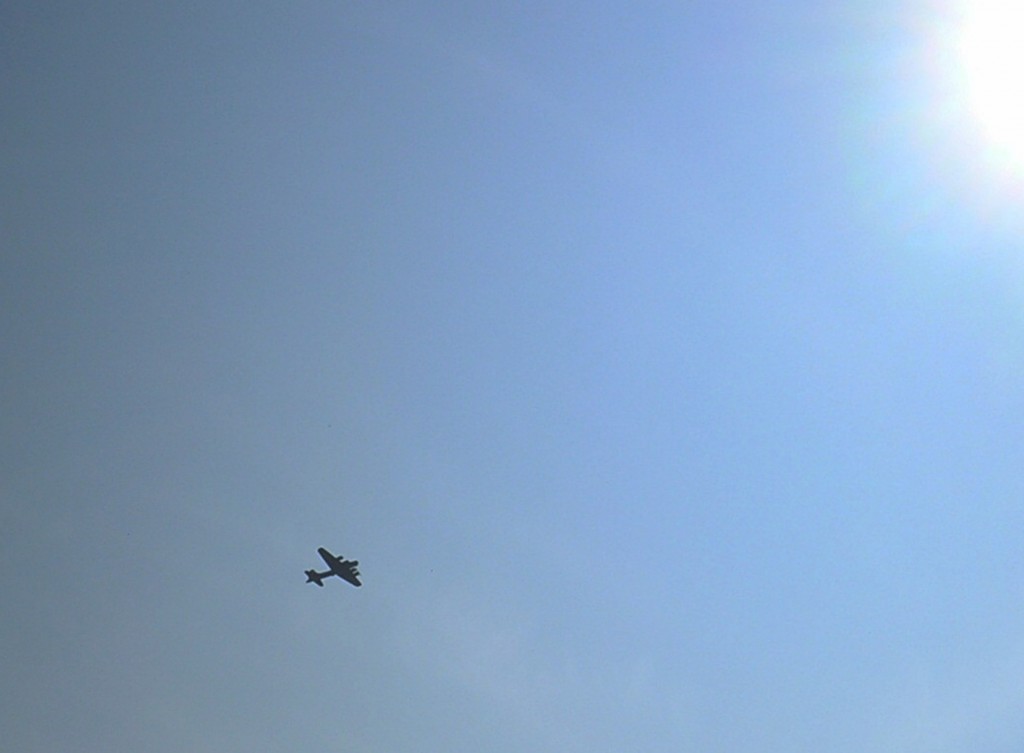 There wasn't a cloud in the sky that day…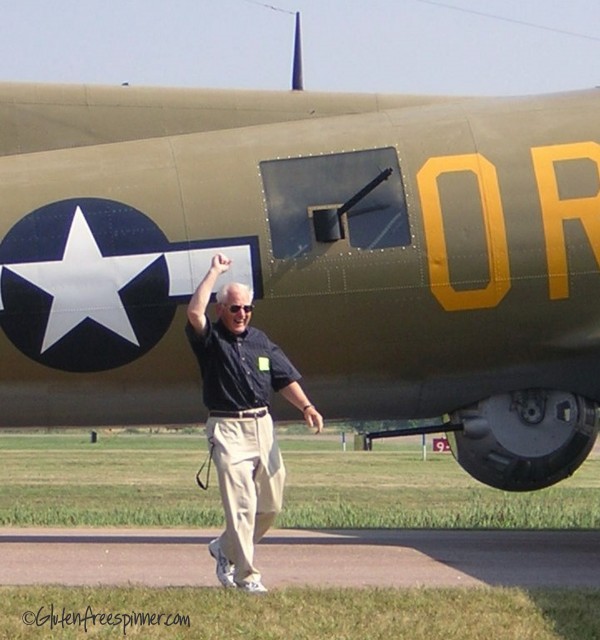 Victory!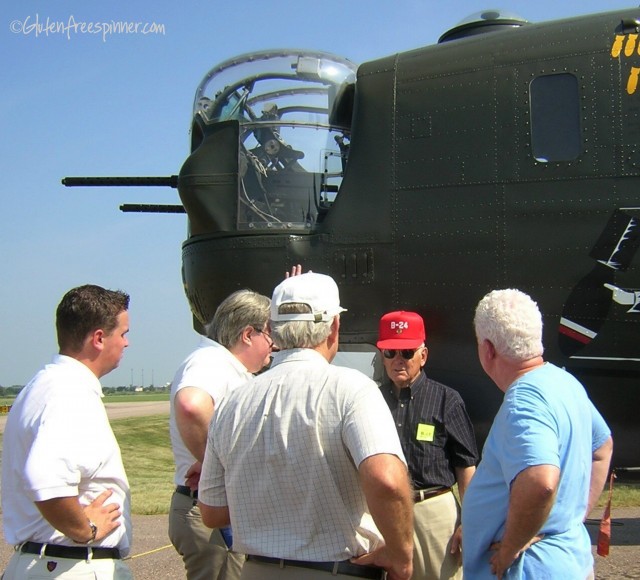 People stopped to hear his story….
Look at the seat at the very nose of the plane, that's where the Nose Gunner sits.
I can't even begin to imagine…I don't think any of us can.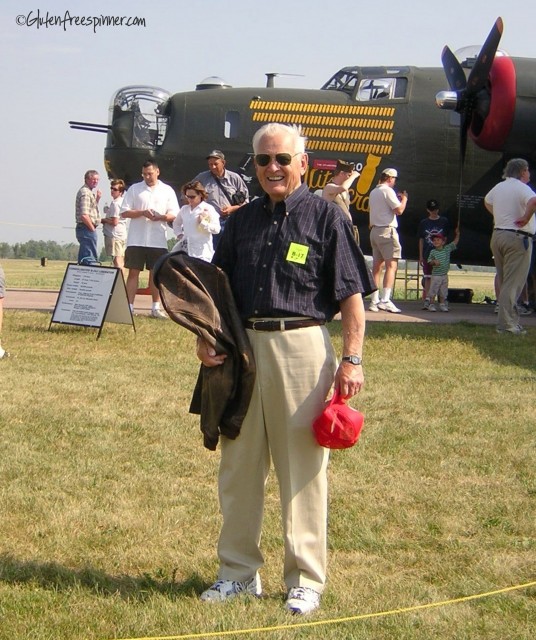 He's pretty amazing…He's a Hero
As a Veteran
And as a Stepfather.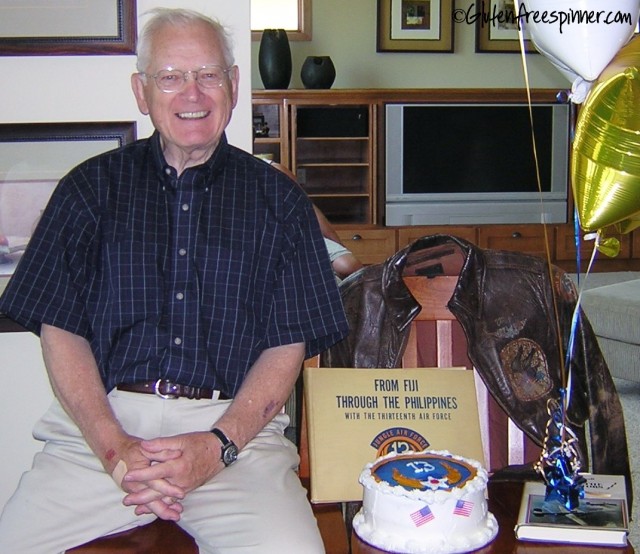 Honor Our Veterans Today…and Every Day.
Take a moment to thank them for our Freedom.
Thank you, Pat…for Serving Our Country.
And thank you for being a very special man in my life, we are so lucky.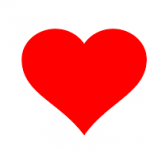 Gluten Free Spinner's Blueberry Cornmeal Pancakes
Ingredients:
2/3 cup Pamela's Baking Mix
2/3 cup fine stone-ground cornmeal
1/4 cup sugar
1/2 tsp baking powder
1/2 tsp baking soda
1/4 tsp guar gum or Xanthan gum
1/2 tsp salt
1 cup buttermilk
1 tsp vanilla
1 large egg
1 egg white
1 cup blueberries
2 Tbsp vegetable oil
Softened butter and 100% pure maple syrup, for serving
Directions
In a medium bowl, whisk together the flour, cornmeal, sugar, baking powder, baking soda and salt. In a small bowl, whisk the buttermilk and vanilla with the 1 whole egg.  Add the buttermilk mixture to the dry ingredients and stir gently with a wooden spoon until evenly moistened.  In another separate bowl, beat the egg white until soft peaks form and fold into batter.
Heat a large non-stick skillet. Add 1 tablespoon of the oil, and when it is hot, spoon 1/4 cup of the batter into the skillet for each pancake. Drop blueberries onto each pancake and cook over moderate heat until browned on the bottom and bubbles appear on the surface, about 3 minutes. Flip and cook until browned on the second side, about 2 minutes longer. Keep the pancakes warm in a low oven while you continue with the remaining oil and batter. Serve the pancakes with butter and 100 %  pure maple syrup.