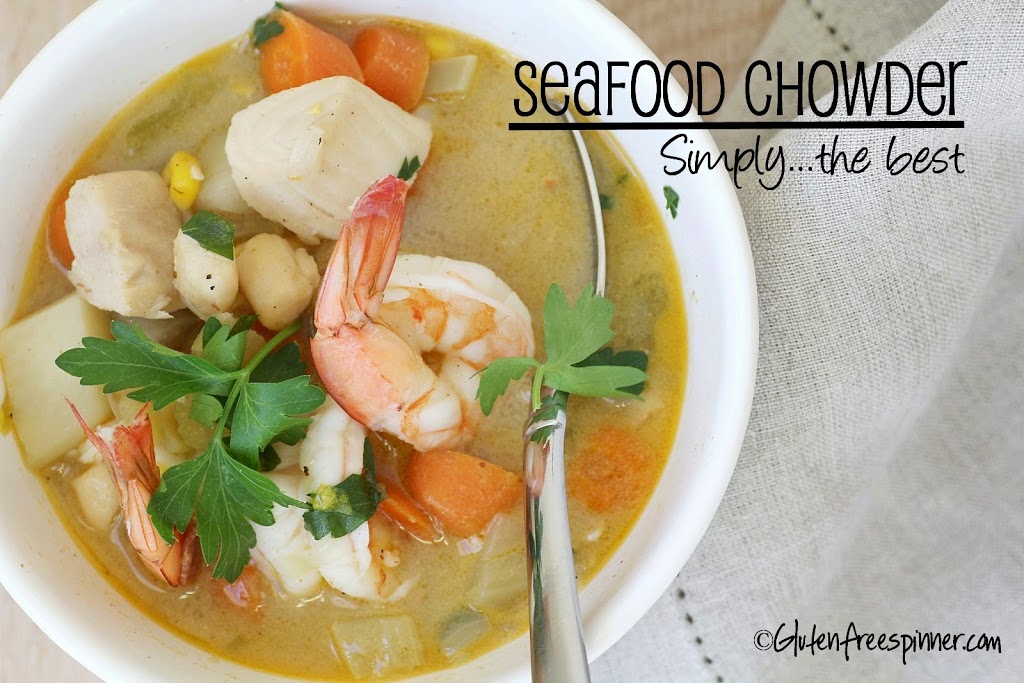 Seafood Chowder
A cool evening at the cabin with friends inspired this golden bowl full of love.  We started with happy hour around the bonfire sharing stories of the Summer gone by and the chores at hand to prepare for the cold winter ahead.
Cabin life as we've come to know it…simple, casual, family, friends, nature, quiet, calm.
It brings thought and contemplation.
It's precious and cherished.
Mr. Spinner adds another log to the crackling fire as my friend and I head inside to start dinner. 
"Into the Mystic" plays in the background as Van sings "I wanna rock your gypsy soul…." my heart is full, I love this time of day.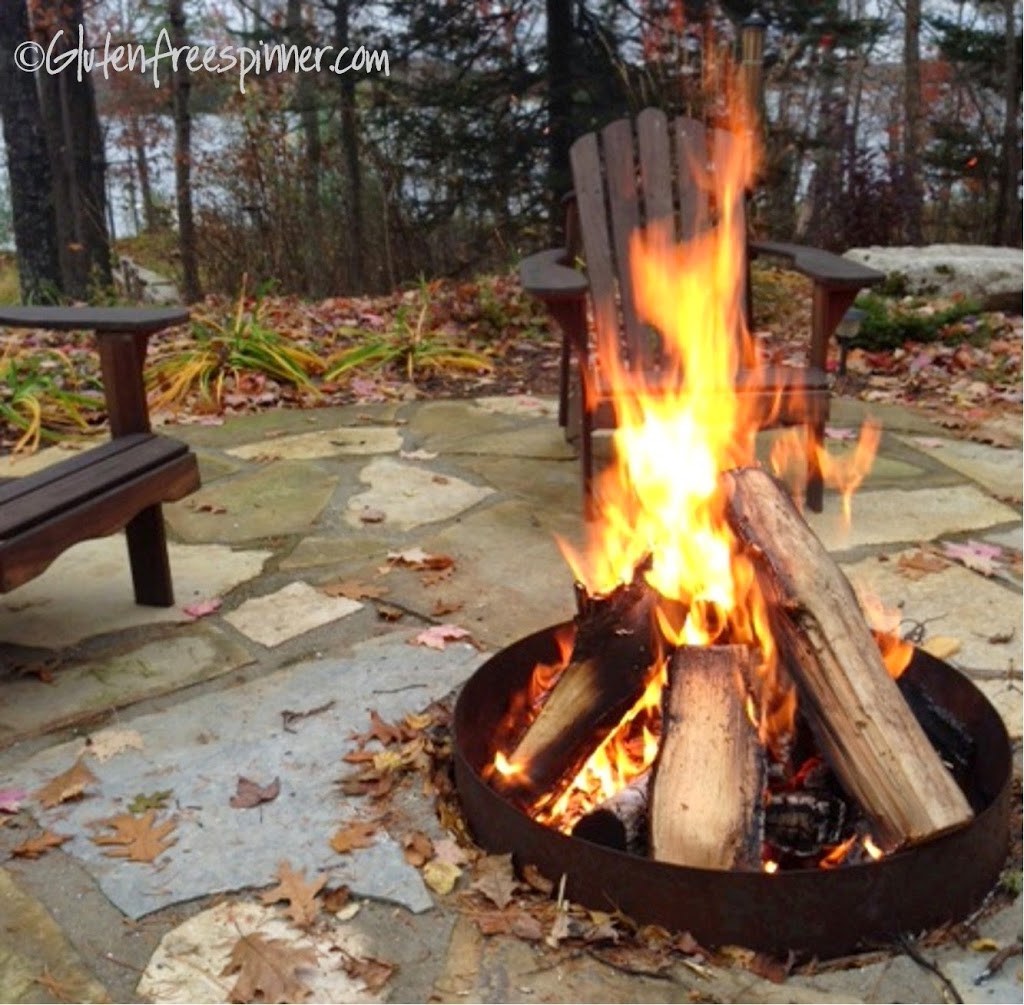 The table is set with buffalo-plaid napkins and glowing votive candles.  I love setting a table, even at the cabin, it feels special, warm, and inviting.  Paula pulls up a barstool at the counter and I gather my ingredients for chowder
and pour another glass of sauvignon blanc.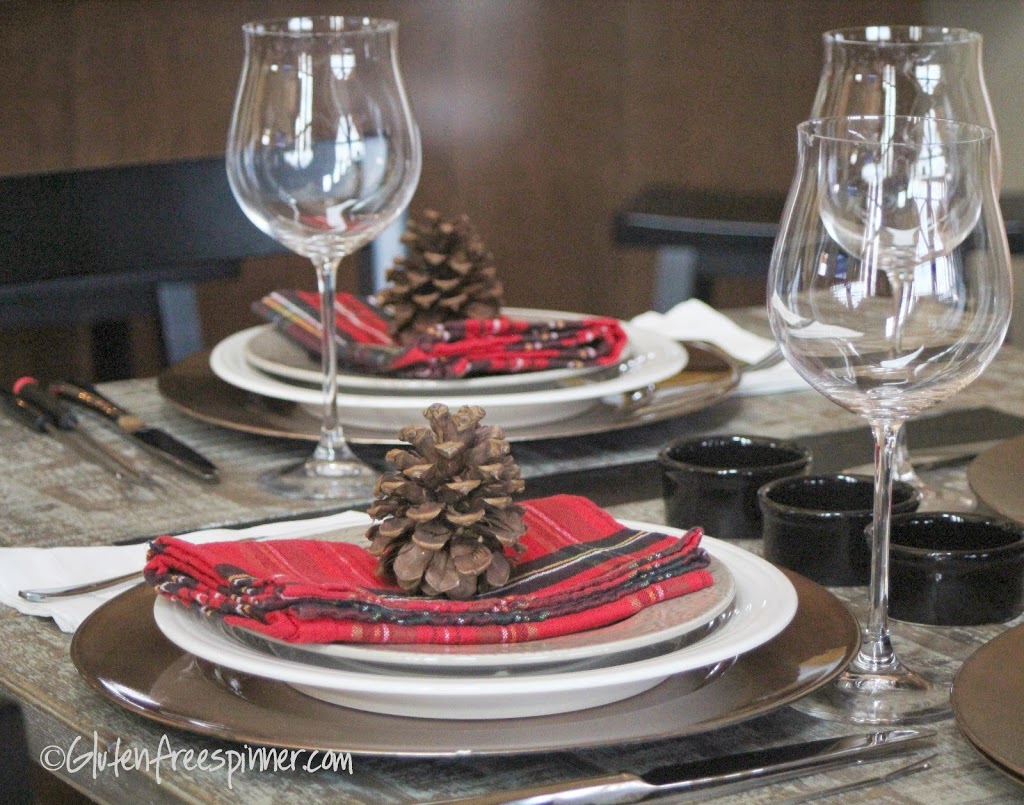 When entertaining I usually have most of the dinner preparations done so I can spend my time visiting with guests.  But seafood chowder must be made just before serving for the freshest possible flavor.
Bright, fresh, brothy, seafood goodness…
Fragrant aroma's of simmering seafood broth laced with carrots, fennel, onions, and potatoes filled my kitchen with anticipation.  The guys were called inside and the seafood was added.  Large shrimp, bay scallops, and 1″ cubes of Mahi-Mahi were added to the chowder.  The seafood you choose will make or break your chowder so only choose the best and freshest.  I prefer bay scallops to sea scallops as they are small and I feel much better suited for chowder.  If you prefer sea scallops, just quarter them or add time to cooking to ensure they are done.  I also like Mahi-Mahi, but you can use halibut or another firm white fish.
The heat is turned off when the seafood is added, and after a few gentle stirs the shrimp blushes pink and the Mahi-Mahi turns snowy white.  It's beautiful!  

Share a little golden seafood love with your friends this weekend and enjoy the moments of gathering around your table.
---
If you are entertaining or want to make the preparations ahead, you can do so up to 6 hours prior to cooking.  Here's how:
Prepare the fennel, onions, celery, and carrots ahead. Store in a tight-lid container until ready to use. I also prepped the potatoes and kept them submerged in cold water in the frig until ready to cook.  Be sure to drain them completely before adding to chowder.  This will keep them from turning black and it makes it so much easier.
Prepare the shrimp and lay them paper towel lined plate.  Cover with a damp paper towel and keep in frig.  Do the same with the scallops and fish.
---

Seafood Chowder

3 slices of bacon cut into lardons (small cuts of bacon)


1 stick of butter

2 stalks of celery, diced

1 small fennel bulb, cored and cut into small diced

1 medium onion, diced

4 carrots, peeled and cut into 1/2″ wheels

2 medium russet potatoes, peeled and small diced

sea salt and pepper

1 Tbsp Old Bay Seasoning 

3 cloves of garlic, minced

1/4 cup GF all purpose flour

1.5 qt. good seafood stock (Kitchen Basics is a good brand)

Juice of 1/2 lemon (Meyer if you can find it)

2-3 Tbsp heavy cream

1/2 cup frozen corn

1 lb 15-20 count shrimp, peeled, deveined, butterflied, tails removed (I left a few on just for the picture)

1/2 lb Bay Scallops

1/2-3/4 lb. Mahi-Mahi or other firm white fish cut into large cubes

Fresh chopped parsley
Directions:
In a heavy dutch oven add the bacon and fry until crisp.  While bacon is still in the pan over medium heat add the butter, celery, fennel, onion, carrots, and potatoes.  Season with a touch of sea salt and fresh ground pepper.  Add the Old Bay Seasoning. When the potatoes start to soften, about 8-10 minutes, reduce to medium-low and add the garlic and cook another 2 minutes tossing the vegetables together.
Add the flour and stir continuously with the vegetables and butter about 2 minutes.  Add the seafood stock and lemon juice and stir together well bringing to a slow boil. Add the frozen corn and allow to simmer, uncovered, 4-5 minutes. Taste the broth.  If it needs a little more seasoning, add just a pinch of Old Bay…but be careful, it's salty and you don't want to taste the seasoning, you want to taste the seafood which has yet to be added.
Add the seafood all at once and slowly stir into the chowder until all is submerged in the broth, then turn off the heat and cover.  Allow the seafood to cook in the covered pot for about 4 minutes, gently stirring a few times in-between.  Add the heavy cream and chopped parsley.  Serve Immediately.
This Seafood Chowder is best served on it's own with a dinner roll or focaccia bread.  And always serve with a chilled glass of Sauvignion Blanc (or for alcohol free, try sparkling Catawba Juice).
Enjoy!
Adapted from Ina Garten's Seafood Chowder