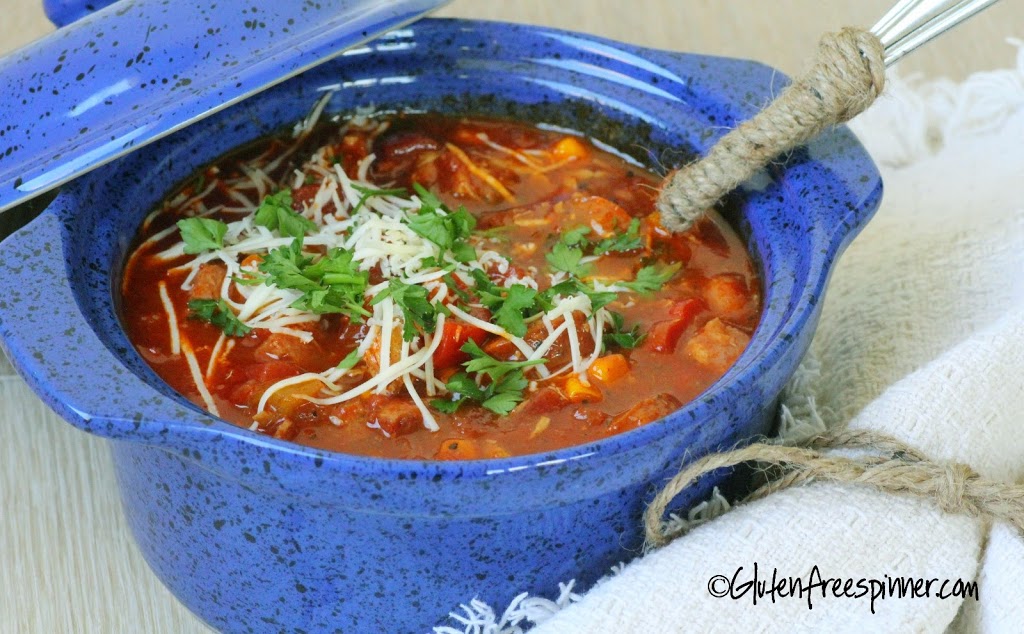 Cabin Chili
Ring-Ring…..
Me:   "Hello?"
Son Spinner:   "Hey Mom, can I have that one chili recipe…you know, the one you send with us to the cabin."
Me:   "Ahhh, that one…I haven't made it in awhile.  I'll have to dig it up….I'll email it to you"
The Following day…..(Text Message)  Bing!
Son Spinner:   "The chili is FANTASTIC!"
Me:   "Oh good, honey, you're a good cook!"
Son Spinner:   "Ha…Thanks.  Your recipe!  I just dumped stuff in a pot 🙂
Heeehe….I love my children.  ; >
Here's the recipe for my My Cabin Chili, it's super simple to make and doesn't take a lot of time.  Don't let the list of ingredients deter you, it comes together quickly without much effort.
Enjoy!!

Cabin Chili
Author:
Gluten Free Spinner
Recipe type:
Stew/Soups/Main Dishes
Ingredients
3 Tbsp Olive Oil
1 large vidalia onion, chopped
2 stalks celery, chopped
3 cloves garlic, minced
1 deli roasted turkey or chicken breast, de-boned and cut into cubes
1 pkg Andouille sausage (4) cut into ¼" wheels
2 Tbsp chipotle chili pepper (McCormick)
2 Tbsp chili powder
2 Tbsp grill seasoning
1 Tbsp cumin
2 Tbsp Worcestershire sauce
1 tsp hot sauce
1 bell pepper chopped (green, red, or both)
½ bottle good GF beer (Pyro is a good one)
1 (14 oz) can beef broth
1 (14 oz) can tomato sauce
2 (14.5 oz) cans petite diced tomatoes with chilis
½ cup GF BBQ sauce - preferably a honey based
2 cups corn kernels (frozen or fresh)
1 (15 oz) can pinto beans, drained and rinsed
Instructions
In a large dutch oven, heat oil over medium heat and cook onions and celery until soft.
Add garlic, turkey or chicken, sausage, dry seasonings, Worcestershire sauce, hot sauce, and bell pepper.
Cook 5-7 minutes.
Add the beer to de-glaze the pan, scraping the drippings and cooking off the alcohol.
Add remaining ingredients and lower the heat. Simmer 10 minutes.
Reduce heat to lowest setting and allow to slowly simmer for 30 min.
Serve with my Chili Cornbread and Maple Butter.
Optional Toppings:
Chopped green onions, sour cream, cheddar cheese shreds, Frito's Scoops