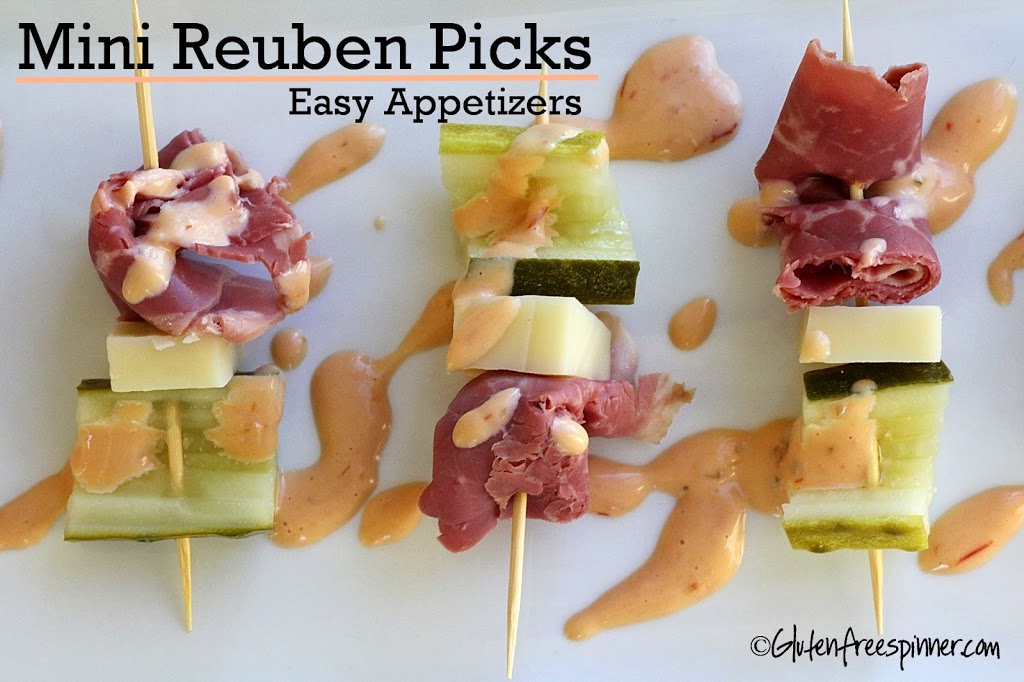 Mini Reuben Picks
Some of my favorite and most creative ideas come from last minute brainstorming. Like these two Easy Appetizers I'm sharing with you, the first being my Mini Reuben Picks.
Over the Labor Day weekend each year we have a group of my son's friends up to the cabin for a weekend of fishing, food, fun, bonfires and many-many laughs. Mr. Spinner and I headed up the day before so I grabbed some corned beef, Swiss, kosher dills, and thousand Island dressing to make reuben patty melts for lunch (I sub kosher dills for the sauerkraut).
The next day as everyone arrived, we started a game of Jarts (the REAL Jarts…with the sharp point…it's so much fun, they need to make them legal again).
With the warm weather and cocktails flowing, I figured I should set out some snacks. I rummaged through the frig looking for something easy to make, and I had everything for reuben sandwiches except for bread. Waaalaaaa, Mini Reuben Picks! Brilliant if I do say so myself, they are to-die-for good and soo easy!
Roll up a slice of good quality gf corned beef and secure it on a long toothpick

Add a cube of Swiss cheese

Finish with a slice of kosher dill pickle (I buy the sandwich slices and cut in pieces).

After they are all assembled, drizzle with thousand island dressing.
YUM! They were devoured quickly so I went back to make more. I've made them several times since, they're different, lean, very low-carb (cheese), and they look pretty….definitely a keeper.
Mini Caprese Picks
We've all seen this appetizer on Pinterest, and a good friend of mine, Kim, made them for our couples weekend with her fresh grown basil. They were really good and so pretty, a
nd speaking of low carb and healthy! I spun a few changes to the traditional recipe, I think it makes them even better.
Use red and golden grape tomatoes (I like Cherubs)




Cut the tomatoes and mozzarella in half, which makes it easier to eat

I Kicked-up the glaze: Purchase a fig-balsamic vinegar, you should be able to find at most good grocers or online. I found mine at HomeGoods. You don't need much, about 1/4 cup. Add about 2 tsp of vanilla bean paste for a little sweetness…taste and add more if you want…don't make it too sweet though, the balsamic zing is needed. It's amazing. Even people who don't like balsamic vinegar will love this.

To assemble, first skewer a golden tomato, then a mozzarella ball, then a red tomato, then a folded fresh basil leaf. Once all are assembled, drizzle with the Vanilla fig balsamic glaze. It's that easy.
No words needed….they loved them.