Well, here it is……a long wait for this one but so worth it.
Creamy, light, vanilla-ee, sweet-but not too, and sooo good.
I've made this several times now…you know how I obsess over every detail until it's perfect. Well, this is pretty close to that. In fact, Mr. Spinner's co-worker said, "Best I've Ever Had". I'll take that as pretty darn good.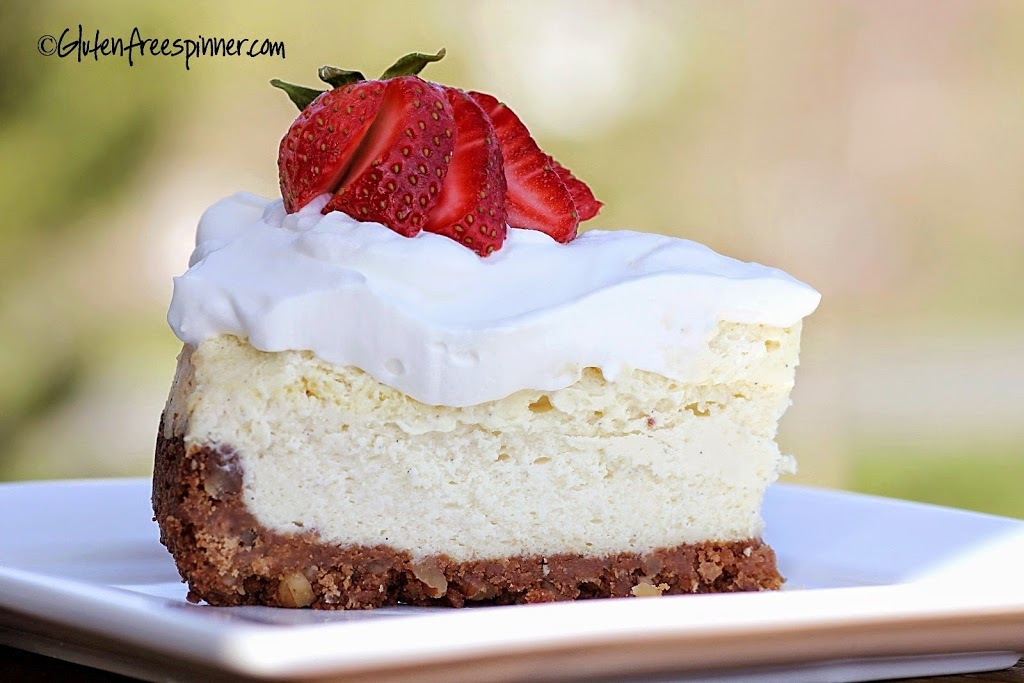 The crust is a combination of gluten free arrowroot cookies and pecan shortbread cookies mixed with chopped pecans. The sweetness of the cookies and nutty pecans add the perfect texture to this dreamy-creamy dessert. Try changing the cookies for a little twist each time, any cookies will work, just remember the flavor they will add.
Now cheesecake isn't exactly a light dessert in either calories or richness, but I've always used 1/3 less fat cream cheese (neufchatel) and Daisy Brand light sour cream. I also use skim milk in the mousse. There's no reason (IMHO) to use full-fat if the light version creates the same fantastic result. Bonus! But Fat-Free is a different story…most often products that are labeled fat free are filled with additives to reproduce the flavor lost when removing the fat. "Light" is your friend.
The most important layer of this dessert is the cheesecake and it's filled with tiny specs of vanilla from vanilla beans adding the flavor you can't get with extract. But…I have an easy tip for you, Vanilla Bean Paste. I'm in love with it.
I use Nielsen-Massey Vanilla Bean Paste which is certified gluten free and you can find it at Williams-Sonoma. It's a bit pricy, but it's concentrated and lasts awhile. It makes a world of difference in anything vanilla. I use it in everything: cakes, frosting, pies, granola, sweet potato casserole, cookies, etc. If you cannot find the paste, of course just use vanilla beans – they are the original source of flavor afterall and you can't do better than that.
Now, for the special part of this dessert that makes it so decadent…the 'ta-da' factor….the mousse topping. During the holidays I make little mousse-filled chocolate cups to add to the dessert table. It's so easy to make and is a special little treat that looks fancy and decadent. I used this same mousse to top my Vanilla Bean Cheesecake and it created a wonderful vanilla explosion! Now, the third time I made this dessert I doubled the mousse because it's that good…I figured the more, the better. It was a bit too rich, so my advice to you is make the mousse as I have listed below, it's the perfect amount. Just enough to add a special fluffiness to the cheesecake, but not so much that it becomes too rich and overtakes the cheesecake.
The final topping is whipping cream, REAL of course. Must…use…real…whipping cream. To me, it doesn't even need to be explained, there is no substitute for real whipping cream, I never use the tub of white stuff, it's not cream. But…of course, use what you like, I won't judge you. ; >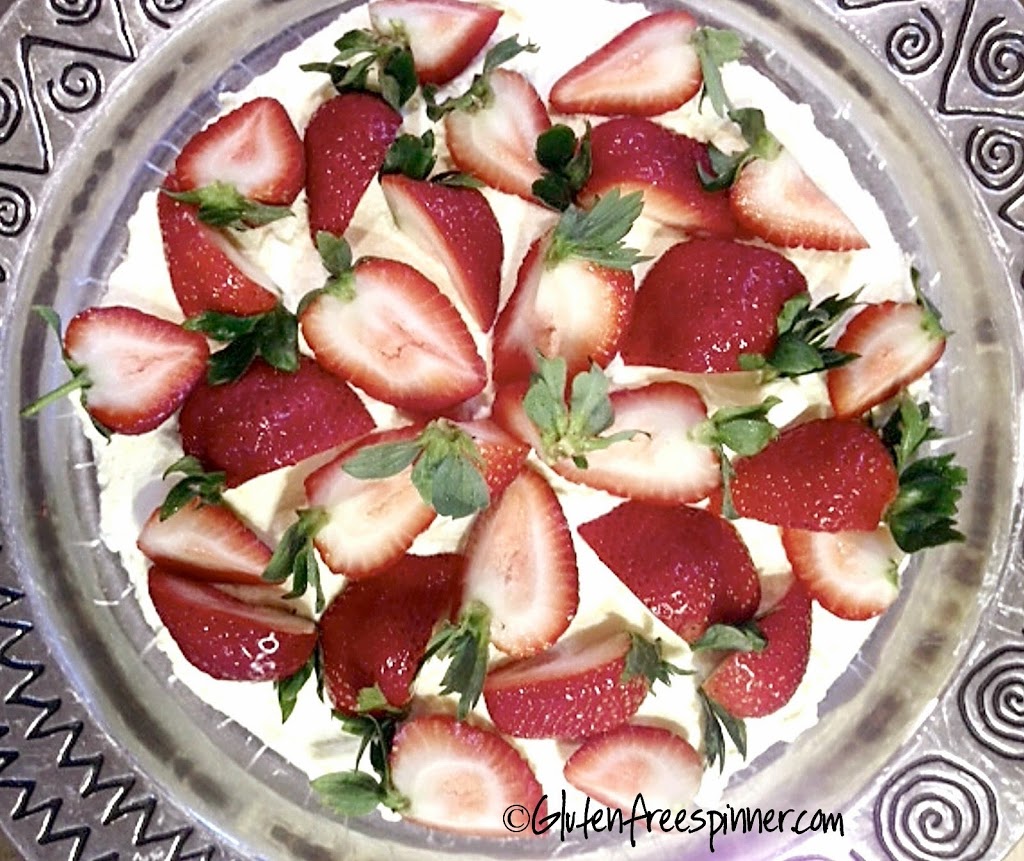 And finally, the strawberries. The third time I made this I was at the cabin having the neighbors over for dinner. I forgot my camera that weekend and took this with my cell. I so wished I had my camera as the strawberries with their stems proved a stunning contrast to the creamy layers of deliciousness. Oh well, a better photo next time. Here's another taken with my cell showing the layers of yum.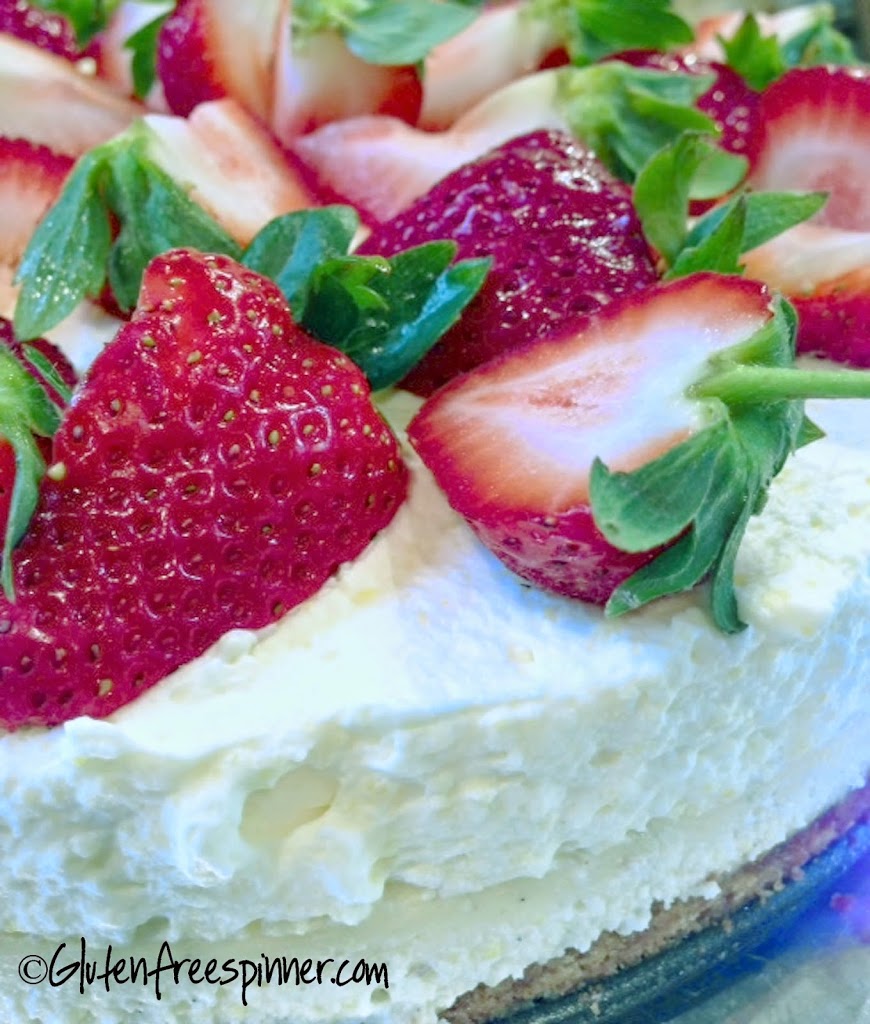 So here it is…My Vanilla Bean Cheesecake with Vanilla Mouse Topping…
I hope you enjoy it as much as we do.
I hope you discover vanilla bean paste.
Happy Sunny Skies and Fun-Filled Days to You and Yours.
Vanilla Bean Cheesecake with Vanilla Mousse Topping
2 cups gluten free cookie crumbs such as shortbread, arrowroot, ginger snap, etc. (My favorite is a combination of Pamela's Pecan Shortbread and Midel Arrowroot.)

1/4 cup finely chopped pecans (Pecan Chips by Diamond are good)

2 Tbsp sugar

1 stick of butter melted (1/2 cup)
Directions:

Preheat oven to 350 degrees
Combine the cookies in food processor and pulse until the cookies are a fine crumb (or place in a resealable plastic baggie and smash with rolling pin or tenderizer mallet). Pour into a medium mixing bowl. Add the chopped pecans and sugar and mix all dry ingredients together. Add the melted butter and mix with a fork to incorporate the butter and create a moist crumb mixture.
Spray a 9" springform pan with non-stick spray and pour the crumb mixture in the middle. With the fork, distribute the crumb mixture evenly on the bottom first while pushing the crumbs towards the edges creating a crust. Press down on all crumbs to form a solid base.
Bake in preheated 350 degree oven for 10-12 minutes. Remove and allow to cool.

Filling for Cheesecake:
2 – (8 oz) packages 1/3 less fat cream cheese, room temp

1/2 cup sugar

1/3 cup Daisy Light Sour Cream

1 heaping Tbsp Pamela's baking mix (or GF all purpose flour)

2 tsp lemon juice

1 Tbsp vanilla bean paste (or 1 whole vanilla bean seeded)

2 large eggs
Directions:
Increase oven temperature to 375 degrees. Wrap the exterior of the prepared crust springform pan with aluminum foil up the sides. Fill a large roasting pan with 1 1/2 inches of HOT water and place in the oven while the oven reheats to 375 degrees.
Meanwhile:
Beat together the cream cheese, sugar, sour cream, baking mix, lemon juice, and vanilla until well combined. Beat in the eggs, one at a time until fluffy, about another 1-2 minutes.
Pour the filling into the foil-lined pan over the crust and smooth out evenly. Gently place the pan into the water bath in oven. Be careful. Bake in 375 degree oven for 10 minutes, then reduce to 350 degrees and continue baking for 35-45 minutes or until the cheesecake is set and very lightly browned on top. Ovens vary, so check at 35 minutes and add time as needed until set.
Remove from oven and allow to cool for 10-12 minutes. Place in the refrigerator for at least 2 hours to cool (don't cover). Once cooled, remove outer ring and place on serving platter.
3/4 cups heavy whipping cream

1/4 cup skim milk

1/2 pkg (3.4 oz) instant vanilla pudding – Jello Brand is gf safe, check ingredients
In a large glass or stainless bowl, whip the whipping cream together with the milk until soft peaks form. Add the dry pudding mix to the cream mixture…slowly….and beat until stiff peaks form and the mousse is light and fluffy.

Spread over the cooled cheesecake and smooth to cover the entire top surface. Chill at least 1 hour until ready to serve. Top with fresh whipped cream and strawberries just before serving.


Whipping Cream for Top
1 cup heavy whipping cream

1 Tbsp powdered sugar

1/2 tsp clear vanilla extract
Combine all three ingredients in a medium glass or stainless bowl and whip until stiff peaks form.