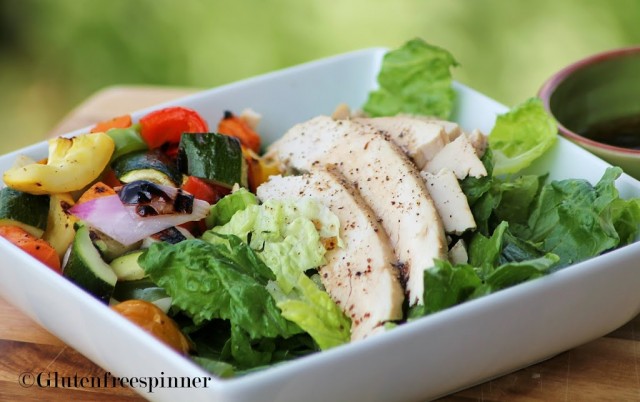 Grilled Vegetables and Chicken Salad
I'm excited to share this recipe with you today!  Every bite of this salad was followed by a "mmmmm" as I tasted the sweet grilled vegetables that still held a tender crunch.  Imagine pairing these vegetables with broasted chicken, crisp romaine lettuce, and balsamic vinaigrette.  It's an easy meal with just a few ingredients for a filling, healthy, satisfying dinner.Be careful not to eat all the grilled veggies before serving the salad…it's tempting.  In fact, many times I just make the grilled/roasted veggies as a side dish.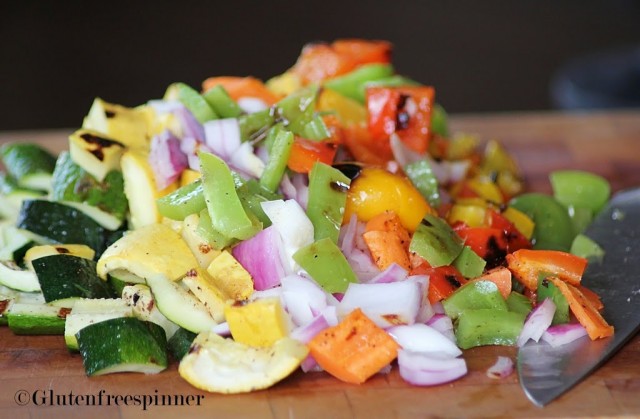 Ingredients
1 deli broasted chicken (check ingredients for GF Seasonings), deboned, no skin, and cut into long strips or large chunks.

You can prepare your own chicken breasts, lightly season with salt and pepper
Grilled/Roasted Veggies:
2 small zucchini, cut in half and seeded
2 small yellow squash, cut in half and seeded
1 green bell pepper, cut in half and seeded
1 red bell pepper, cut in half and seeded
3 carrots, peeled, cut in half lengthwise
1 red onion, outside skin removed and cut into quarters
Olive oil
Sea salt and fresh ground black pepper
Directions
Preheat grill on high or preheat oven to 400 degrees
Place the prepared zucchini, yellow squash, bell peppers, carrots, and red onion on a baking sheet and sprinkle with olive oil, sea salt, and pepper.  Toss to coat all.
With the grill at 400 degrees (if higher than 400, lower heat to medium high), place the vegetables flesh side down onto grates and grill for 3-4 minutes.  (Be sure the long carrots are placed at an angle to the grates so they don't fall through.) Turn the vegetables (notice the beautiful char marks!) and continue to grill other side for another 4-6 minutes until tender but still crisp.  Be careful not to overcook as you want them crisp in the salad.  Remove from grill and set aside to cool for 5 minutes.
For oven Roasted:
Place the baking sheet in preheated 400 degree oven and roast for 12-16 minutes, or until veggies are tender but still crisp. Be sure to turn the veggies halfway through.
Cut the vegetables into bite sized pieces, about 1″, and place in a serving bowl.  You can do this step ahead of time and refrigerate until ready to serve.
Assemble:
Serve the romaine lettuce topped with roasted vegetables and sliced chicken.  Dress with Marzetti's Balsamic Vinaigrette (or your favorite).  So very good.  Another option is to serve the ingredients in separate dishes allowing for individual assembly.