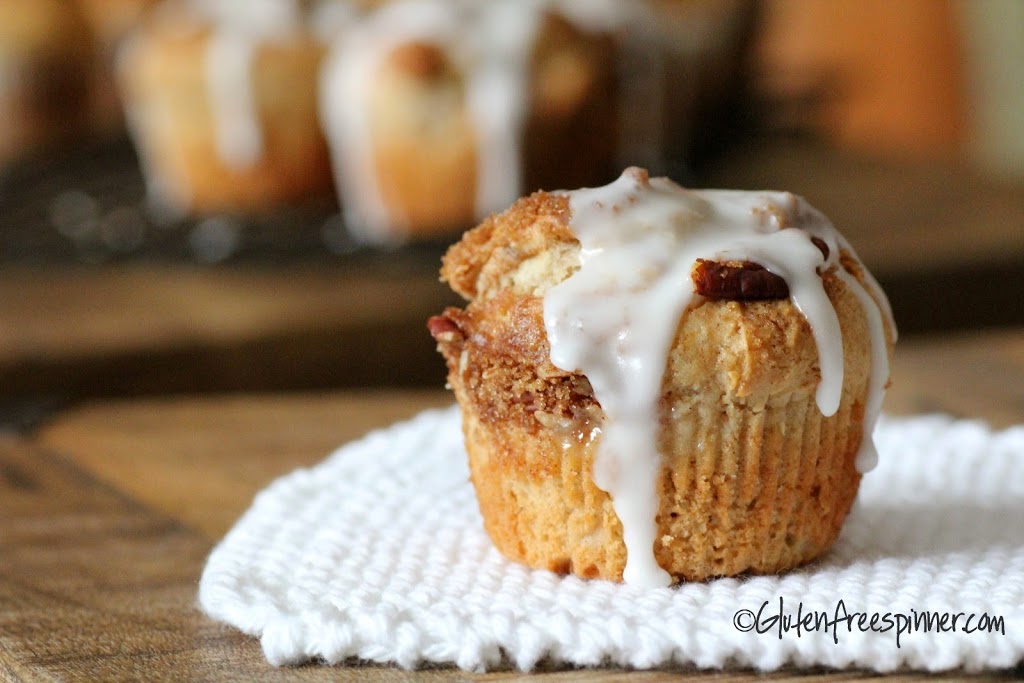 Cinnamon Streusel Muffins
This tender, sweet, moist and delicious muffin is reaching through your screen to ask forgiveness for the lapse in time posting! It's not that I wasn't thinking of you or trying to get to you….there just weren't enough hours in a day.
But I promise…these muffins will remind you the reason you are here, and I hope a reason to keep you coming back.
So what could be so consuming that I have a backlog of recipes and photos to post? We are building a home and selling our current….it truly has taken over my life. I'm not complaining, Lord in heaven no! I'm grateful for this new venture and hectic pace, it's just throwing a curve in visiting with all of you.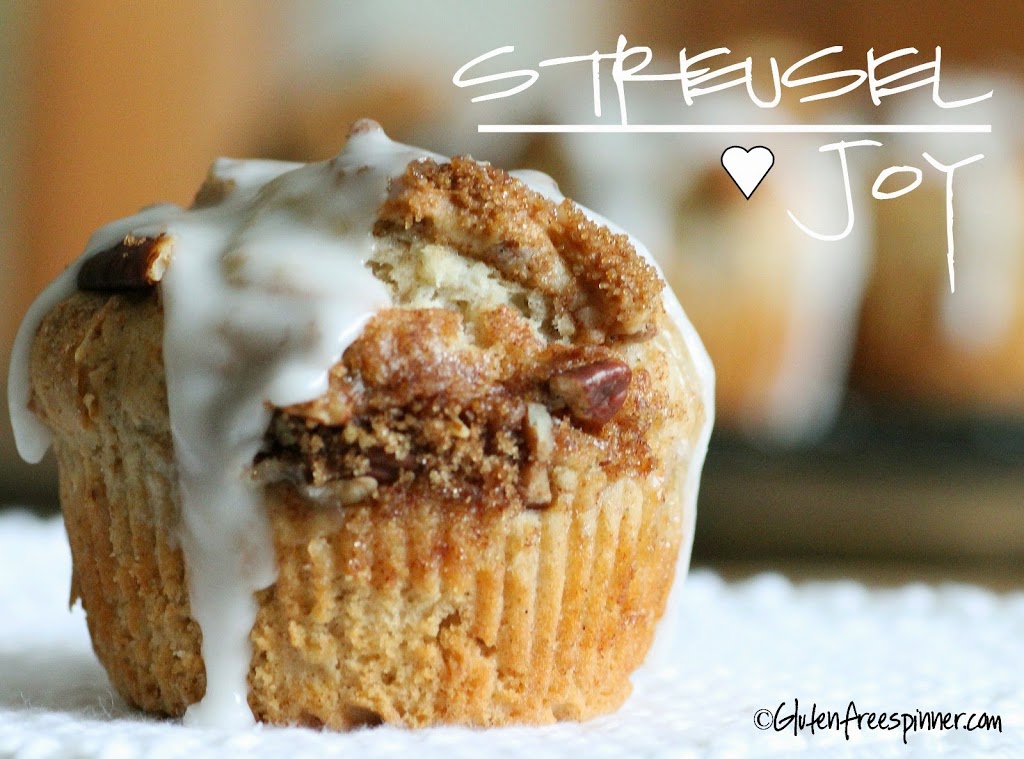 So what better way to get back to business than post what might be the best muffins I've made to date. They stayed soft, moist, and delicious for days. My inspiration came from The Best of Cooking Light's Cinnamon Swirl Coffee Cake Muffins. I made quite a few alterations to the recipe (as always needed when baking gluten free), and chose not to make them swirl but rather a burst of streusel. I push the streusel into the batter causing it to peek through the top and sides as in the picture above….Streusel Joy.
As for us building a new home? The opportunity came so fast…it knocked on our doorstep with an invitation we couldn't refuse. It was one of those times where the stars aligned, gave us a poke and said, "this is what you're going to do." Next thing we knew we were cleaning out closets, calling a realtor, and meeting with builders.
I hope you enjoy my new Cinnamon Streusel Muffin Recipe, and I'll "see" you soon. ; >
Cinnamon Streusel Muffins
1/2 cup light brown sugar

1/4 cup chopped pecans

1 1/2 tsp ground cinnamon
3/4 cup granulated sugar

1/4 cup softened butter

1/4 cup Vanilla Greek yogurt

1 egg

3/4 cup reduced fat sour cream (Daisy Light Sour Cream)

1/4 cup Silk Brand coconut milk or water

2 Tsp vanilla extract

1 3/4 cups all purpose GF flour (like Glutino Brand)

1 tsp baking powder

1/2 tsp baking soda

1/2 tsp salt
Icing:
6 Tbsp powdered sugar

1 Tbsp Silk Brand coconut milk, reg. milk, or orange juice works too

Dash of vanilla extract
Directions:
Preheat oven to 375 degrees and line a muffin pan with 12 muffin liners. Lightly spray the liners with non-stick spray.

Combine the streusel ingredients together and set aside.
Beat the granulated sugar and butter until light and fluffy, about 2 minutes. Add the yogurt, egg, sour cream, coconut milk and vanilla and beat until blended. In a medium bowl whisk together the flour, baking powder, soda and salt and slowly add to the creamed mixture, mixing just until combined.

Pour into the prepared 12 muffin cups, distributing evenly. Sprinkle the streusel evenly over the tops of the 12 muffins. Then, with the back of a spoon gently press the streusel into the batter allowing some to remain on the top, just one press should do it.

Bake in preheated 375 degree oven for 28-33 minutes or until they gently spring back when pressed in the center. Remove muffins from the pan and allow to cool on a wire rack for 10 minutes.

Combine the icing ingredients and drizzle over the top of each muffin. Store in an airtight container for up to 4 days.