About two months ago I tweeted and FB'd my dinner plate of Bolognese Pasta…I had so many requests to post the recipe that I'm finally getting to it.  Sorry it took so long…when I make my Bolognese Sauce I can't wait to eat and neither can Mr. Spinner so we just dig in and pictures are an afterthought.  And you know…I have to post a picture with each recipe.  This time….I made it earlier and captured a few pics of the sauce itself.  As for the plate I tweeted with the noodles?  I posted it below. 
This is my very best – favorite – to die for – Bolognese Pasta Sauce that's a proven winner every time.  Along with the flavorful list of ingredients, there are several components that make it consistently good…
Quality Ground Beef

Puttanesca Sauce

Good Red Wine

Parmesan Rind

Fresh herbs are really the best – but I use dry when I don't have
The other 'must' is the time you allow it to simmer.  Very slowly and covered.
Now if you're like me, I'm so tired at the end of the day I just don't have time to spend on perfecting a homemade sauce.  Well, this recipe is homemade and it's perfected, just easier. One of the time saving components is adding jarred sauce (gluten free of course) to the flavor-packed ingredients.  This makes it quick and easy, and don't worry, you're not 'cheating'….all you're doing by using a jarred sauce is adding a seasoned tomato sauce, it saves you a step.  In this case it's Puttanesca which has olives, capers, and anchovies (don't worry you don't taste the anchovies, just a depth of flavor).  I happen to really like Rao's Brand.  Then another secret component is adding pizza sauce…for the spicy zing it offers.  I promise, it makes the sauce amazingly different. I like Enrico's brand all natural pizza sauce but you can use your favorite GF sauce.
Then there's the Red Wine…use one that you would actually drink as it adds the same delicious aromas and flavors to the sauce.  If you don't drink red wine, just purchase a nice $10-12 Merlot, Rioja, or Pinot Noir….traditionally they are a bit less expensive than a good Cabernet. 
The Parmesan rind.  I can't express how important this step is!  Since I learned from Giada De Laurentiis that it adds a salty, sweet, nutty flavor to pasta's, it's one of my favorite tips.  It simmers slowly adding flavor that nothing else can mimick.  You'll start saving your parmesan rinds from now on, and if you don't have one, you can usually find them in your grocer's deli section.  Or buy a small triangle of Parmesan and cut off the rind…you can find them for $4-$5 and you'll use the fresh grated Parm over the top of the sauce anyway.
And the Ground Beef.  As you know, I'm really picky when it comes to ground meats and we have the butcher grind a special blend.  It guarantee's no boingers, bone bits, gristle or extra fat…it's lean, healthy, and the flavor is so much better.  The blend is
brisket, sirloin, and chuck ground together and packed in 1 lb packages. (I posted about this blend on the link above when I made pesto infused meatloaf with red pepper sauce. YUM. Of course you can use your favorite ground beef, it all works.
Then there's the pasta noodles…use your favorite GF pasta (my two favorites are RP's Fresh Linguini and Jovial Tagliatelle Egg Pasta).  The noodles are just as important as the sauce so be sure to use the best.  Sprinkle some fresh grated Parmesan cheese and get ready to enjoy one of the best Bolognese Sauces you've ever had…and YOU made it.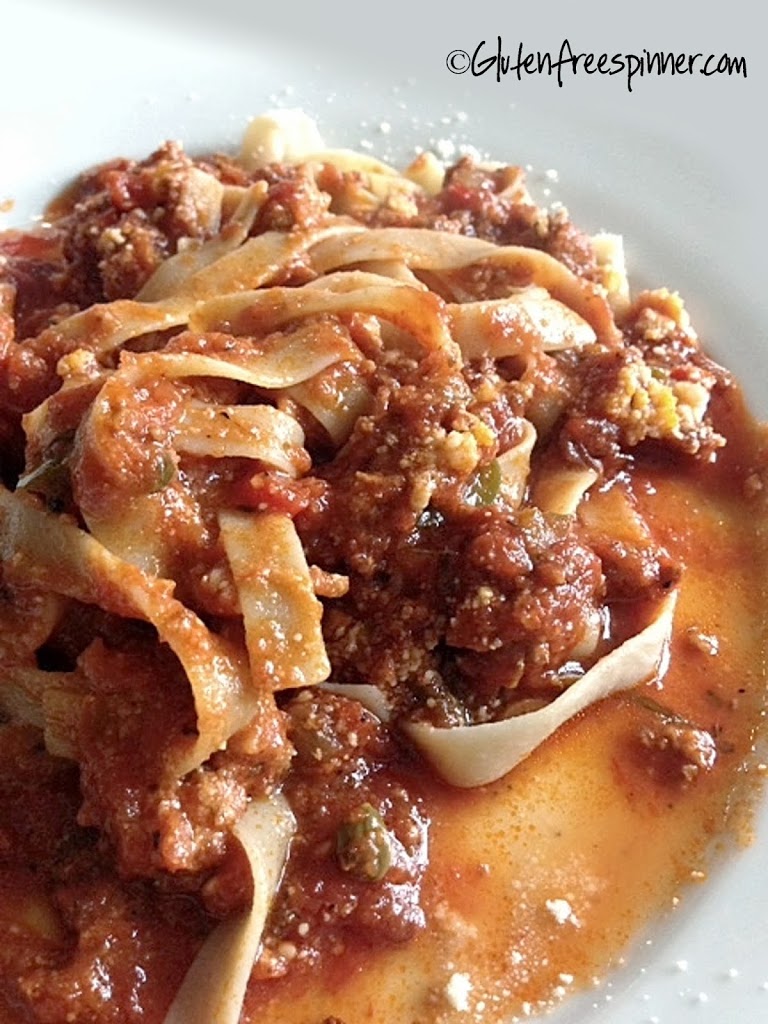 Bolognese Pasta Sauce
2 Tbsp Olive oil

1 lb. lean ground beef

1 Tbsp grill seasoning (or salt, pepper, onion powder and garlic powder)

(optional-2 ground Italian sausage links, casing removed and broken into chunks)  Mr. Spinner loves Italian sausage so sometimes I add this.  I prefer without.

1 large vidalia onion, chopped

1/2 red bell pepper, chopped

1/2 green bell pepper, chopped

4-5 cloves of garlic, minced (fresh is so much better than jarred but both work)

1/3-1/2 cup good red wine

1 Tbsp brown sugar

1 (24 oz) jar favorite GF Puttanesca sauce (Rao's)

1 (15 oz) jar favorite GF Pizza sauce (Enrico's)

1 (14.5 oz) can crushed fire roasted tomatoes (Muir Glen is good)

Rind of Parmesan – about 1×3″

Herbs:  3 sprigs fresh basil, 1 sprig fresh rosemary, 2 sprigs fresh thyme, 2 sprigs fresh oregano – remove herbs from stems and chop.  (If using dry:  1 Tbsp basil, and 1/2 tsp of each of the other herbs)

Fresh grated Parmesan for serving
Directions:
Add the olive oil to a large dutch oven or pot and brown the ground beef, breaking it up as it browns.  Add the grill seasoning and continue browning (add the Italian sausage at this time too if you are using).  As it browns, add the onions and bell peppers and continue browning for about 3-5 minutes.  Add the garlic and cook another minute.  Add the red wine and allow it to simmer and deglaze the pan blending with the juices for about 2-3 minutes.
Add the sauces, tomatoes, brown sugar, Parmesan rind, and herbs.  Stir together well to combine all ingredients.  Turn to very low and cover.  The smallest burner is best and allow to simmer for at least an hour, stirring occasionally and moving the parmesan rind around the pan to meld into the sauce.  Before serving, stir the sauce and if there is still remaining pieces of the rind, just remove and toss.  The flavors have been infused already.
Serve over your choice of pasta noodles and sprinkle with fresh grated Parmesan cheese.  Add a side salad with light Italian dressing for a complete meal.