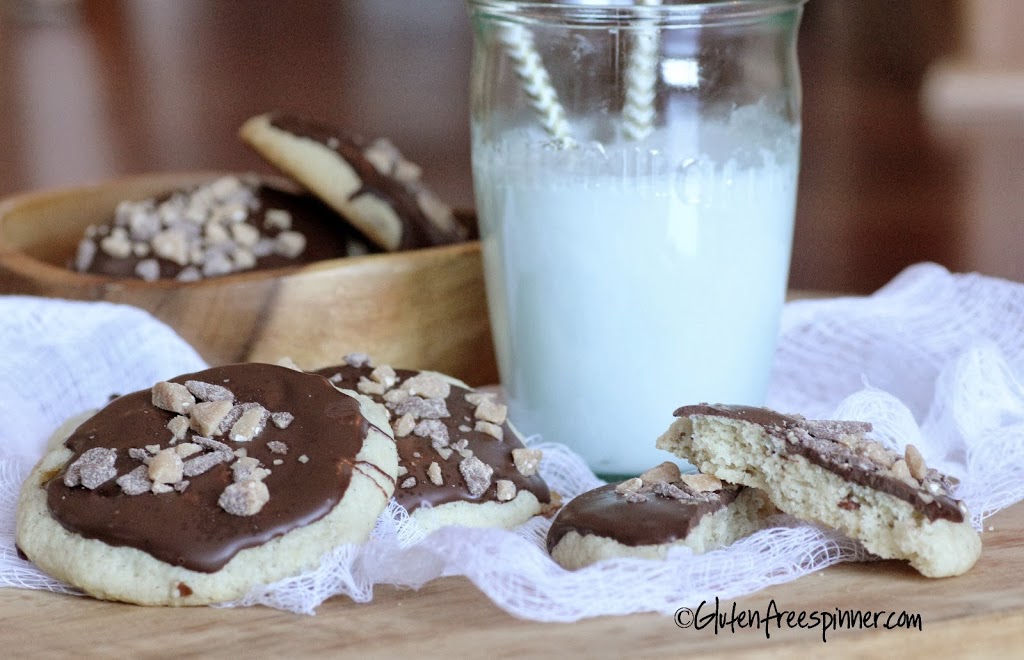 Easy Pecan Toffee Cookies
My sister called the other night to tell me she shared my website with her masters program classmates. Have I told you how much I love my sister? Their discussion led to weeknight meals and the hectic schedules they keep. She said their main focus was finding easy recipes with few ingredients that offered both main meal and dessert options.
Here's the first of many to come….
Easy Pecan Toffee Cookies that start with a box of BettyCrocker® Gluten Free yellow cake mix. They couldn't be easier or more delicious!
I frosted mine with melted chocolate chips, but it's not necessary…they are equally as good sprinkled with the toffee chips as they come out of oven. Again, easy.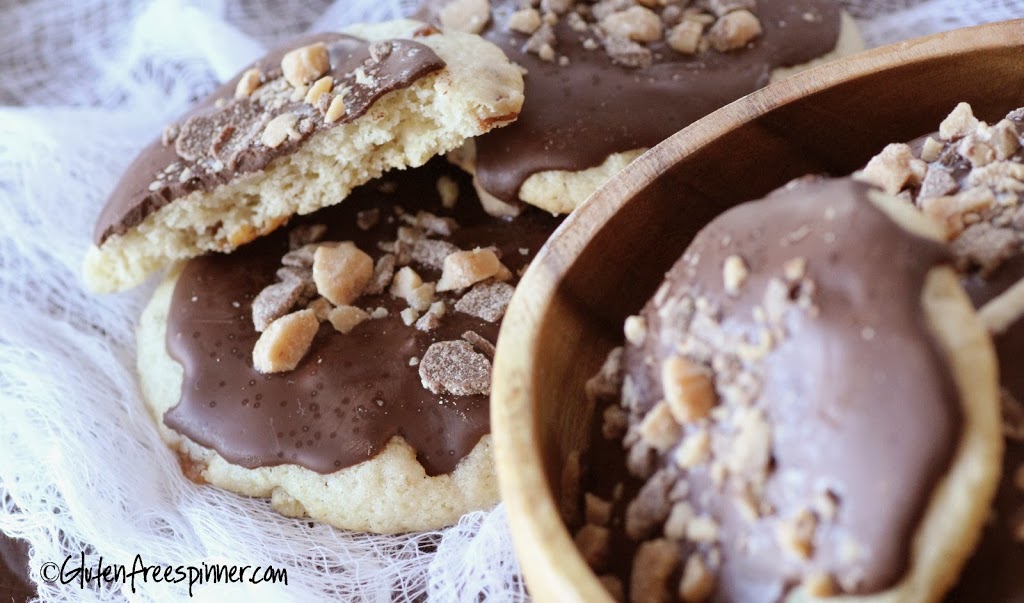 We all need a little sweet now and then and dessert doesn't have to be elaborate or time consuming. Satisfy your craving with the decadence of pecans and toffee laced cookies…made so easily.
Easy Peacan Toffee Cookies
Makes 16-20 cookies depending on size
1 box Betty Crocker®Gluten Free yellow cake mix

1/2 cup butter, softened

1 Tbsp vanilla bean paste or 2 teaspoon vanilla

1 egg

1 Tbsp milk (almond, coconut, rice) or water

1/4 cup pecan pieces
Extra Toffee Bits to sprinkle on top. ** Optional: Melt 1 cup GF chocolate chips with 1 tsp shortening in microwave and frost prior to sprinkling toffee chips.
Directions:
Line a large baking sheet with parchment paper and preheat oven to 350 degrees.
Combine all ingredients with hand mixer and drop by heaping Tablespoon onto parchment paper lined baking sheet. Bake for 9-10 minutes. Remove from oven and sprinkle each with a few Toffee Bits just as you remove from the oven. Allow to cool 3 minutes before transferring to baking rack to finish cooling.
** Optional Frosting: Don't sprinkle the toffee bits upon removing…allow to cool on pans for 3 minutes before transferring to cooling rack. Once completely cool, frost with the melted chocolate and sprinkle the toffee bits over top. Allow the frosting to harden before storing.