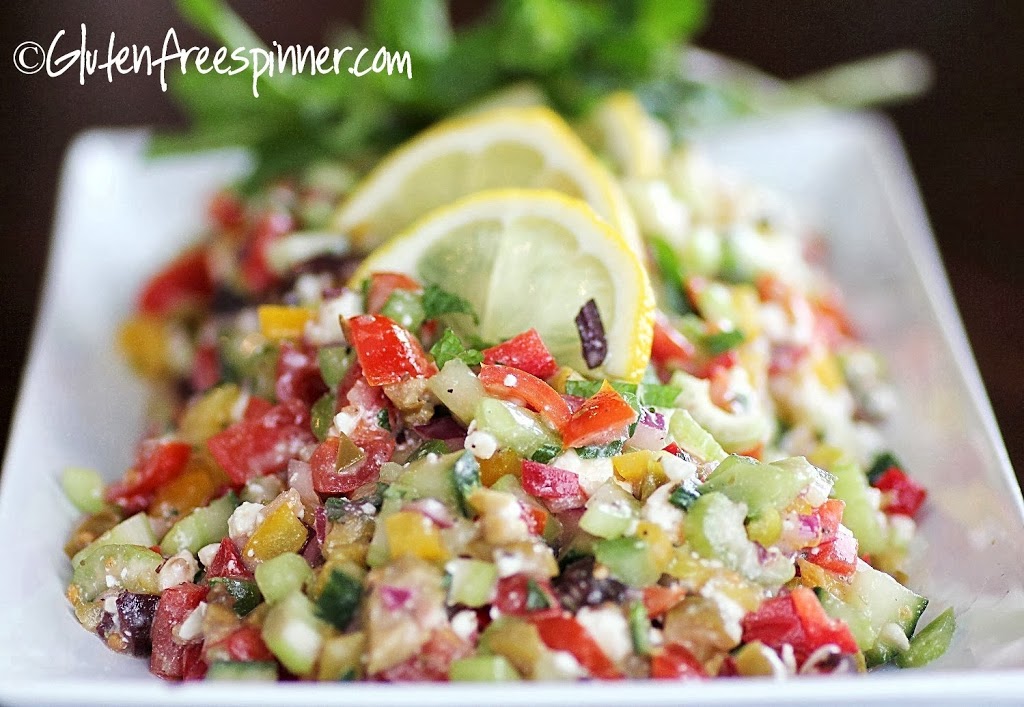 Greek Vegetable Salad with Feta
Have you ever eaten something on vacation that tastes so good you remember every flavor, color, texture and even the presentation of the dish?  This is one of those memories.  I enjoyed a Greek Vegetable Salad while dining in Jamaica and the flavors were so bright, fresh, flavorful and crisp that I couldn't wait to make it when I returned home.
Everything on vacation tastes amazing, right?  And the surroundings of where you dine are part of the memory.  This beautiful spot in Jamaica…Rose Hall…is breathtakingly beautiful with turquoise waters and white sandy beaches.  The resort, Iberostar Grand Rose Hall, prides itself in presenting fresh flavorful foods…AND they are incredibly knowledgeable and accommodating to those on a Gluten Free Diet.  There's no monetary advertising or recruiting here, I was simply in awe at the attention, concern, time and detail spent to ensure their food was outstanding.  And the surroundings were second to none.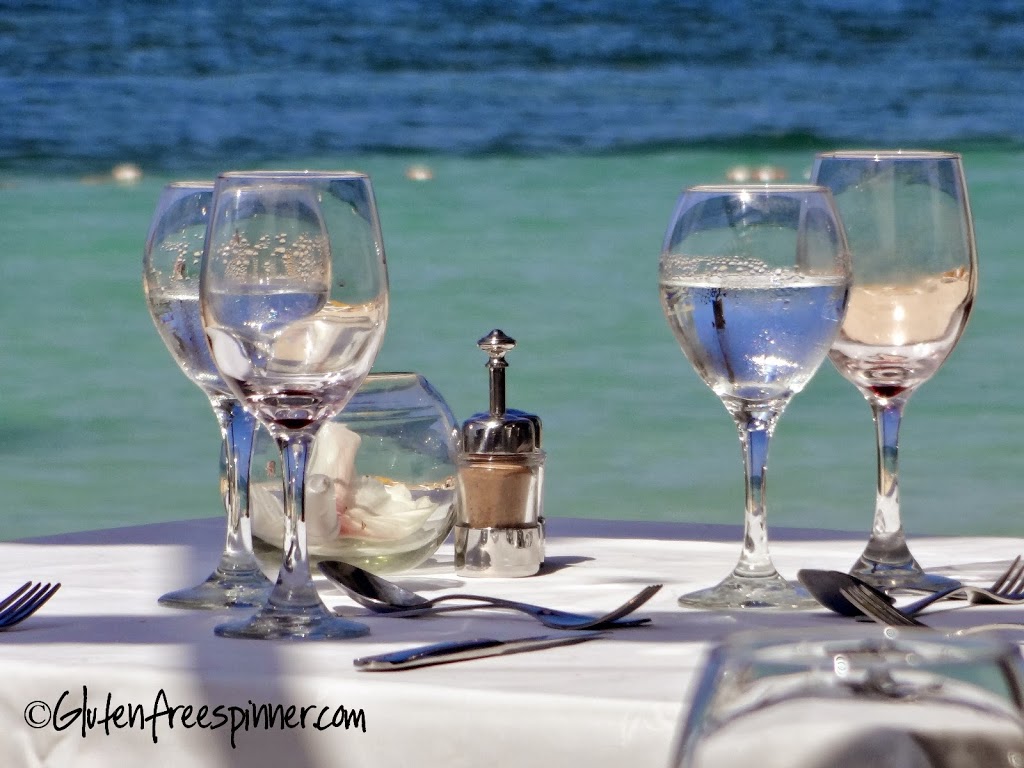 This is the table across from Mr. Spinner and I as we ate lunch one afternoon.  The outdoor tables were set for fine dining with attention to every detail…I reached for my camera to capture the moment.  The colors, aromas, and glistening water were backdrop for our table as we dined on fresh grilled grouper and shrimp.  The warm tropical breeze gently whispered through the thatch roof cooling our sun-kissed skin while we sipped a chilled glass of Vina Tobiah wine.  Lunch was my favorite meal of each day…just to experience the setting.  I wish I were there right now.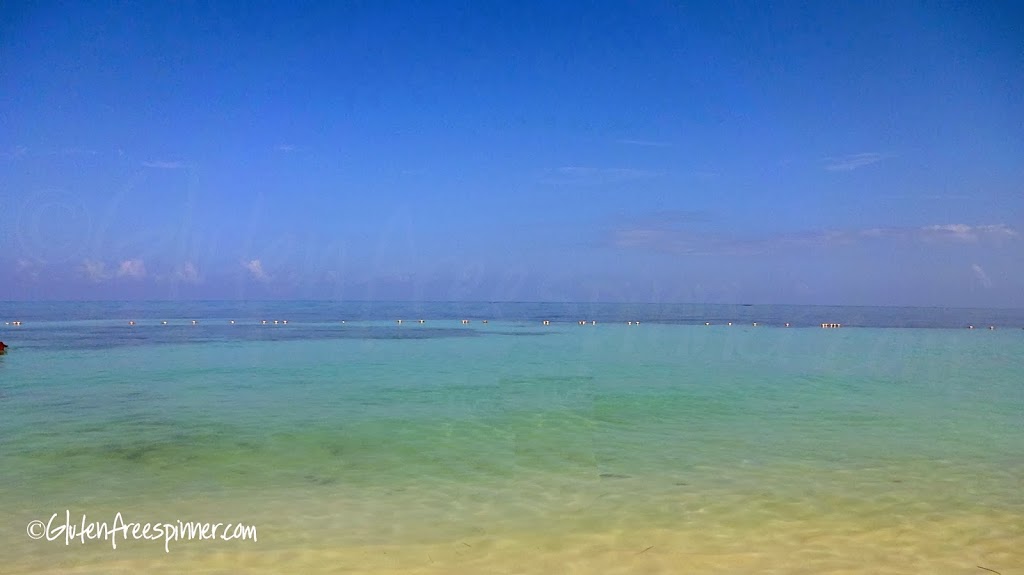 And this particular afternoon we stood on shore gazing in awe.  Stunning isn't it?  The crystal clear waters offered variations of turquoise that melded into brilliant blue skies creating an infinite sea of beauty.  It's what infinite pools are created to mimic…and countless times I found myself offering a quiet note of thanks while taking it all in…the miracle of his work.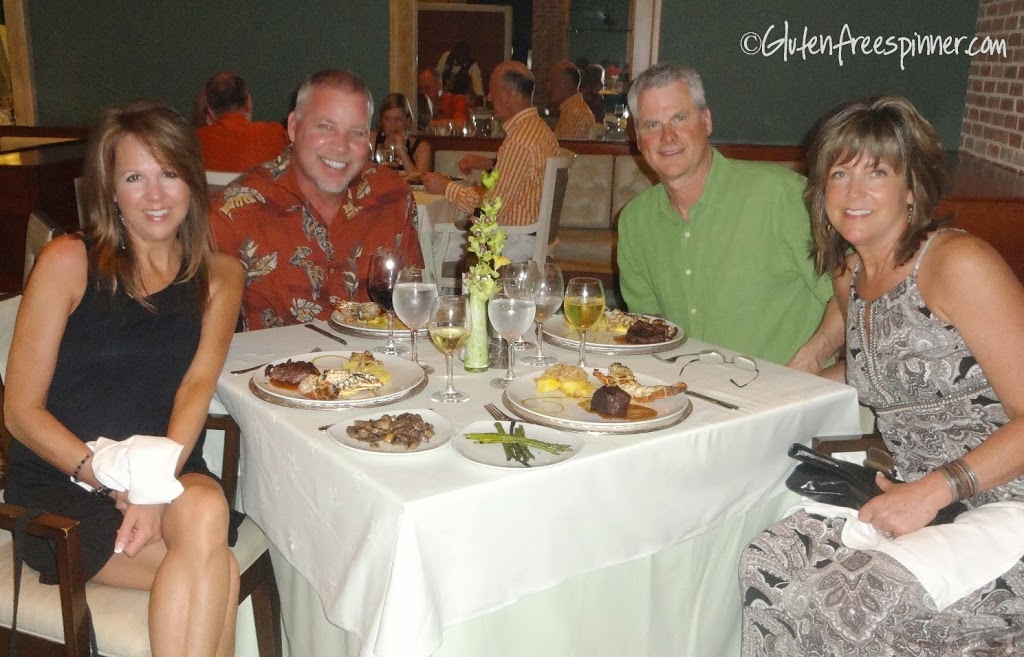 We traveled with good friends and created memories to last a lifetime.  Traveling on a restricted diet can offer challenges and setback's to any vacation, yet planning ahead will avert many issues. Look at all that food on my plate!  It was exciting…and I never got sick once…not even a glitch of a tummy ache.  I honestly don't eat out at home as I never feel quite right the next day.  I felt fantastic my entire trip.
 Visit my  Travel guide with a list of tips and ideas along with a printable dining card to take with you (which I used many times on vacation).  As I handed the card to one of the waiters he commented, "Wonderful! Thank you…Now, you work with me in what you can have and I'll work with you to ensure a great time."  And a great time we had.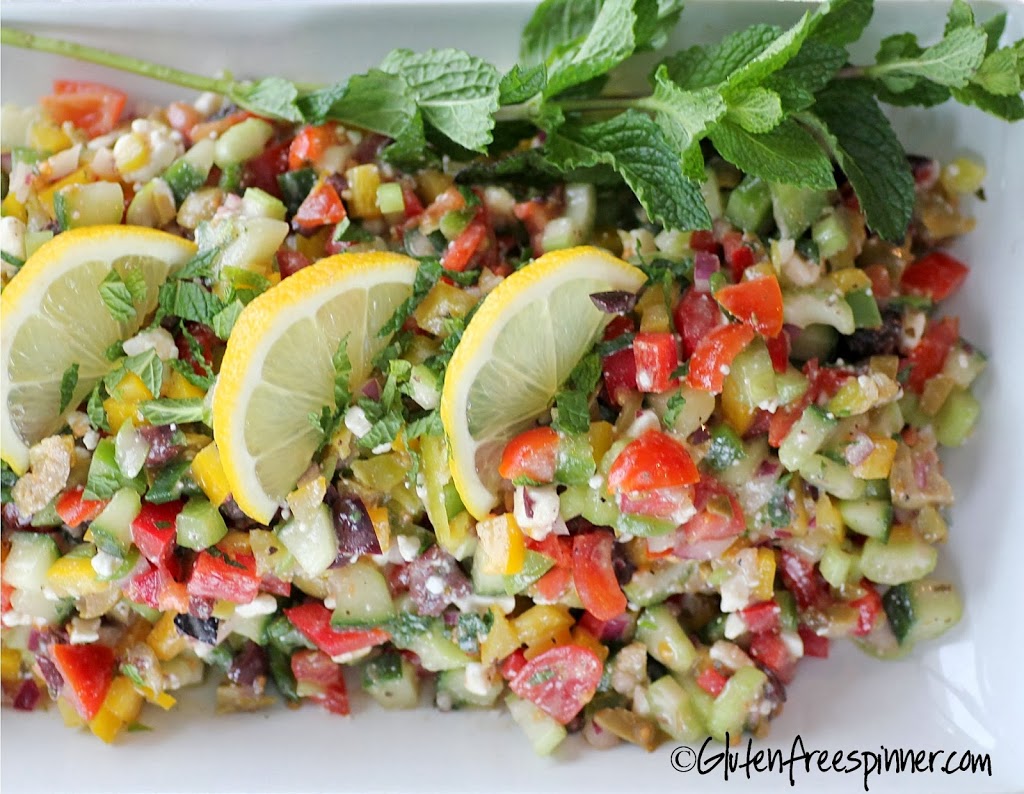 And now to share the Greek Vegetable Salad I enjoyed at lunch.  I created this recipe based on memory of flavors and I'm thrilled with the results.  I combined layers of bell peppers, cucumbers, red onion, two types of olives, tomatoes, celery, and creamy mild Feta cheese.  The dressing is a light Greek Vinaigrette to which I deducted a hint of oregano and mint leaves and a squeeze of fresh lemon juice. It was heavenly…and just as I remembered.
I hope you enjoy this deliciously light and flavorful salad as much as I did.
A chilled glass of crisp white wine like sauvignon blanc goes beautifully!
Greek Vegetable Salad with Feta
1/3 cup finely chopped red onion

 

1/2 cup each – diced red, yellow, green bell pepper

 

2 stalks celery, diced

 

1 cup diced English cucumber (seeds removed skin intact). Peel if regular cuke

 

1 cup diced grape tomatoes

 

3 green onions, diced

 

1/2 cup chopped Mediterranean Olives

 

1/4 cup chopped Peperoncini
1/3 – 1/2 cup really good GF Greek Vinaigrette (Wish Bone is my favorite)

 

1/2 fresh lemon, squeezed

 

1/2 tsp Mediterranean Oregano leaves
Toss all ingredients together with the dressing.  Then add the following and lightly toss:
1 Tbsp fresh chopped Mint

 

100% pure sheep's milk feta cheese, crumbled (I used 4 oz)

 

Fresh ground black pepper
Serve immediately or chill until ready to serve.  Stores well in airtight container in refrigerator for 2-4 days…toss well before serving.