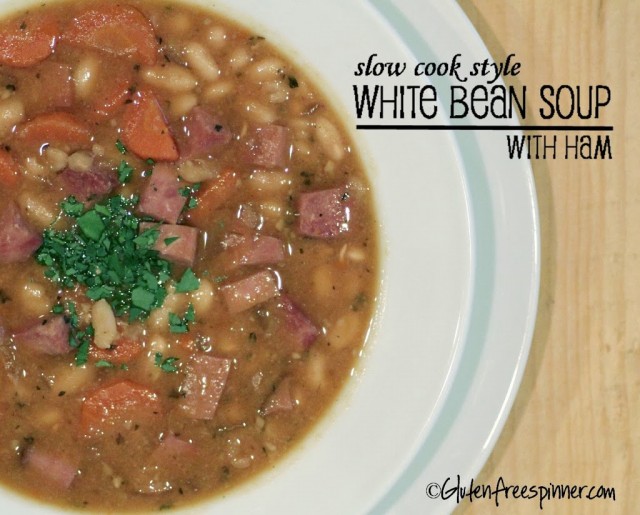 Slow Cook White Bean Soup with Ham
Walking in the door after work to the aroma of our dinner simmering away is an easily obtained comfort thanks to the slow cooker. White beans, carrots, ham, and a rich broth invite you in from the cold promising a relaxed hearty meal ahead.
This is one of my go-to slow cook meals that never disappoints and allows tasty leftovers for lunch. It seems the colder the weather the more I make this recipe…maybe because it's warm, thick, and offers the flavors of a meal you spent all day in the kitchen preparing. The slow cooker does the labored task of blending the flavors and slowly bringing each ingredient into play, perfectly…a job well done.
I use Greek seasoning in my soup as I love the blend of garlic, onion, oregano, and mint. The broth is wonderfully seasoned and full of flavor. To make it creamy I don't use thickeners or dairy, I simply blend a few cups of the soup with my immersion blender and add it back. Rich and savory goodness.
Enjoy and stay warm.
1 (16 oz) pkg dried Great Northern Beans, rinsed and drained

2 cups diced ham

3 carrots, peeled and sliced

1 large onion, chopped

3-4 cloves garlic, minced

1 Tbsp GF grill seasoning or seasoned salt

3 bay leaves

1 1/2 Tbsp Greek seasoning (McCormicks is my favorite)

1 tsp fresh ground black pepper

4 cups beef stock

4 cups chicken stock

Fresh chopped parsley for garnish
Layer ingredients in slow cooker in the order listed, pouring the chicken and beef stock over top of all. Cover and cook on low for 8-10 hours. Remove the bay leaves and stir. Remove 3-4 cups of the soup and blend with an immersion blender, then return to soup. The reason I don't put the immersion blender directly into the soup is it's difficult to control the amount blended and the soup becomes a blended soup. As for determining to use 3 or 4 cups to blend? It depends how creamy or brothy you want your soup. Start with 3.
Serve garnished with chopped parsley. This soup stores well in individual containers for lunches.