with Fennel, Fig, and Cucumber Salad
Have the thumbprint cookies, cheesecakes, and holiday strudels left you feeling like a sugar plum(p) fairy lately? Goodness knows that even though the cookies were stored in the freezer downstairs, I still found a way to sneak a few…each day…just to be sure they were still good.
So now that I've eaten more than my share of those incredibly decadent treats, I'm happily shifting gears and regrouping with a few light (delicious) meals to get back on track. My newest creation, Grilled Salmon with Cucumber, Fennel and Fig Salad is light, bursting with freshness, and so satisfying and delicious.
My inspiration for this dish came from Chef Geoffrey Zakarian who said the best thing he ever made was a salmon dish with fennel and dates. It sounded wonderful and being that salmon is one of my favorite foods, I set out to make my own version using figs instead of dates.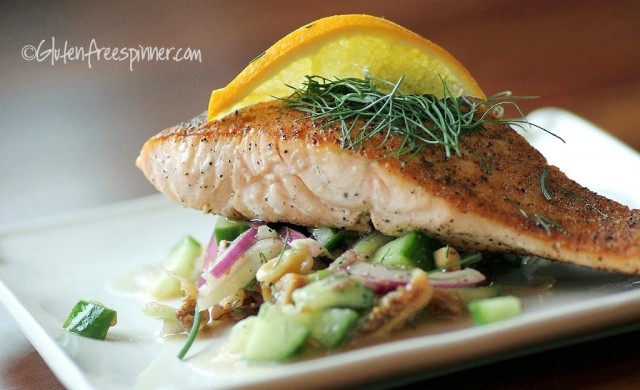 I love figs…both fresh and dried, and either will work in this recipe. I couldn't find fresh but will definitely use them once I do. The distinct flavors in this salad also include fennel with it's anise flavor and crisp crunch, summery cucumber, sweet red onion, nutty toasted walnuts, and the juices of orange and lemon. Drooling, right? Each ingredient adds a level of freshness, sweetness, savory, and texture and they blend beautifully together.
My simply-seasoned salmon filet is grilled in a cast iron grill pan just until it's light pink and flaking. Place the fillet on top of a bed of salad for a flavor explosion that's both light and fresh. The flavors and colors were deliciously yum-worthy, especially when combined with a chilled glass of Oregon Pinot Gris.

Divine.


Ingredients:
Grilled Salmon:
Two (6 oz) center cut fillet of salmon, skinless

1 Tbsp olive oil

1 tsp fine sea salt

1 tsp fresh ground black pepper
Fig Salad:
1 English (hothouse) seedless cucumber, peeled, center tiny seeds removed, diced

1/4 cup thinly sliced red onion

1/2 cup thinly sliced fennel (save some feathery fronds for garnish)

6 figs, small dice with top and bottom stems removed (fresh or dried work)

1/4 cup coarsely chopped toasted walnuts

2 Tbsp chopped green onions

1/2 fresh lemon, juiced (Meyer if you can find)

1/2 fresh orange, juiced

4-6 Tbsp olive oil (to taste)

Dash fine sea salt

Fresh ground black pepper

1 tsp Honey (optional)
Directions
Salad:
In a medium glass bowl combine the cucumber, red onion, fennel, figs, toasted walnuts, and green onions and toss together. In a small ramekin combine the lemon juice, orange juice, olive oil, salt, pepper, and honey (if using) and whisk together. Pour over the salad and toss. Set aside.

Salmon:
Heat a cast iron grill pan (or outdoor grill) over medium high heat. Lightly season the salmon on both sides with sea salt and pepper then drizzle with olive oil.

Grill the salmon just until the flesh firms and they turn golden brown with grill marks appearing, about 3-4 minutes. Wiggle the filet loose with tongs and flip to other side and grill another 3 minutes or until it begins to flake easily. Remove to a plate to cool slightly.
Arrange a mound of salad in center of two plates and rest the grilled salmon on top. Garnish with the fennel fronds on top. Serve immediately.
* This dish can also be made as a chilled luncheon salad by grilling the salmon ahead and serve chilled over the salad. Both are delicious.