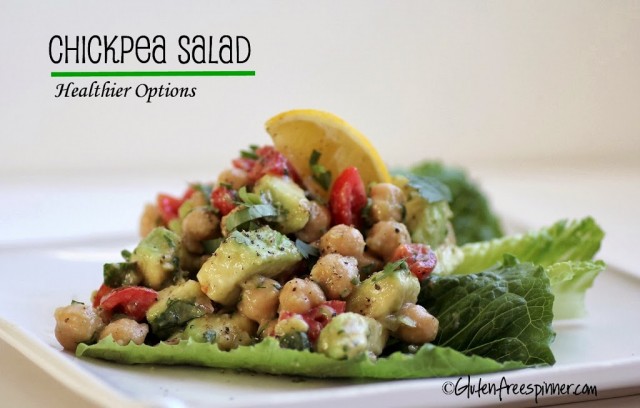 As I mentioned yesterday, it's time for some healthier options after the holiday feasts and goodies.  I'm listing three of my favorite healthy lunch options you can make ahead that are super easy too.  All recipes are High Fiber, Dairy Free, and Gluten Free.
I've also listed the Nutritional Value for each.
It seems whenever I need a week of healthier eating options, my Chickpea Salad is the recipe I go to first.  The Chickpeas and Avocado provide the essential protein we need for energy and to feel satisfied, and the dressing is light and fresh with zippy cumin, lemon, honey, and hot sauce.
This recipe is Balanced, High Fiber, Dairy Free, Gluten Free, and Wheat Free
The recipe makes enough for about three 3/4 cup servings:
Nutritional Value per serving:
Per Serving:  Calories: 366  Carbs: 25 g  Fat: 28 g  Protein: 7 g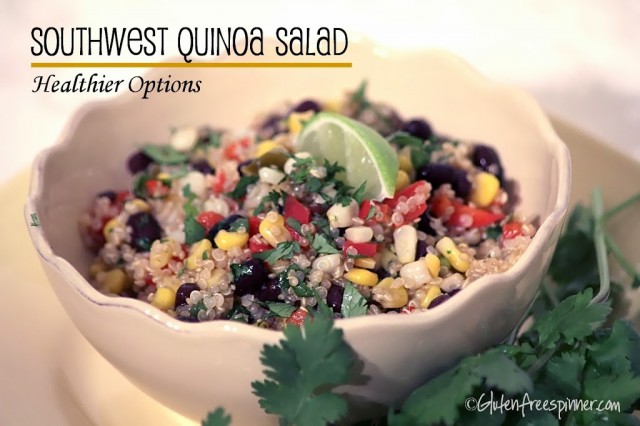 Another favorite is my Southwest Quinoa Salad.  It comes together quickly using the microwave as a short-cut for cooking the quinoa.  Then simply toss the other ingredients together and add the dressing for a light and flavorful healthy lunch.  This salad also stores well and is equally good the following day.
I haven't become a huge fan of quinoa as of yet, but this recipe alone has me stocking it in my pantry.  It's a winner every time…nothing compares.
This recipe is Balanced, High Fiber, Dairy Free, Gluten Free, and Wheat Free
Nutritional Value per serving based on 6 Servings:
Calories: 411  Carbs: 61 g  Fat: 12 g Protein 17 g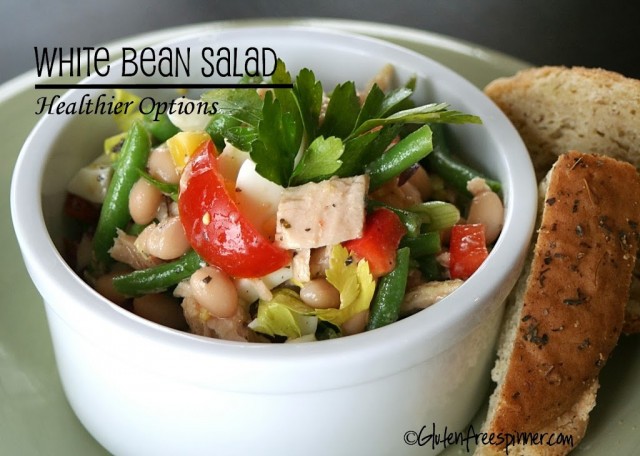 My white bean salad is an equally good choice boasting fresh healthy ingredients.
I love green beans, especially Haricot Vert as they are thin and crisp.  The albacore tuna is flaky and tender while the white beans add a creamy rich texture.  Red and yellow bell peppers bring a sweet garden freshness and the addition of hard boiled eggs is a delicious surprise adding an entirely different texture that really works.
The dressing comes together with a combination of sweet and acidic with balsamic vinegar, Dijon mustard, Lemons, and honey and they're whizzed together before dressing the salad.
This recipe shines in the healthy choice category with High Fiber and 34 grams of protein.
It's Dairy Free, Wheat Free, Milk Free, Peanut Free, Gluten Free and Soy Free.
Nutritional Value per serving based on 6 servings:
Calories: 424 Carbs: 53 g  Fat: 9 g Protein: 34 g
 I hope you enjoy a few (or all) of these Healthier Choice Salads and lunch ideas.
It takes just a few days to get our bodies back on track when we focus on what we're eating.  We soon recover with more energy and a sense of lightness…and it inspires us to continue.
Happy New Year!