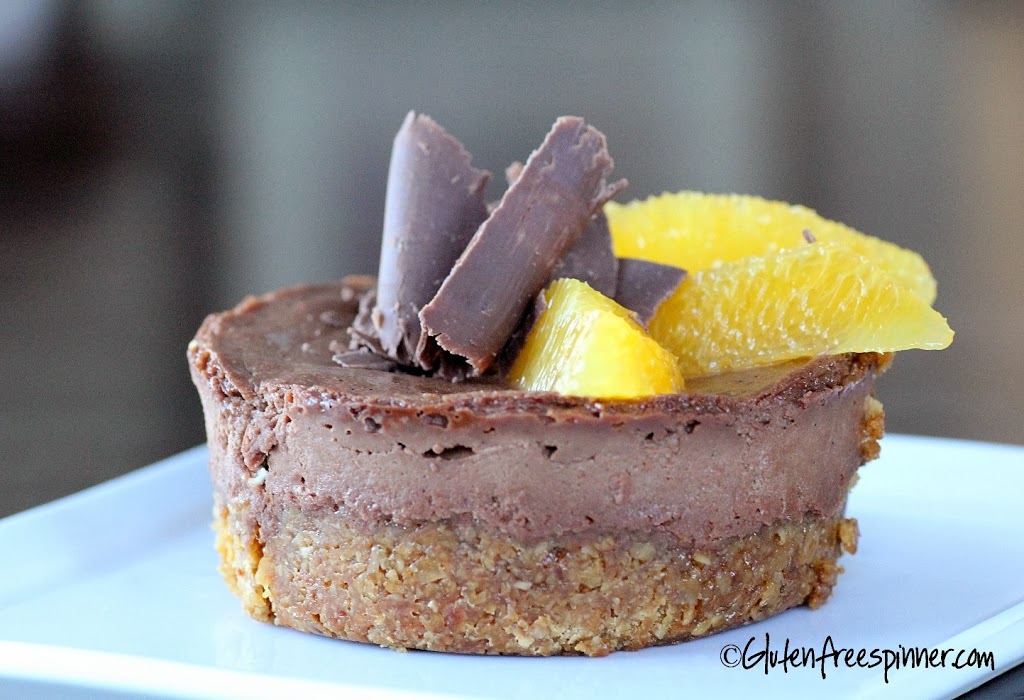 Refined Sugar Free and Low Fat
(

And sharing a kitchen-coco disaster)
Mr. Spinner and I have been paying extra attention to our diets these last few weeks as we plan for a little getaway from the frigid temps of Minnesota. It's not that there's so many "can't have's" as we tend to eat pretty healthy anyway, but I miss my dessert!! I've become a dessert-lover in the last few years; just a little bit…that's all I need. Which is how this trufflicious torte was born. Refined Sugar Free and Low Fat. You'd never know it.
And this beautiful Coco Truffle Torte also has a kitchen-disaster memory attached to it, oh yes, the kind of disaster I hope never to repeat. I'd love to hear if you've ever experienced anything like this, I certainly never had…and hope it never happens again. The exploding coco-can. Seriously.
While reaching into my nicely woven basket of baking goods in my pantry I grabbed the can of Hershey's Coco Powder (a little too forcefully I guess) and the plastic lid caught the basket's edge and popped off sending a tornado of coco powder EVERYWHERE. Sigh…I need a moment.
I'm not sure I can detail with words how disastrous this was, I stood there looking at the fine coco-colored billowing powder that was now covering every square inch of my pantry from the walls, shelving, spice rack, and all the way down to the floor. The powder covered each unorganized basket of ingredients and sunk well into each package within those baskets, creating a blanket of chocolate snow over everything. I had to walk away…I continued on with my beautiful Coco Truffle Torte, scooping coco from the mess to complete my task of creating a sugar free low fat dessert.
I had no idea how on earth I was going to clean this up. I decided to think about it while I made my torte.
Thank goodness for delicious ingredients because my torte turned out beautifully. I'm not sure what I would have done if the torte was a failure on top of the mess I'd yet to clean up. I set the torte's aside to cool while I revisited my disaster.
I started with a hand-vac, which only sucked up the surface powder from the floor leaving a golden brown film behind. I then sought help from the lift-off canister of my standard vacuum because it has a narrow attachment…surely this would help suck it out of the grooves. Nope, they weren't giving it up…the grooves and seams of the shelving, woven baskets, and packages of food clung tight to the powdery substance, demanding a damp rag to come clean. Whelp, try rubbing a damp rag over a coating of coco powder….wait, don't do it…it added yet another layer of chocolate film, only this time it smeared further.
I won't bore you with the next three hours…it was horrible. But the visual may be worth the read. As I crawled on my knees wiping the swirls of chocolate film from the corners and walls (still in my work clothes) I didn't stop to think that my clothes would act as a mop while I scooted across the floor. When I got up the 100th time to rinse my rag I realized I was covered in chocolate. I ripped my clothes off right there and threw them down the hall while I continued cleaning in my undies.
Yep…a sight to be seen only by me…me and my undies in a chocolate mess.
Just when I thought the nightmare was over, I looked at the two vacuums I had first used to clean it up and they were covered in coco. The next hour was spent taking each vacuum apart, section by section and rinsing where I could, using a Q-tip to dig out coco where the motor parts were. It – was – everywhere. After what I thought had been meticulously cleaned, I turned the vacuum on for a test-run and a cloud of coco filled the room. It was deep inside the filters. Enough already…I'm exhausted revisiting the whole thing. Just be extremely careful when reaching for your coco container…I know I will.
So what became the worst kitchen disaster to date also became the most delicious Refined Sugar Free Low Fat Coco Truffle Torte ever. I gave it a super long name to give homage to the super long day I spent with a can of coco. Well deserved.
My torte has the rich coco flavor of a truffle with a creamy melt in your mouth texture and just enough sweetness from honey and vanilla. The addition of Grand Marnier adds a lovely slightly orange liqueur flavor, but you can use a Tbsp of fresh orange juice instead (or omit all together). For the garnish, I made orange supreme's along with chocolate shavings/curls. It took everything in me not to add a dollop of whipped cream…(just imagine a white cloud of sweet whipping cream donning the top)!! But I resisted the temptation and kept it low fat…and it proved to need nothing additional. It's….Divine.
Coco Truffle Torte – Refined Sugar Free, Low Fat
Makes 2 individual torte's
Preheat oven to 350 degrees
2/3 cup GF Vanilla Granola – I used Udi's and it worked great

1 Tbsp 100% maple syrup

Blend the two ingredients in a small food processor until combined. If you don't have a small food processor, smash the granola first with a mallet so it becomes finer and mix in the syrup. Press into the bottom of two ramekins that have been sprayed with non-stick spray, and come up the sides just a bit as the crust allows being sure to cover the bottom. Bake for nine (9) minutes at 350 degrees. Remove from oven and if puffed up, use fork to press back down into place.

Coco Truffle Filling
4 oz lowfat cream cheese (1/3 less fat Neufchatel Cheese)

2/3 cup small curd cottage cheese

1 Tbsp vanilla bean paste or 2 Tsp Vanilla Extract

2 Tbsp Coco Powder

2 Tbsp honey

1 Tbsp Grand Marnier (optional – but it sure makes it good!)

Orange supreme's and Chocolate curls for garnish
Blend all ingredients in a small food processor until silky smooth. Pour into the baked granola crusted ramekins and bake 350 degrees for 20 minutes. Remove from oven and allow to cool 1/2 hour. Use a sharp knife to run along edge and invert into hand and flip over onto plate so the torte is crust side down.
Allow to completely cool before adding the garnishes of supreme oranges and chocolate curls (see body of post for orange supreme link). Cover lightly with plastic wrap and store in refrigerator until ready to serve. Deeeeelicious.