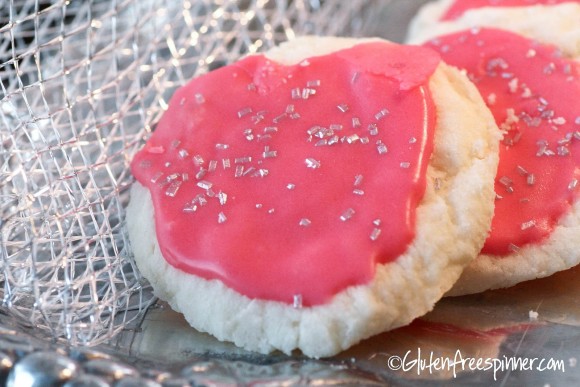 Meltaways
The first time I tried these buttery cookies was at a work function….before I learned of my gluten intolerance.  I was instantly hooked by the way they "melted" at the very bite.  It wasn't until I saw them again at a cookie exchange where I couldn't eat them that sent me to the kitchen determined to re-create.
Flaky, buttery, delicate, melt-in-your-mouth yumminess!  They are every bit as amazing as I remember. Be gentle with these…handle with love…they are very delicate.
Meltaways
Author:
Gluten Free Spinner
Ingredients
1 cup softened butter
¾ cup cornstarch
¾ cup powdered sugar
1 tsp almond extract
1 cup all purpose gluten free flour (Gluten Free Pantry is a great brand) or my go-to all purpose GF flour blend
Powdered sugar for rolling
Instructions
Preheat oven to 350 degrees
In a medium glass bowl cream the butter until fluffy.
Add the cornstarch, sugar and almond extract, blending well.
Beat in the flour until all combined and mixed well.
Form each cookie with a 1-1/2″ diameter scoop and roll into powdered sugar before placing onto parchment lined baking sheet.
Bake for 10-12 minutes or until cookies slightly crack on top.
Cool on baking sheet for 5-8 minutes before transferring to wire rack….be careful they are so very delicate and break easily.
Frost with a powdered sugar and half and half frosting mixture with food coloring of choice added. Sprinkle with little sugar decorations. Allow frosting to set completely before gently transferring to store.