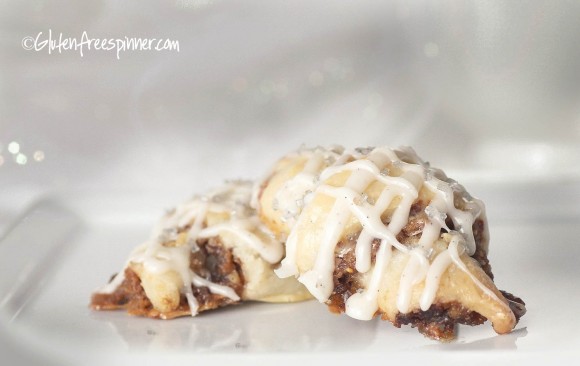 Fig and Cherry Rugelach

The Christmas baking continues with this elegant Rugelach pastry.
I set out to make a few different varieties of cookies this year to add to my Christmas collection and I'm finding the journey delicious!
This would be my first time making Rugelach, in fact I didn't even know what it was until I read a post by Ina Garten.  I wanted to make a cookie with figs being I purchased a bunch to make my new Salmon Recipe (soon to be posted…oh so good!).  Not just any cookie though, something dynamic…elegant…out of the ordinary for gluten free cookies.  That's where I honed in on a pastry, a little rolled croissant of some kind.  And Rugelach was exactly what I was looking for.  But how would a gluten free version turn out?  Beeeeautifully!
Gluten free pastries in the form of little rolled cookies aren't very common, at least not in my experience.  But now that I've successfully made them I want to try every filling imaginable!  And part of the joy is they remind me of a mini croissant pastry which I haven't had in over four years.  I use to love almond filled croissants from the bakery; flaky moist pastry laced with sweet sticky filling.  Yum!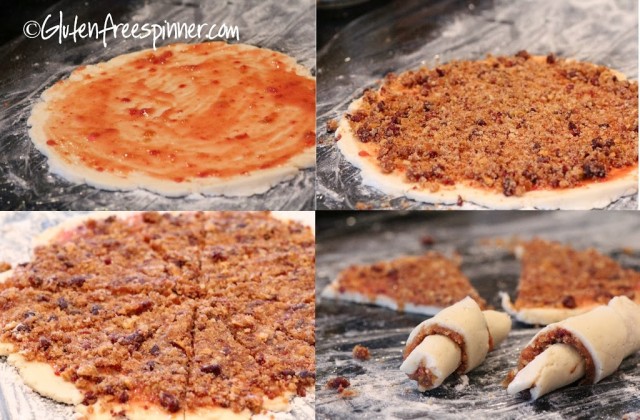 I knew my biggest challenge in making these gluten free would of course be the dough. Rugelach pastry is more of a sweet bread than a croissant, and it's very moist being it's made with cream cheese. So I added brown rice flour to my normal all purpose blend for a little more substance and it proved a good choice.  Light, tender, sweet, and soft.  When rolling out the dough I used powdered sugar rather than flour to keep the dough sweet. And just before baking I brushed the tops with heavy whipping cream to lightly brown the tops and keep them soft.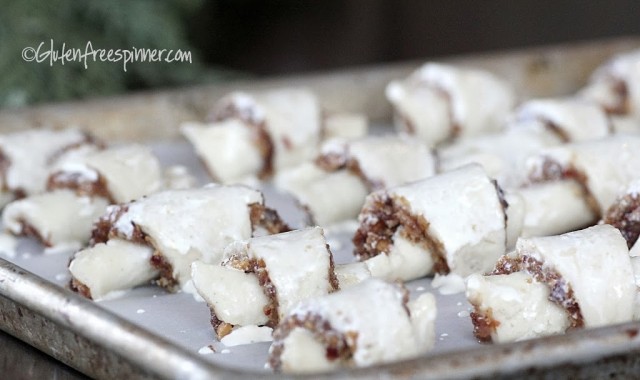 Now about the filling.  I started making my filling of just figs and cinnamon but it needed something else and didn't seem 'Christmassy' enough so I added tart Montmorency cherries.  What a perfect combination, sweet gooey figs with a little tart from the cherries and the warm spice of cinnamon. Christmas all rolled up in one little cookie.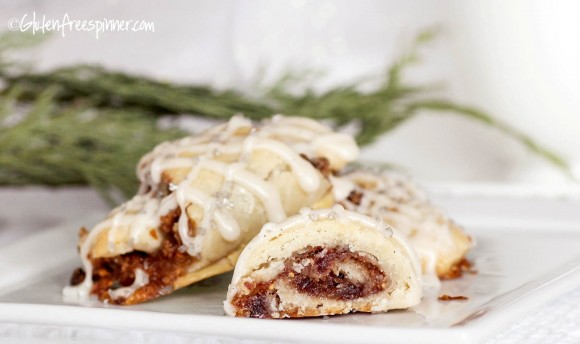 But I didn't stop there.  Once they cooled I drizzled each one with white icing sweetened with a hint of vanilla and almond extract then sprinkled each cookie with silvery crystals.  Perfect!  Now this looks like a Christmas cookie!  Perhaps it negates the traditional Rugelach as most call for a simple sprinkle of cinnamon sugar.  But as I sit here eating one while writing, I wouldn't change a thing…the icing not only adds bling, but another special sweetness.
I'm happy to tell you these freeze well too.  I would've eaten every single one if I hadn't froze them right away.  And just to be sure, I removed – just one – and tried it after freezing…heavenly delicious.
Enjoy baking this holiday season and try a few new recipes like this one.
Fig and Cherry Rugelach – Christmas Cookies
Ingredients:
Flour blend:  Combine and set aside.
1 cup fine brown rice flour
1/2 cup potato Starch (not flour)
1/3 cup plus 1 Tbsp white rice flour
3 Tbsp tapioca starch
1/2 tsp xanathan gum
Rugelach:
8 oz – 1/3 less fat cream cheese, at room temperature
2 sticks of butter (1/2 lb) room temperature
1/4 cup granulated sugar plus 9 tablespoons
1/4 teaspoon kosher salt
1 teaspoon pure vanilla extract
1/4 cup light brown sugar, packed
1 1/2 teaspoons ground cinnamon
3/4 cup chopped dried figs, stems removed
1/2 cup dried tart Montmorency cherries
3/4 cup chopped walnuts
1/4 cup apricot preserves and 1/4 cup cherry preserves, pureed together in a food processor to make a spread
1/4 cup heavy whipping cream for brushing on top
Directions
Prepare the flour blend by combining the five ingredients with a wire whisk and set aside.
Prepare the counter top by spreading out two sheets of plastic wrap (about 18″ long each) laying them side by side width wise  making for a 24″ x 18″ working surface and dust with powdered sugar.  (This is your rolling surface).
In the bowl of electric mixer, cream the cheese and butter with the paddle attachment until combined and light. Add 1/4 cup granulated sugar, the salt, and vanilla. With the mixer on low speed, slowly add the flour blend and mix until just combined.
Dump the dough out onto the prepared surface and add another dusting of powdered sugar on top and roll it into a ball. Cut the ball in quarters, wrap each piece in plastic, and refrigerate for 1 hour.  Don't skip this step, it's important for the dough to work.
To make the filling:
In a food processor, combine 6 tablespoons of granulated sugar, the brown sugar, 1/2 teaspoon cinnamon, the figs, cherries, and walnuts.  Process until the figs and cherries are ground into small pieces and blended with the remaining ingredients.
On the same prepared rolling surface with additional powdered sugar added, place a ball of dough (one at a time-keep others in frig until use) and roll around in the sugar to coat.  Place another piece of plastic wrap over top and roll out into a 9-inch circle. Spread the dough with 2 tablespoons of the apricot/cherry preserves and sprinkle with 1/2 cup of the filling, distributing evenly around the circle. Press the filling lightly into the dough to adhere. Cut the circle into 12 equal wedges—cutting the whole circle in quarters, then each quarter into thirds. Starting with the wide edge, roll up each wedge. Place the cookies, points tucked under, on a baking sheet lined with parchment paper.  Continue with the other three balls of dough, brush tops with the heavy whipping cream, and chill for 30 minutes.
Preheat the oven to 350 degrees F.
Bake for 20-25 minutes or until lightly browned. Remove and allow to sit for five minutes before moving to a wire rack and let cool.   Drizzle with the icing (below) and sprinkle decorative sugar crystals over top.  If freezing, place parchment paper between layers.
Icing:
1 cup powdered sugar
2 Tbsp milk
1/2 tsp vanilla extract and few drops of Almond extract
Combine icing ingredients to desired consistency and put into a baggie, snip the end, and drizzle over the cooled pastries.