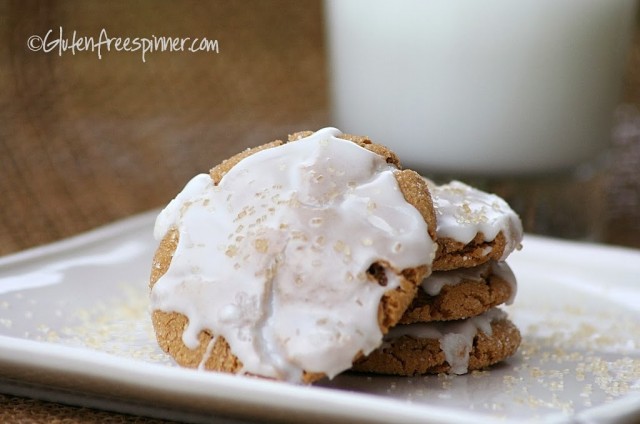 Frosted Molasses Ginger Cookies
I'm re-posting my Molasses Ginger Cookies for the start of Christmas Cookie Baking.
These are consistently a favorite with a crisp outer crust and soft chewy inside.  They come together quickly using Pamela's baking mix which includes the goodness of almond meal and brown rice flour and white rice flour all in one scoop!  I added sweet sorghum flour for a nice crumb and they couldn't be easier.  No need for all the extra flours.
Frost with a little white icing and Turbinado sugar sprinkles for extra bling for the holidays.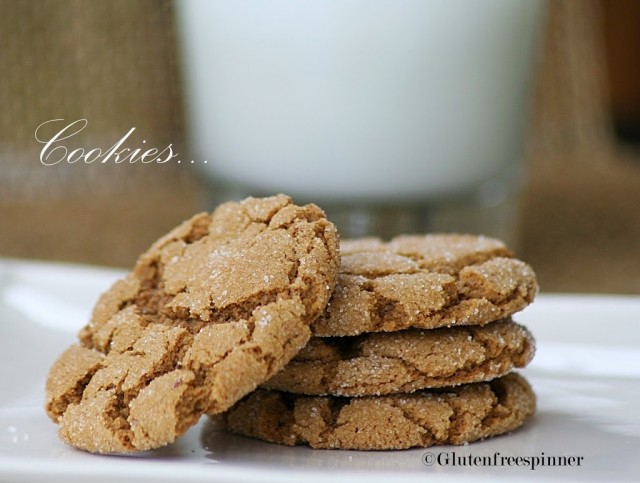 Molasses Ginger Cookies
Finally! That's all I can say about these beautiful little gems.
If you know me, you know I didn't bake until I had to live gluten free.  I've always loved to cook, but I really didn't enjoy baking.  Now?  A very different story….I love baking.  My inspiration for these cookies was Whole Foods Molasses Cookies (gluten free) that I fell in love with on the first bite.  I knew I had to teach myself how to make them.  Four failed attempts later, I finally created a delicious Molasses Ginger Cookie.  Success!
The challenge was the height of the cookie…they were coming out flat and soggy.  I tried many variations and eventually decided to cut the butter/shortening down.  Every recipe I looked at had at least 3/4 cup of shortening – most had more!  But it was the only thing I could think of that would create a thicker, denser, crisp on the outside yet soft on the inside cookie.  And it worked.  These cookies are spicy and full of flavor.  I frosted a few with white icing and that was very good too, but they are best just as they are.
Ingredients
2 1/2  cups Pamela's baking mix
½ cup sweet sorghum flour
½ tsp Xanthan gum
1 tsp ground ginger
2 tsp baking soda
¾ tsp ground cinnamon
½ tsp ground cloves
¼ tsp salt
1/2 cup butter – softened
1 cup packed brown sugar
1/3  cup molasses
1 egg
White sugar for rolling
Directions
Preheat oven to 350 degrees.  Arrange parchment paper on a large baking sheet.
Combine baking mix, sorghum flour, xanthan gum, ginger, soda, cinnamon, cloves and salt.  Set aside.
Cream the butter and add the sugar and beat until fluffy.   Add the molasses and egg and beat on high for 2 minutes.   With a wooden spoon, add the dry mixture – ½ cup at a time.  Mix only until well blended.  It will be stiff, but mix well.
With a measuring tablespoon, measure 1 tablespoon of the batter and mold into rounded balls, roll in white sugar.  Place on baking sheet, 12 per sheet, and bake 8-9 minutes (9 minutes was perfect using the exact tablespoon measure), removing when still puffy.   Remove and let sit for 2 minutes before transferring to cooling rack.
Optional Glaze
1 cup powdered sugar
1 Tbsp, plus 1 tsp low fat half and half
½ tsp vanilla extract
Combine ingredients and lightly glaze top of cookies.