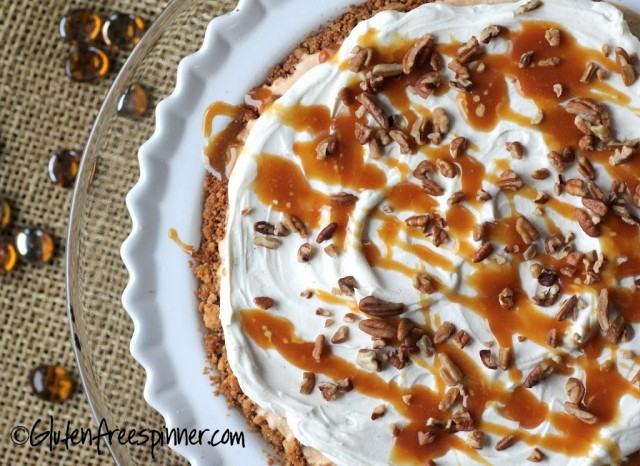 (aka…Oktoberfest pie)
While talking with my son on his way to work the other day he mentioned having had a Dairy Queen Pumpkin Pie Blizzard that was soooo good. That sparked conversation about a pie my mom use to make when we were growing up. At Thanksgiving, we as kids, didn't like pumpkin pie…not so uncommon, really. Do many kids like pumpkin pie? To us it was like an orange custardy thing that was mushy and looked gross. And, it's not only kids…Mr. Spinner doesn't like anything with pumpkin or squash…Sigh….I really wanted to make this pie.
So my son and I decided we would give my Mom's Pumpkin Ice Cream Pie a new name so he would never know it had pumpkin in it.
I suggested, "Harvest Pie"
My son suggested, "Oktoberfest Pie" assuring me it would entice Mr. Spinner.
Haaahahahaa!!!! How well he knows him!!
Oktoberfest Pie it was.

So my first step was to ask my mom if she still had the recipe; of course she did. And because I wanted to post her original recipe, I asked if she'd send me a copy which proved a great time to walk her through her new ipad. All of us kids got together this Summer and bought Mom a new ipad so she could bring it with her wherever she went. It's so much easier than being tied to your laptop, and these days, it allows us all to 'talk' to her more often. She's still learning how to use it, but being the smart cookie she is, she'll have it mastered in no-time.
So here's the recipe…gotta love recipe cards, right? I think it's a lost art. Even the cards themselves have a character all their own with a label, phrase, or funny little pictures of food like cupcakes or vegetables. But the writing is what I cherish most. They're almost always in cursive (which they don't even teach anymore), and that allows you to immediately distinguish who's recipe it is. You can almost 'see' the person while you follow along, especially if you had the joy of making it with them.
We all know how great digital recipes are for the convenience, variety, and easy access
(Hello! Gluten Free Spinner!!)
But try sharing a hand written card every now and then when someone asks for your recipe…it will be well received. Or, here's an idea…make one of your favorite dishes and give it to someone with a handwritten recipe card attached. Or host a party where everyone brings their favorite dish with handwritten recipe cards for all.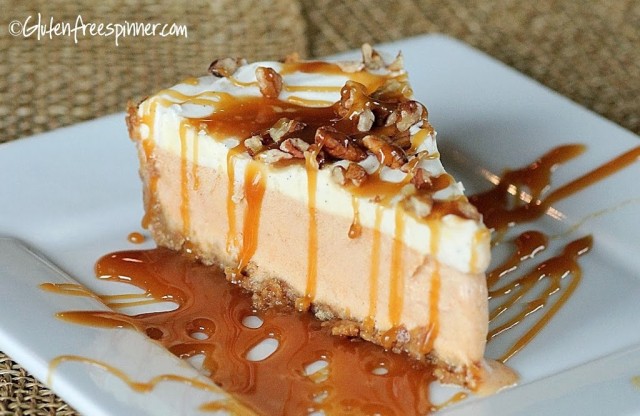 And here it is…Oktoberfest Pie
As for Mr. Spinner? Well…it worked…he loved it.
Brilliant idea my Son, thank you.
~ ~ ~ ~ ~ ~
I made just a few variations to my Mom's recipe, one of them being my Signature Cookie Crumb Crust using Ginger Cookies this time. It's a great combination with the pumpkin. Then I added more spices, vanilla, and orange juice…mmmmmm. Then I topped it off with whipped cream and a droozzle (more than a drizzle) of butterscotch caramel sauce and chopped pecans.
Enjoy!
1 cup 100% pumpkin (not pie filling)

1/2 cup brown sugar

1/2 tsp salt

1/4 tsp nutmeg

1/2 tsp ginger

1 tsp cinnamon

1 tsp vanilla

2 Tbsp orange juice

28 oz container Haagen-Dazs Vanilla Ice Cream, softened but not melted
Butterscotch Caramel Sauce for topping (I like Mrs. Richardson's Brand)

Heavy Whipping Cream beat with some sugar and vanilla – stiff peaks

Chopped Pecans for topping
Combine the pumpkin, brown sugar, salt and spices, vanilla, and orange juice with an electric beater until well blended. Stir in the softened ice cream until combined.
Pour into the prepared Signature Crust
and
smooth out the top. Freeze for at least 4-6 hours. Cover with plastic wrap if you are making days ahead.
Take out one (1) hour before serving and place in the refrigerator to soften. Top with sweetened whipped cream and chopped pecans. Droozle butterscotch caramel sauce over top and serve.