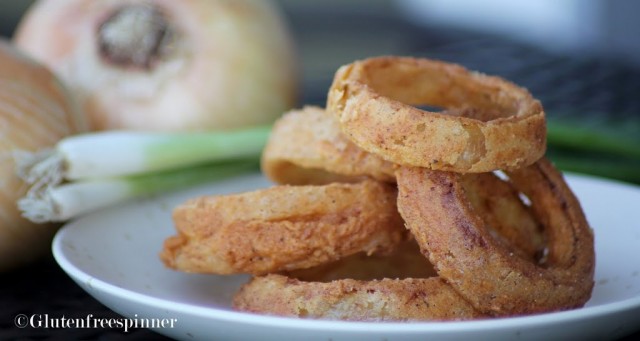 Onion Rings
In honor of National Greasy Foods Day, October 25th, I am re-posting my onion rings.
Yes, onion rings! Those wonderful breaded crispy rings of joy are back on the menu and better than ever. If there's one thing I strive for, it's learning new ways of converting all those foods we enjoyed and loved in our gluten eating days…to gluten free. We CAN have our favorite foods…and they can be better than we remember.
With a few simple changes, I adapted Guy Fieri's Rajun' Cajun Onion Rings to create these
gluten free onion rings. Kudos to Guy for creating a really good recipe with incredible flavor. Three of the major changes I made were using Vandalia onions instead of his suggested red onions, frying in peanut oil instead of vegetable oil, and single coating the rings instead of a double coat. Light sour cream (and less of it) along with Pamela's baking mix completes the list of changes and you won't miss a thing. These onion rings are light, crisp, flaky, savory and full of flavor thanks to his batter and seasoned flour. Give them a try, you'll never wish for gluten-filled rings again.
Ingredients:
1 cup Daisy Light Sour Cream

1 1/2 cups milk

2 Tbsp (or more) Frankie's hot sauce (or your favorite)

2 large Vandalia onions sliced into rings

1 tsp celery salt

1 tsp onion powder

1 tsp garlic powder

1 tsp mustard powder

1 tsp paprika

1 Tbsp chili powder

1 tsp white pepper

salt

2 cups Pamela's baking mix

Peanut oil for frying
Directions:
In a large bowl, whisk together the sour cream, milk and hot sauce. Pour into a zip lock plastic bag and add the onion rings. Squeeze out the air and allow the rings to soak in the batter. In a separate zip lock bag add the flour and seasonings and toss to combine.
Heat enough oil in the deep fryer or large dutch oven to 350 degrees.
Remove the onion rings from the batter and shake in the flour. Place in the pre-heated oil in batches (don't over crowd) and fry until golden brown and crispy (about 5 minutes). Drain the rings on paper towels and salt while still hot. We enjoyed these without the suggested sauce, they were good by themselves or a simple dip in gluten free ketchup.