Goldbaum's Flatbread Crisps
Deliciously light and flavorful!
I have to admit when asked to review these crackers I was skeptical.  We've all been disappointed (many times) after purchasing crackers at $5-$7 a box hoping to find a flavorful one to enjoy with cheese or spreads.  I've learned to avoid most, sometimes a good rice cracker will do, but usually I skip a cracker all together.
Well my friends, thanks to Goldbaum's, we can now enjoy a tasty cracker with our wine and cheese and serve them at parties without apologizing for them.  They are thin, crisp, and snap in half without crumbling all over.  And see the edges?  I love that!  They're even pretty to look at with the toasted brown edges.
This past weekend was the first time I put a gluten free cracker out for appetizers – alone – all by themselves – as THE cracker.  Hehehe…it's exciting when we find good gluten free products, isn't it?  And the timing is perfect with the holiday season just around the corner.
So now it was time for my final criteria for taste tests…Mr. Spinner.  When I handed him one to get his take, I could tell he was bracing himself for a crumbled dry tasteless mess.  Ahhhh, but when he took a bite…he looked at me, then took another bite and said, "Mmmmm…they're kinda buttery….they even break at the perforated marks without crumbling…and they taste good.  I could eat these."
Yes! And that's how I felt too…Bravo Goldbaum's!
I tried the 'Just Salt' Flatbread Crisps and they also have Roasted Garlic, French Onion, and Nutty Sesame varieties.  The ingredients are all natural and they're made with chickpea flour.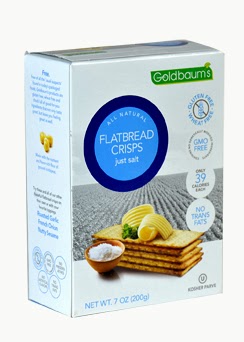 I will be ordering these online directly through Goldbaum's as they're not yet available in my area, but they do have a store locator tab on their site to find them in your area.  They also make many other gluten free products like Pasta, Waffle Ice Cream Cones (I can't wait to try these!), Snacks, Soup Accompaniments, and Gluten Free Meals.  Check them out, I can solidly recommend these flavorful crackers and look forward to trying the other products as well.  Stay tuned for more reviews…..