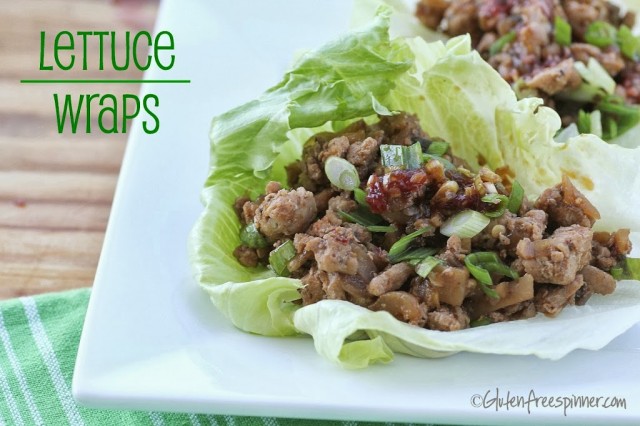 Asian Lettuce Wraps
And Oldie but Goodie!
One of my favorite styles of cooking is the sheer enjoyment of blending flavors and tossing ingredients together without measurements, relying simply on taste to create a dish. But there's a drawback to this method…recreating the same dish the next time!
This is one of those dishes. I've been making Asian Lettuce Wraps for years jotting notes on the same piece of paper then foregoing final details as I gained the flavor balance I was

looking for. Each time we crave these bundles of Asian goodness I pull out the notes and try to make sense of the scribbled mess, wishing I had written a complete recipe.
But as you see, I wrote an explicit "Yum!" , signaling it's worth another attempt. My notes are so old I even have a notation of using "Wonton Wraps" that I can't even have anymore. But…this time I wrote every little detail down…both for the sauces and the filling, and I'm so glad I did.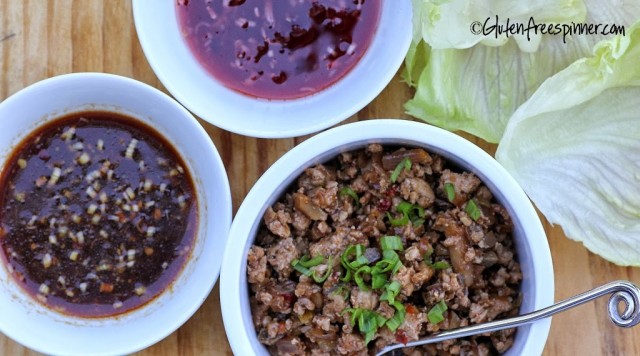 I like to use Jennie-O Lean Ground Turkey Breast, it's definitely my choice over any other ground turkey or chicken for the freshness and texture. You certainly can substitute with any brand you choose or shredded chicken should work too. If you prefer, you could use ground beef. Personally, I love the texture and lean protein of the ground turkey breast, it holds up and doesn't become mushy. Because ground turkey is a blank canvas, I like to season it while it browns adding sesame oil, grill seasoning, and Asian Spice which infuses the meat with so much flavor.
I add very small diced button mushrooms to my Asian Lettuce Wraps (shhhh, Mr. Spinner didn't know) as they add a nice flavor and texture. Mr. Spinner doesn't eat mushrooms of any kind, and he didn't have a clue they were in my wraps. Don't skip them…your anti-mushroom eaters will never know.
In my recipe I use a variety of Asian sauces. I keep an entire shelf in the condiment section of my refrigerator for Asian Sauces and Spices. Be very careful when choosing your sauces as many have soy sauce (wheat-gluten) or modified food starch. I list the brands below which should be easy to find in your local grocery store. You certainly can use your favorite brand, just be sure (as always) to check the ingredients.
My two sauces are a spicy dipping sauce and a plum sauce; the 'plum sauce' actually being a cherry sauce. We ended up putting on both sauces at the same time…a little heat and a little sweet! So-So good. We ate these for dinner, but you could also serve as an appetizer with small endive leaves.
I hope you enjoy my Asian Lettuce Wraps!
Oh, and don't forget a chilled glass of Pinot Gris or Sauvignon Blanc
Ingredients:
10-15 Iceberg Lettuce Leaves, trimmed to form a bowl (Butter lettuce is nice too)

1.25 lbs Jennie-O ground turkey breast

1 Tbsp Olive Oil

1 1/2 tsp sesame oil (divided)

1 Tbsp grill seasoning

1 Tbsp Asian spice blend such as Urban Accents Asian Pepper Market or Thai Garden. You can also use Asian Five Spice or McCormick Asian Spice Blend

1/2 cup chopped onion (I used half red and half white onion)

3/4 cup small diced button mushrooms

1 (8 oz) can water chestnuts, drained and small chop

3 cloves garlic, minced

2 Tbsp

Huy Fong Foods, Inc. Chili garlic sauce (or other GF chili sauce – check!)

1/4 cup GF Hoisin sauce

2 tsp minced ginger

1 Tbsp seasoned rice wine vinegar

2 tsp honey

1/2 cup chopped green onions (reserve 2 Tbsp for serving)
Directions:
Prepare the lettuce leaves by gently separating each lettuce cup. Rinse and pat dry with paper towels. (optional: you can trim the edges with a kitchen sheers to make them round if you choose)


In a large skillet over medium-high heat brown the ground turkey in the olive oil and 1 tsp sesame oil, breaking up into small crumbles. Reduce the heat to medium and add the grill seasoning and Asian spice blend and continue browning the turkey while blending the spices into the meat. Add the onions, mushrooms, and water chestnuts tossing and sauteing until the onions and mushrooms become tender, about 5-6 minutes. Add the garlic and saute 30 seconds. Add the remaining ingredients (including the remaining 1/2 tsp sesame oil) and toss into the turkey mixture simmering until warmed and blended, about 3-4 minutes.
Sprinkle remaining green onions over top and serve with prepared lettuce leaves and the two dipping sauces (recipes below).
Spicy Dipping Sauce (combine all ingredients and serve in small dipping bowl)
2 Tbsp Tamari gluten free soy sauce

3 drops sesame oil

2 Tbsp rice wine vinegar

1 Tbsp chili garlic sauce

1 Tbsp honey

1/2 tsp minced ginger

1 Tbsp small chopped green onion

Dash of spicy brown mustard
Cherry Plum Sauce (combine all ingredients and serve in small dipping bowl)
1/3 cup good quality cherry jam or preserves

1 Tbsp rice wine vinegar

1 tsp brown sugar

2 Tbsp small diced green onion

1/2 tsp minced garlic

1/2 tsp minced ginger

1 Tbsp fresh squeezed lime juice

2 tsp chili garlic sauce