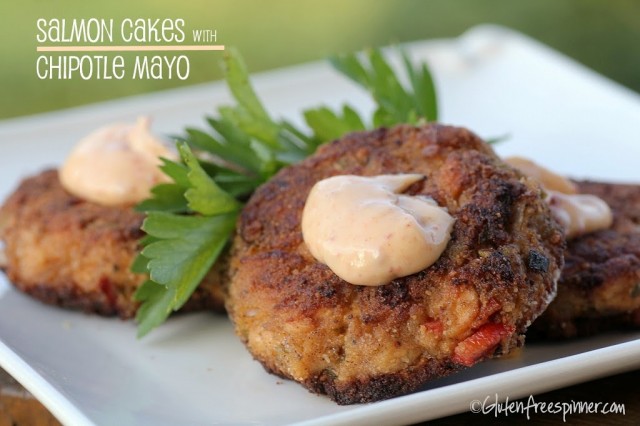 Salmon Cakes

with

Chipotle Mayo
Forget the canned salmon in those salmon cakes of old…fresh poached salmon is the star of these flavorful cakes. Not too much filler, just enough to keep them together while adding a little texture and flavor. They are gently fried to a golden brown and served with a zippy Chipotle Mayo with a hint of sweetness.
You know how I love salmon, I can eat it for days on end; breakfast, lunch, and dinner. So when Mr. Spinner asked if we could make salmon cakes instead of salmon filets one night I cringed a bit at the thought. Breading these beautiful salmon filets? Lo and behold, it proved a great idea.
The salmon flavor was still wonderfully present with tender pink flaked salmon the main ingredient. A kiss of my Chipotle Mayo and we had a winner-dinner!
1/2 lb fresh skinless salmon

1/2 cup water

2 Tbsp chopped yellow onion, dash of dill weed, fine sea salt and pepper

1 Tbsp olive oil and 1 Tbsp butter

1/2 cup red onion, finely diced

1/2 cup celery, finely diced

1/2 cup red bell pepper, small dice

1/4 cup chopped Italian parsley

1/2 tsp worcestershire sauce

Dash of hot sauce

1 tsp Old Bay Seasoning

1/2 cup GF bread crumbs (Schar are good)

1/4 cup GF Mayo (I like the one with olive oil)

1 tsp Dijon mustard

1 egg, lightly beaten

Extra bread crumbs for rolling

2 Tbsp Olive oil and 1 Tbsp butter for sauteing the cakes
1/3 cup GF Mayonnaise (the one with olive oil is good and lower in calories)

1 whole chipotle pepper, chopped fine with some of the liquid

1/2 tsp Dijon Mustard

1-2 tsp honey – to taste
Combine all ingredients and taste for more honey or Dijon to your liking.
Directions for Cakes:
In a medium saute pan add the water, onion and dill. Heat until it starts to bubble. Sprinkle the salmon with sea salt and pepper and place in the pan, bringing back to a gentle simmer. Cover and cook 5-8 minutes, depending on the thickness, until its a soft pink and flakes easily. Do not overcook…a little pink in the middle is good. Remove salmon from the pan to plate and set aside to cool.
In the same saute pan, pour out the water and heat the Tbsp of olive oil and Tbsp butter until bubbly. Add the red onion, celery, and red bell pepper and saute until tender, about 5-6 minutes. Pour into medium glass bowl. Flake the cooled salmon into 1″ pieces and add to the bowl. Add the remaining ingredients and mix very lightly to keep the salmon flaky, not mushed.
Form into 3″ round cakes by gently patting to form 1/2″ thick. Lighly roll in bread crumbs and place on a baking sheet. Repeat and continue forming about 8-10 cakes. Cover with plastic wrap and refrigerate for about 20 minutes (or longer if making ahead).
In a large saute pan heat the 2 Tbsp olive oil and 1 Tbsp butter over medium heat until bubbles form. Add about 3-4 cakes at a time, frying for 3-4 minutes on each side until nicely browned. Remove to a plate lined with paper towels and keep warm in 200 degree oven while you continue with the remaining cakes.
Serve with the Chipotle Mayo.