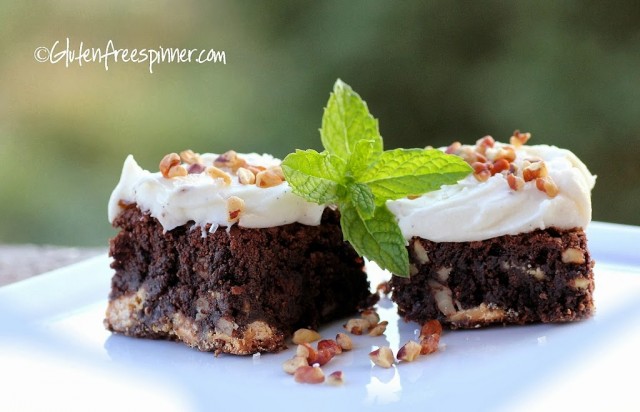 Cherry, White Chocolate, and Pecan Brownies
with

Cream Cheese Frosting
These kicked-up brownies start with a packaged brownie mix making them oh-so-easy! I used King Arthur's Gluten Free Brownie Mix and found it to be much easier to mix than other brands. It's also very chocolaty and rich tasting rather than just sweet. I added an extra egg along with sweet-tart Mariani cherries, white chocolate Ghirardelli chips, and chopped pecans. These extra goodies are surrounded by the deep rich chocolate brownie making for a decadent treat. A final swirl of vanilla-almond infused cream cheese frosting adds a creamy-smooth finish.
It's funny how many people say, "I don't eat dessert", yet try setting a plate of tempting sweetness within reach and you'll witness a change of heart. Why fret about a little sweet indulgence, it's good for the soul when enjoyed in moderation. It takes you to a happy place – if only for an instant.
I love to make beautiful desserts and you can imagine the calories and sugars I would ingest by creating, generating and testing so many recipes if I didn't share with everyone I know!
And what better expression of love than sharing of food? The thought, the time, the care, and the presentation says "I Care About You". Want some food-love ideas?
A hot bowl of potato soup on a chilly winter day sends a warm hug.
A slice of ice cream cake on hot August evening sends cool sweet vibes.
A Caprese salad made with the tomatoes your neighbor gave you shows appreciation.
Easy asparagus wraps shared with a friend after a long day shows empathy and brings calm.
Speaking of which, I also enjoyed the gift of food-love this year on my birthday. My good friend, Kim, baked this beautiful birthday cake for me using my recipe for Raspberry Filled Devils Food Cake with Whipped Cream Frosting . We all know how much effort goes into baking gluten free, especially for someone who isn't gluten intolerant. She doubled the recipe to make it four layers instead of the two in my recipe, taking it over-the-top! Can we say Food Love!! XO!
This picture was taken about 11:00 pm around the bonfire…
They even donned me with a birthday tiara (hehe).
The cake was amazing…and so was the love I felt.
Food Love….
Spread it around.
Cherry, White Chocolate, Pecan Brownies
with

Vanilla Almond Cream Cheese Frosting
Preheat oven to 350 degrees and spray an 8×8 baking pan with non-stick spray
Makes 16 – 2″ square brownies
Ingredients:
1/2 cup melted butter

2 Tbsp water

3 eggs

1 tsp vanilla extract

1/2 tsp almond extract

1/4 cup chopped pecans (extra to sprinkle on top)

1/4 cup chopped Mariani Cherries (or

Montmorency Cherries)

3/4 cup gf white chocolate chips (Ghirardelli are a great choice)
Directions:
Whisk the melted butter (be sure it's not hot…just warm or you'll cook the eggs), water, and three eggs until blended. Add the brownie mix and whisk until all combined.
Add the vanilla, almond, pecans, cherries, and white choc chips. Stir to combine. Pour into the prepared pan and smooth evenly.
Bake 35-40 minutes, or until the center is set and a toothpick comes out with crumbled cooked pieces of brownie. Allow to cool. ** see baking tips at bottom for King Arthur's tips.
Frost with Vanilla-Almond Cream Cheese Frosting (below).
Vanilla-Almond Cream Cheese Frosting
4 oz softened cream cheese (I like 1/3 less fat)

1/4 cup softened butter

2 cups powdered sugar (confectioners sugar)

1 tsp vanilla extract (Vanilla bean paste is even better!)

1/4 tsp almond extract
Cream all ingredients together with electric mixer until desired consistency. Spread on cooled brownies. Cut into 16 – 2″ squares and top with chopped pecans.
**King Aruthur Baking Tips:
Tips for success with your gluten-free brownie mix: Baking times can vary considerably, depending on the pan used.
In darker pans, including our corrugated King Arthur Flour/USA pans, bake for 30 to 35 minutes.
In lighter-colored pans, bake for 35 to 40 minutes.
For glass pans, decrease the oven temperature to 325°F, and bake for 40 to 45 minutes.