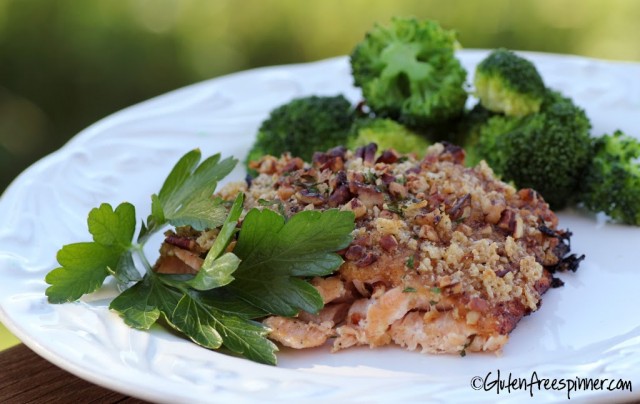 Pecan Crusted Salmon
A light, flaky, honey mustard sort of salmon with a crunchy pecan crust.
You know how I love salmon and with Mr. Spinner at the cabin earlier than I could join him, I was eating solo and craving a new salmon recipe. Funny how your creative juices flow once you turn off all the busy workday annoyances and pour a chilled glass of pinot grigio. Ahhhhh, the simple pleasures.
I made a pretty big filet considering I was the only one eating…but making a single serving vs. having leftovers? Hmmm, easy decision.
Skinless salmon is my favorite and I've finally learned how to remove the skin after many failed attempts. I can't tell you how many times I've ended up with half the amount of salmon because I've butchered the filet. How did I learn you ask? By watching Mr. Spinner filet fish at the cabin…walleye and crappies…he makes it look so easy. The number one key I learned is to have a very sharp filet knife.
I found a video on youtube to show the basics of how it's done. Of course I don't usually have a filet as big as his, nor is my knife! Eeeek! But it really is easy once you get the hang of it. One thing I also do that many people don't bother with is remove any grey skin/flesh from the back of the filet. It makes a huge difference in the overall flavor.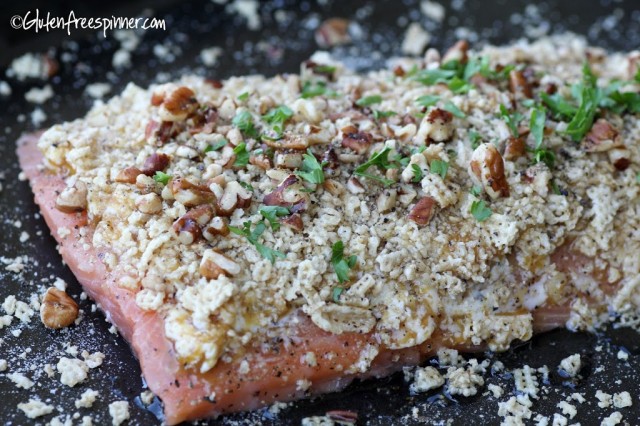 My Pecan Crusted Salmon is super easy to prepare and it's baked so you just pop it in the oven and you're good to go….great for company! This is the picture just before I put it in the oven. You can see the goodness of the flavors just waiting to be baked into the filet.
I hope you enjoy my new salmon recipe…it's light and flaky, a little sweet from the honey and a little savory from the Dijon and garlic. But its the crust that puts it over the edge…crisp, nutty, and deeeeeelicious!
Add a side of fresh steamed broccoli and waaaaalaaaaa!
Ingredients:
4 (6 oz) skinless salmon filets or one filet to cut into servings
fine sea salt and pepper
olive oil
Schmear:
1/4 cup butter, softened but not melted
2 Tbsp Dijon mustard
1 1/2 Tbsp honey
2 Tbsp Tamari
1 Tbsp minced garlic
Crust:
1/2 cup crushed GF Rice Chex
1/4 cup finely chopped pecans
2 Tbsp chopped fresh parsley
Directions:
Preheat oven to 400 degrees.
Rinse your salmon filets under cold water and pat dry with paper towels. Lightly season with sea salt and pepper. Place on a non-stick baking sheet or very lightly spray regular with non-stick spray.
With a fork, make the schmear in a small bowl by blending the soft butter with the honey, dijon, tamari, and garlic. Just focus on blending the ingredients, don't worry about making it smooth and creamy. Now schmear the mixture over the top of the salmon, covering the filets.
Next mix the crust ingredients together and sprinkle over the top of the schmear-covered salmon. Drizzle olive oil over top and place in the preheated oven for 16-20 minutes until the fish flakes easily and the top is crusty brown.
Allow to sit for 5 minutes before serving. Serve with fresh steamed broccoli and a chilled glass of pinot grigio or sauvignon Blanc.
Yum!!