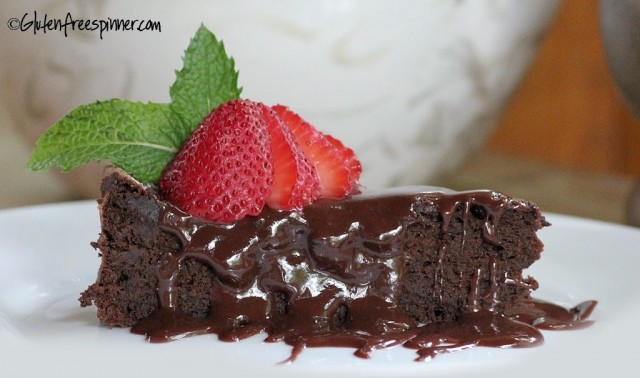 Flourless Chocolate Cake II
with Easy Chocolate Ganache Drizzle
Summer weekends at the cabin are full with entertaining family and friends, and I try to make quick and easy desserts to share with guests. My Flourless Chocolate Cake With Raspberry Lime Salsa continues to be one of the most popular spinns on Gluten Free Spinner, so I certainly didn't want to upstage a front runner. My Flourless Chocolate Cake II runs a pretty close second and took just minutes to assemble. The biggest difference between the two is density, my first being a bit more rich and decadent, this one more of a

cake. Nice to have a choice, especially when we're choosing between chocolate deliciousness!
I started with a classic flourless cake recipe then added the indulgence of a chocolate ganache drizzle and the result was an elegant Saturday night dessert. My sister-in-law and I were in charge of adding the drizzle to each serving (ok, maybe a droozle rather than a drizzle) deciding more was definitely better! A strawberry on top for prettiness and decadence was served.
Happy Summer Entertaining!
Ingredients:
Cake:
6 Tbsp butter plus more for the pan

8 oz bittersweet or semisweet chocolate, finely chopped

6 large eggs, separated

1/2 cup sugar

2 tsp vanilla extract
Chocolate Ganache:
8 oz semisweet chocolate chips

8 oz heavy whipping cream
Directions:
Preheat oven to 275 degrees. Prepare a 9″ springform pan by buttering the bottom and sides.
Cake:
In a large glass bowl add the butter and chocolate and microwave in 30-second increments, stirring well each time until melted. Be careful not to over-heat, the chocolate should be just melted, not hot. Allow to cool slightly and whisk in the egg yolks. Add the vanilla.

In a separate large glass bowl beat the egg whites until soft peaks form. Gradually add the sugar and continue beating until stiff peaks form. Whisk 1/4 of the egg whites into the chocolate mixture then gently fold the remaining egg whites into the chocolate.

Pour the batter into the prepared pan smoothing the top with spatula. Bake until the cake pulls away from the sides of the pan and is set in the center, 45-50 minutes. Cool completely on a wire rack before removing the sides of pan.

Chocolate Ganache:
Add the chocolate and cream to a medium glass bowl and heat in microwave for 2 minutes. Stir well with a whisk and return to microwave for another 1-2 minutes, whisking well until the chocolate and cream are combined. Be careful not to over-heat, you just want the chocolate melted and combined with the cream. Allow to cool then drizzle over the cake slices when ready to serve. Add a sliced strawberry on top for garnish.
Store remaining ganache in refrigerator or freeze for another time.

Flourless Cake adapted from Martha Stewart