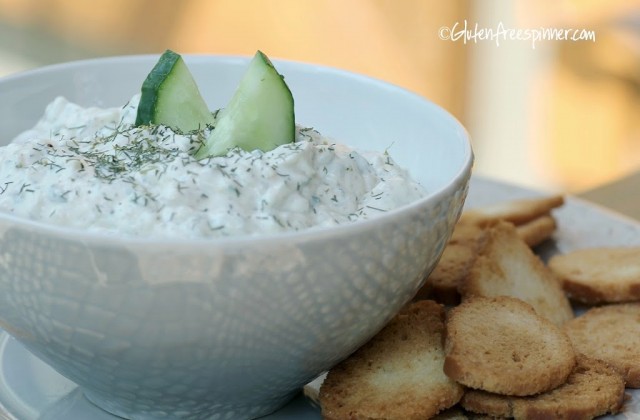 and Girls Weekends
So you know those 'must-have' foods at certain gatherings where you look forward to that menu item every year?
Well this Cucumber Dip is a must at Girls Weekend…every year.
One of my BFF's, Kim, makes this dip for our girls weekends because she happens to be the Cucumber Dip Queen, she does it best.
It's sooo-soooo good.
It's light and fresh, creamy and cucumbery, and it tastes like Summer.


It tastes like our girls weekend just started!
Happy Hours are a nightly ritual on Girls Weekend. Here we are on the pontoon enjoying the sunshine and simply being together. We've been BFF's for over 40 years…a couple of us even longer. If you are lucky enough to enjoy a friendship with even one friend that long, you know how special that relationship is.
We've been through good times and bad, and there's a loyalty and trust that comes with knowing each other that long.

We never take it for granted and feel blessed each time we're together.
When planning our weekends we try to keep it as easy as possible. Our days are filled with great food, cocktails, music and laughter, which leads to late night stories and belly laughs. We love being together, it's as simple as that…it's always a good time.
Here's one of our happy hour spreads with wine and cheese and…of course…the infamous Cucumber Dip.
The very best way to serve this Cucumber Dip is with Triscuits…that's how we've always enjoyed it.
It's the texture of a Triscuit that makes it the best pairing.
BUT….
Triscuits are no longer an option…they are wheat.
It was a sad realization and it took me awhile to get over…I mean, it's been tradition.
And to make it worse, last year the new "Dill Triscuits" were introduced at girls weekend!
Whhhhhhaaaaaaat?? Dill Triscuits???
Being I'll never taste them, I asked my buds to describe every detail of the yumminess for me. They sound amazing, so if you don't have a gluten intolerance or Celiac disease, get the Dill Triscuits.
So! Now you ask, what do I eat MY cucumber dip with?
The very best pairing I've found is the Glutino Gluten Free Bagel Chips, Original Flavor.
They have a great texture and are super crisp, light, and flavorful. Rice crackers don't do it…the texture is wrong. It has to be a substantial cracker or chip.

The Glutino Bagel chips made my Cucumber Dip experience good again, and that's a great thing. I've overcome missing the triscuit.
Which….reminds me…I have to rant for a second.
Recently while shopping I spotted Nabisco's Brown Rice Triscuit! I WAS SO EXCITED! Yipppeee-Yipppeee! They even have brown rice and sweet potato!
Well, until I read the box….brown rice AND wheat.
Grrrrrrrrrrr! Really? And…the…point….is???
To get us all excited would be my guess. Not Nice Nabisco!
And I certainly hope everyone reads the label of ingredients before giving them a try.
That would be a horribly miserable 'glutened' experience.

So now, the Cucumber Dip Recipe.
Kim found the original recipe at Brueggers Bagels which calls for their cucumber dill cream cheese. It really makes it the very best it can be, but that flavor is seasonal and many times sold out.
So we substituted either Onion and Chive cream cheese or Garden Vegetable…either will work. We use English Cucumbers so we can leave the peeling on, which adds to the flavor and texture. Another important ingredient is the fresh dill…it is so much better.
The original recipe has been tweaked by Kim and she shared her additions and extra's. I made it for the Fourth of July Holiday adding a few other tweaks myself and it was devoured in the first 20 minutes.
I hope you try this very special recipe for Cucumber Dip.
I promise it will become a tradition at your summer gathering too.
To my BFF's….Ann, Kim, and Laur
I luv you.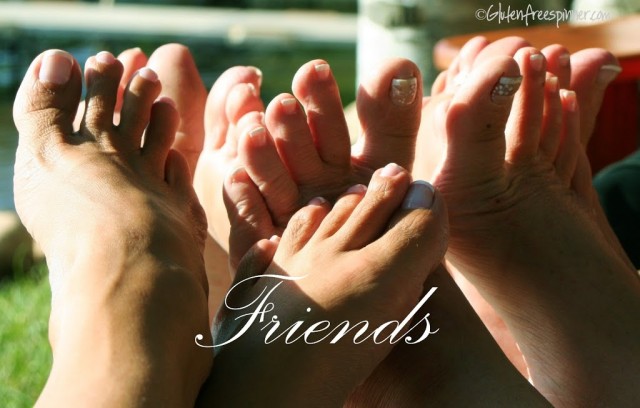 Celebrate your friendships…

Celebrate Girls Weekends!
Cucumber Dip


1 (8 oz) container onion and chive cream cheese – softened
1/2 cup mayonnaise (I prefer the olive oil based mayo)
1/2 cup Daisy Light sour cream
1 English cucumber, chopped small dice (if using regular cucumber; remove peel and seeds)
2 green onions – diced using whites and greens
1/4 cup chopped red onion
1/2 tsp garlic powder
1/2 tsp onion powder
Lawrys season salt to taste
Fresh Dill – chopped – about 2 Tbsp (fresh is what makes the dip) or use dry
Squeeze of ½ lemon
Three shakes of Cayenne Pepper to taste (optional)
Directions:
Beat together the cream cheese, mayonnaise, and sour cream until creamy. Mix in remaining ingredients with hand mixer until smooth.
Refrigerate for 1-2 hours to allow flavors blend.
Serve with Glutino Bagel Chips (or Triscuit if you can).
This post is linked to Gluten Free Wednesday