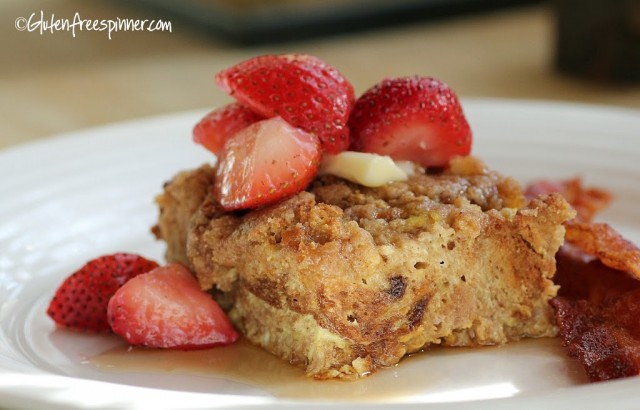 Cinnamon Raisin Baked French Toast
Cabin life in the summer is busy-busy with family, friends, and neighbors enjoying the warm weather and sunshine while gathered around a great spread of food. Everyone pitches in bringing something to share and each dish is welcomed with oooohs and ahhhhs.
When morning comes we have early risers (like myself) and late morning stragglers who celebrated waaaay into the evening. It's nice to have something available that can be heated

up as needed to accommodate the varied breakfast times. The inspiration for my baked french toast was a recipe Ree Drummond of The Pioneer Woman made for her daughter and friends, and I was dying to make it gluten free.
I made quite a few changes, the biggest being gluten free of course, but also lightening up some of the creams and using Udi's Cinnamon Raisin Bread for added yumm factor. It was like a breakfast bread pudding laced with cinnamon, raisins, and sweet vanilla maple goodness. I substituted evaporated milk for the whole milk and half of the heavy cream with lowfat half and half. I also cut down the white sugar amount. Since gluten free breads can become spongy, I altered the bread and the liquids a bit. It came out beautifully, not gooey or mushy. I like a drier french toast, I don't like the inside to be wet. You can play with the amounts to your taste as well as the baking time to produce the texture you prefer.
It was deeeeeeelicious! The topping makes the dish and I served mine with slightly sweetened sliced strawberries and warm maple syrup along with crispy slices of bacon. The salty crisp bacon was fantastic with the sweet french toast.
This is a must for our upcoming 4th of July Holiday. I'll add a few blueberries to give it the Red, White, and blue theme.
Ingredients:
Butter, for greasing the pan

1 1/2 (12 oz) pkgs Udi's Cinnamon Raisin Bread, torn or cut into pieces

8 whole Eggs

1 (12 oz) can evaporated milk (I used lowfat 2%)

1/4 cup heavy cream

1/4 cup low fat half and half (not fat-free) Regular is fine too

1/3 cup sugar

1/2 cup brown sugar

2 Tbsp Vanilla Extract (or vanilla bean paste is wonderful!)
Topping
1/2 cup gluten free all purpose flour

1/2 cup Firmly Packed Brown Sugar

1 tsp Cinnamon

1/4 tsp Salt

Freshly grated Nutmeg, Optional

1 stick cold butter, cut into pieces

100 % maple syrup, warmed for serving

Butter, for serving

Fresh sliced strawberries lightly sweetened with sugar

Blueberries (optional)
Directions:
Preheat the oven to 350 degrees unless making the day ahead.
For the French toast: Grease a large casserole pan (lasagna pan is perfect) with butter. Tear the bread into chunks, or cut into cubes, and evenly distribute in the pan. Crack the eggs in a big bowl. Whisk together with the eggs, milk, creams, sugars, and vanilla. Pour evenly over the bread. Cover with plastic wrap and store in the fridge until needed (overnight works too). I made mine right away and it was still so good.
For the topping: Mix the flour, brown sugar, cinnamon, salt and some nutmeg in a separate bowl. Stir together using a fork. Add the butter and with your hands (or pastry cutter) mix it all together until the mixture resembles fine pebbles. Sprinkle the topping over the top of the egg soaked bread. (If making ahead, store the topping in a plastic bag in the fridge until ready to bake.)
Bake for 45 minutes for a softer moist bread texture or an hour -plus for a firmer crisp texture. Allow to sit for 10 minutes then scoop out individual portions. Top with butter and drizzle with warm pancake syrup and fresh strawberries.