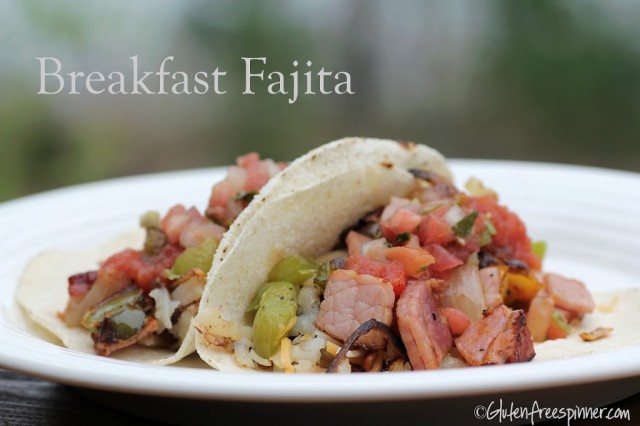 Breakfast Fajita
Egg Free
Fresh flavorful ingredients combined with easy preparation equals winner
and this one spells Y-U-M with a capital "Y".
This Breakfast Fajita, which is egg free, was my son's creation one morning at the cabin. Waiting for the temperature to warm-up before wetting a line put him on breakfast duty. He's a great cook anyway, but breakfast is an area he really shines. He grabbed a few ingredients from the frig and whipped up this tasty breakfast in minutes.
His title is now 'Breakfast King' for all gatherings…well deserved.
This 'no-recipe' recipe features corn tortillas, ham, various bell peppers, onions, and hashbrowns. A little salsa on top before serving finishes the colorful presentation.
A quick, light breakfast for a fun filled weekend whether it's a party of 3 or 13.
(Quantities are optional depending on how many you are serving)
Simply Potatoes Brand hashbrowns or frozen (if using frozen be sure to check for GF)

Corn tortillas

Ham or Canadian Bacon

, large dice

Red, Green, and Yellow Bell Peppers, seeded and diced into large pieces

Sweet Vidalia Onion, large dice

Salsa

Optional sour cream
Directions:
Start by frying the hashbrowns to a crispy crunch. The key to crispy hashbrowns is using canola oil and a little butter in the bottom of pan before adding the potatoes. Then cook on medium-high until the hashbrown becomes 'one', meaning a big potato-pancake like disk that is crispy and dark golden brown on the bottom before turning. Don't turn too soon! When you flip, reduce to medium heat and cook until that side becomes browned. This will give you very crispy hashbrowns. Be sure to season the potatoes with Lawrys and pepper. We added a little "Slap-ya-Mama" seasoning for extra heat.
In a separate skillet saute the onions and peppers and when they start to brown add the diced ham. Cook just until all are lightly browned…don't overcook the veggies, they should be a little crisp like in fajita's.
Warm the corn tortilla's either in microwave or over hot skillet and fill with hashbrowns first, then the pepper and ham mixture. Top with salsa and optional sour cream.