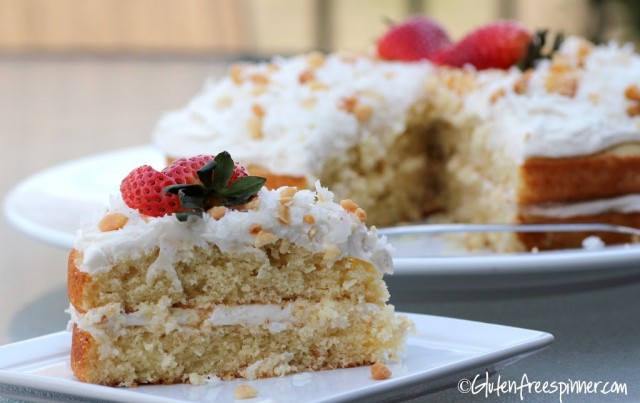 Vanilla Bean and Macadamia Nut Layer Cake
Last week I posted my Baked Donuts and promised to post the layer cake I made from the same recipe. This cake is so moist and flavorful from the coconut milk, coconut flour, vanilla beans, macadamia nuts, and vanilla Greek yogurt. The frosting adds a layer of
Mr. Spinner donned this cake his absolute favorite…he is my seal of approval you know.
First, it's the look

on his face…
T

hen the wiggling of his left toes as he finishes the last bite.
"Really good honey….this could be my favorite"
The recipe is validated at that point…that's when I know it's 'postable'.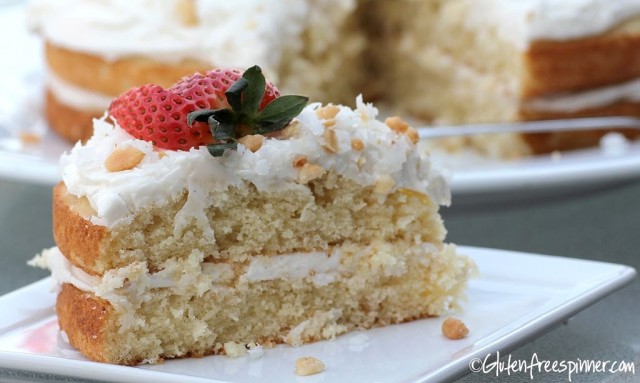 The strawberries on top are for presentation only,

they add

a burst of summer-time color.
If you want higher layers, use smaller pans but be sure to adjust the baking time.
It's so very good.
Yummy.
Vanilla Bean and Macadamia Nut Layer Cake
1 (14 oz) can unsweetened coconut milk

1 vanilla bean, cut and seeds removed (you can also use 1 Tbsp vanilla bean paste)

1 1/2 cups AP gluten free flour (if Xanthan Gum or Guar Gum isn't in your AP mixture add 1/2 tsp of either one)

1/4 cup coconut flour

1/4 cup ground macadamia nuts (ground not chopped)

2 1/4 tsp baking powder

1/2 tsp salt

3/4 cup softened butter

1 1/3 cup sugar

3 eggs

1/3 cup Greek Vanilla Yogurt
Directions:
In a medium saucepan add the coconut milk, vanilla bean seeds, and the bean itself (adds flavor). Heat over medium heat, stirring often. Don't boil, let it gently simmer until reduced to about 1 1/2 cups. Pour through a mesh strainer into a measuring cup to remove any of the pieces of the bean. Set aside.
Preheat oven to 375 degrees. Prepare two 9″ layer cake pans

with non-stick spray
In a medium bowl combine with a whisk the AP flour, coconut flour, ground macadamia nuts, baking powder, and salt. Set aside.
In a glass mixing bowl cream together the butter, sugar, and eggs, beating for three minutes until smooth and fluffy. Add the 1/3 cup vanilla Greek yogurt and beat 30 seconds until combined.
Add just 3/4 cup of the coconut milk mixture (reserving the rest for the frosting) alternately with the flour mixture just until all is blended

and smooth.
Fill the cake pans evenly, smoothing the batter in each. Bake in preheated 375 degree oven for 20-26 minutes, watching for lightly browned top and springing back to the touch. Again, if you use a smaller pan, adjust the time.
Remove from oven and allow to cool for 8 minutes before inverting onto cooling rack.
When completely cool, frost with the Vanilla Bean Coconut Milk Buttercream Frosting (below) and top with flaked coconut and macadamia nuts.
Vanilla Bean Coconut Milk Buttercream Frosting
1 1/2 stick butter (3/4 cup)

1/4 tsp salt

3 1/2 – 4 cups confectioners sugar

Remaining coconut vanilla milk (3/4 cup)

Flaked coconut and/or macadamia nuts for topping

Optional slice

d strawberries for presentation
Beat the butter and salt until fluffy. Add 2 cups confectioners sugar and 1/2 cup coconut milk and blend until smooth. Continue adding the sugar and milk until the desired consistency is reached. You many not use all the milk or sugar. Taste for preference.