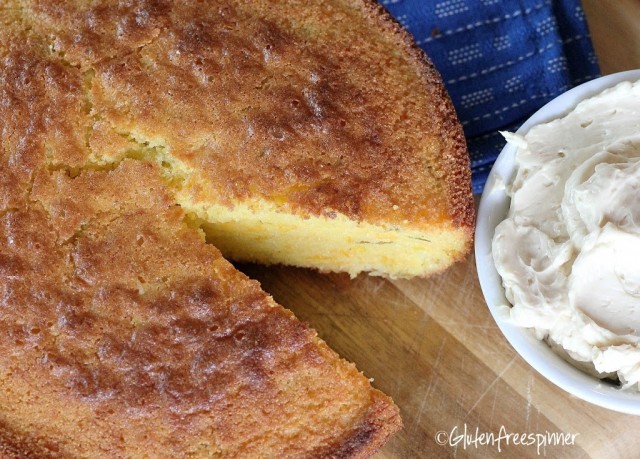 Chili Cornbread with Map
le Butter
In honor of Cinco de Mayo I'm posting my Chili Cornbread.
Don't forget the Maple Butter…to die for!
Disfrutar!
Ingredients:
Corn Bread:
3/4 cup cornmeal

3/4 cup GF all-purpose flour

1/4 tsp salt

1 1/2 Tbsp baking powder

½ tsp guar gum (omit if your GF all-purpose already has)

4 eggs

3/4 cup sugar

Creamed corn mixture: 3/4 cup frozen corn, thawed mixed with ¼ cup half and half and 2 Tbsp grated

P

armesan– ground in food processor to resemble creamed corn

4 ounce can diced green chilies, drained well

1/2 cup butter softened

1/2 cup shredded

M

onterey jack and cheddar cheese blend
Maple Butter
1 cup butter, softened

1/2 cup 100% maple syrup

1/2 tsp sea salt
Allow butter to soften to room temperature. With a mixer, whip butter & Salt until creamy. Slowly drizzle syrup into mixture until well blended.
Directions:
Preheat oven to 400 degrees.
(If you're looking for a good gluten free all purpose flour, check out my recipe here.)
Mix all ingredients together in the order given, pour into greased 8″ or 9″ round stone casserole dish or iron skillet.
Bake 25 minutes, reduce heat to 375 and bake another 13-16 minutes – Insert toothpick- if it comes out clean the corn bread is done. If not, continue baking & check every 5 minutes with a toothpick.
Serve warm with Maple Butter.