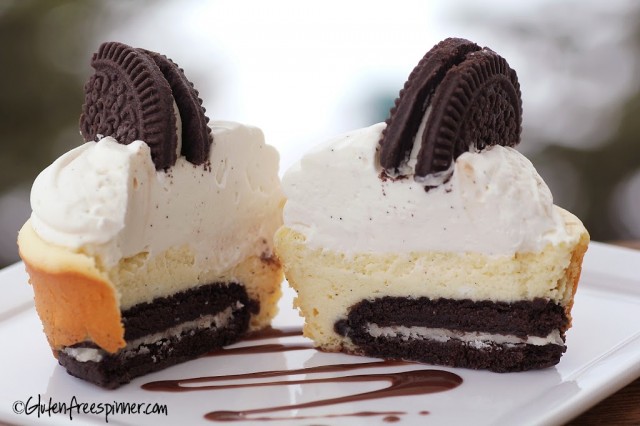 Vanilla Bean Ne

w York

Cheesecake Cupcakes
with Chocolate Cookie

Crust
Who says we can't have Oreo

Cheesecake

Cupcakes while living gluten free?
Well, maybe not the Nabisco Brand Oreo Cookie, but many companies dedicated to gluten free baking offer chocolate sandwich cookies, and my favorite is
Midel.
They taste every bit as good as the original.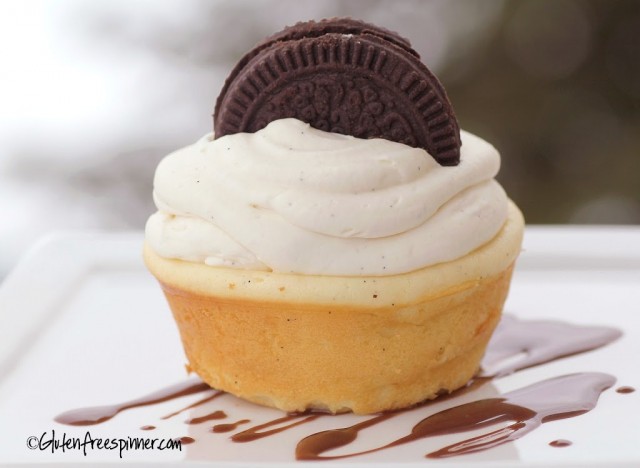 These cupcakes were so easy to make as you don't have to

prepare

a separate crust. Just drop a cookie into the bottom of each muffin cup and fill with the cheesecake filling. They bake quickly and require a simple sweetened whip cream topping for the finish.
The filling can't be just any ordinary

cheesecake filling, it must be packed with flavor and fluffiness.

I used a New York style cheesecake filling made with heavy cream and vanilla
beans. It's creamy and packed with vanilla thanks to my favorite new find, Natural Madagscar Vanilla Bean Paste. It's so convenient and much easier than using a whole vanilla bean…and every bit as good. I use it in everything now, but if you don't have the paste, just substitute with the flesh of a whole vanilla bean and 1/2 tsp pure vanilla extract
I garnished these cupcakes two different ways, one with a half cookie (above) and the other with cookie crumbs and a strawberry wedge. So pretty!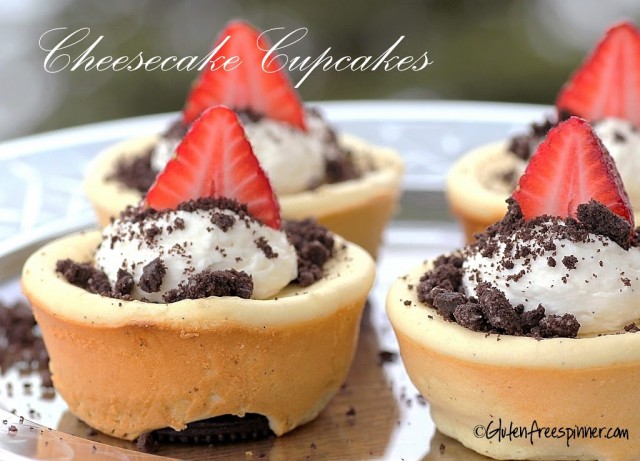 I think that's the fun of cupcakes…decorating them.
See the cookie crust showing through in this one?

It's a

sneak

–

peek of what's inside!
Being that I could have devoured a couple of these heavenly dessert

s a

t a time, I shared them with everyone. The reviews were evident as the mmm's and yum's accompanied rolling

bright

eyes in dreamy expression. Success!
Creamy New York style

vanilla bean c

heesecake with

a

chocolate sandwich cookie crust

.
20-24 Midel Chocolate Sandwich Cookies (

more for garnishing)

2 (8 oz) pkgs 1/3 less fat cream cheese (softened)

1/2 cup white sugar

1 1/2 Tbsp all purpose GF flour

2 large eggs, room temp

1/3 cup heavy whipping cream

1 Tbsp vanilla bean paste (or the paste of 1 whole vanilla bean and 1/2 tsp pure vanilla extract)

2 tsp fresh squeezed lemon juice

Topping: Sweetened heavy whipping cream (add powdered sugar and vanilla whip to stiff peaks)
Directions:
Preheat oven to 325 degrees. Spray muffin tin cups with non-stick spray. Drop one whole cookie in the bottom of each muffin cup. Set aside.

Beat the cream cheese, sugar, and flour for 2 minutes until smooth. Add the eggs one at a time, beating for 1 minute after each addition. Add the heavy cream, vanilla bean paste, and lemon juice. Whip for 2 minutes.
Pour into each prepared muffin cup…all the way to top. Bake in preheated 325 degree oven for 18-20 minutes or until set. Remove and allow to set and cool.
Top with sweetened whipping cream and garnish with a piece of cookie or cookie crumbs and a strawberry wedge.
Store in refrigerator.