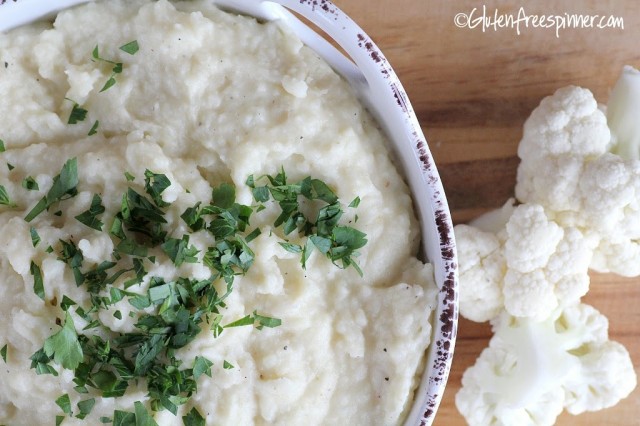 C

auliflower and a few russets….delicious
Some dishes just require mashed potatoes, especially in Mr. Spinner's e

yes.
So why not lighten up th

e

expected with Cauliflower Mash…it's crazy good.
The key to cooking the

cauliflower and potatoes

is to use a simple steamer basket.  I love these baskets for all veggies, they cook fast and fresh while retaining their nutritional value.  I bought one

for

each of my kids when they moved into their own home. 

S

trange gift you

say?
Not once you have

one…

they are
a necessity in every kitchen.
The cauliflower and potatoes steam together until soft enough to mash, it's that easy. 

Add a few spices, butter, milk, a tish of sour cream and Parmesan.
D

eeeeeelicious!
** Tip – Last night we ate the leftover Cauliflower Mash with grilled chicken breasts.  Here's what I did to serve them changed up a bit – SO GOOD!  Place the Cauliflower Mash in a casserole dish and top with a little cheddar-jack cheese and a sprinkle of grated Parmesan.  Bake in 350 degree oven – uncovered – for about 18-20 minutes depending on the size of your leftovers.  I might even use this method to serve with company, it looked amazing with a crispy top and it tasted so good.  YUMM! 
1 Medium head of

cauliflower

cut into small flo

werettes

 3 medium russet potatoes, peeled and cubed into 1″ pieces

 Sea Salt and P

epper

1 tsp garlic powder

4-5 Tbsp butter, softened

1/3 cup

milk

2 Tbsp light sour cream

1/4 cup grated

Parmesan cheese
Directions:
In a stock pot add about 1 1/2 inches of water to the bottom of pan and place the steamer basket in place.  Add the cauliflower and diced potatoes to the basket, cover, and steam over medium to medium-high heat until soft enough to mash (check with fork to be sure they will mash).  This will take about 15-18 minutes.
Drain the water and keep the cauliflower and potatoes in the hot pan (no heat).  Sprinkle with sea salt and fresh black pepper and add the garlic powder.  Toss.  The warm mixture will absorb the seasonings.  Gently mash the cauliflower and potatoes with a hand potato masher, combining the two.  Add the butter, milk, sour cream, and Parmesan and mash together until blended.  Taste for seasoning adding more grated Parmesan to thicken a little if needed.