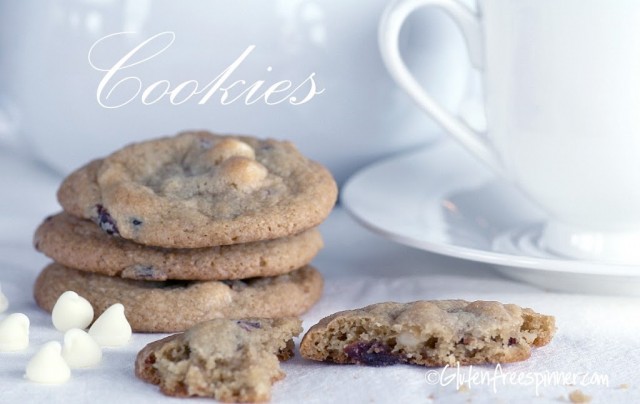 Cherry, White Chocolate, & Macadami
a Nut Cookies
Enjoy a little time for yourself this weekend…
Grab a good book, a cup of tea, and a few of these sweet temptations.
Not only will these cookies satisfy your sweet tooth, but two of the featured ingredients pack some health benefits as well. Take Montmorency Cherries for instance, have you tried these cherries on their own as a snack? They're my favorite. A little tart, a little sweet, chewy, moist, and very satisfying. When I'm on the go or just need a little snack, a few cherries and a handful of almonds provide a lowfat energy boost.
Montmorency Cherries are loaded with antioxidants, they've been shown to reduce muscle soreness, fight heart disease thanks to their anti-inflammatory properties, and contain melatonin, a hormone secreted by the brain that regulates your sleep cycle…Bonus! All the more encouragement to enjoy a few cookies before bed (teehee).
Then there's the Macadamia Nut…macadamias are brimming with essential minerals, vitamins and heart-friendly mono-unsaturated fatty acids, which help lower LDL (bad) cholesterol and increase HDL (good) cholesterol levels in the blood. Bonus-Bonus!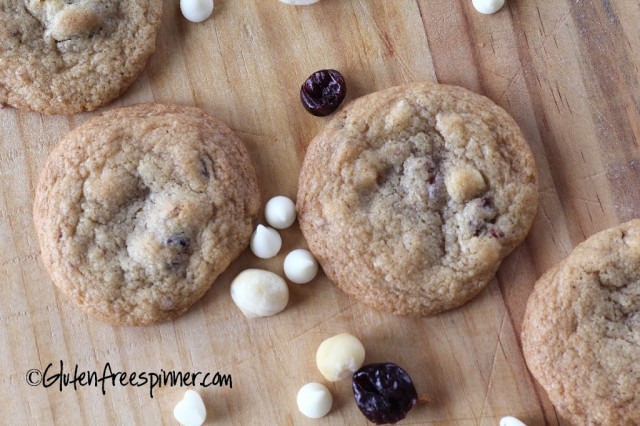 All health benefits aside, these cookies are a new favorite treat. But be careful, they're addicting! They are crisp, moist, sweet, and tart with a nutty crunch…and if you eat one while they're still warm, the white chocolate will ooze down your chin.
Happy Friday! Happy Tea-Time…
XO Mary
Makes 2 1/2 dozen cookies
Ingredients:
2 1/2 cups all purpose GF Flour (see my favorite all purpose blend)

1/2 tsp Guar Gum (don't add if your AP flour already has it-check ingredients)

1 tsp baking soda

1 tsp salt

1 cup butter (2 sticks)

1 1/2 cups brown sugar

2 eggs

1 tsp vanilla

1 cup chopped macadamia nuts

1 cup white chocolate chips

1 cup Montmorency Cherries
Directions:
Preheat oven to 375 degrees. Line two baking sheets with parchment paper.

Whisk together the GF all purpose flour, guar gum, baking soda, and salt in a medium bowl and set aside.
In a mixing bowl cream the butter, brown sugar, eggs, and vanilla until creamy and well blended. Add the flour blend and mix thoroughly. Fold in the macadamia nuts, white chocolate chips, and cherries until incorporated into the cookie dough.
Drop by spoonfuls onto prepared baking sheets and bake in preheated oven for 9-11 minutes. Allow to rest for a minute then transfer to cooling rack.