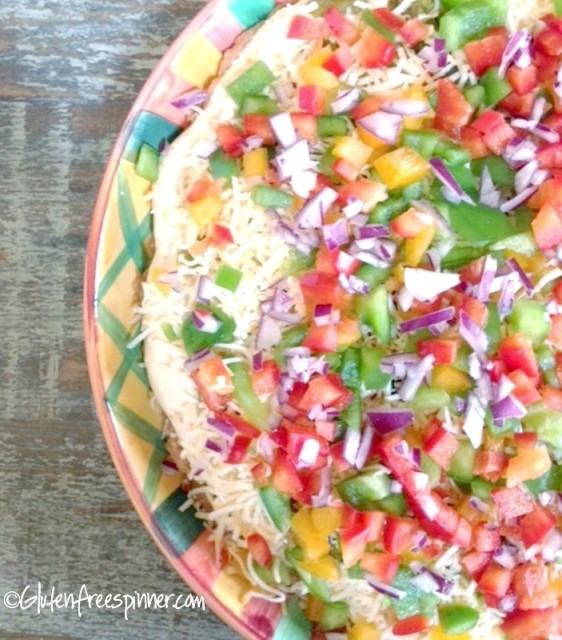 Three Pepper Taco Dip
Taco dip isn't new to anyone, but I've put a little 'spinn' in this version for a fresh crisp change, and it's reeeeeally good…devoured every time I serve it.
Three Pepper…bell peppers in this case, red, yellow, and green.  The crisp juicy flavors of all three peppers are the attraction to this appetizer along with the festive presentation they command.
But I didn't forget about adding a little heat…Oh no, Mr. Spinner likes the heat.  Green chili's, chopped fresh jalapenos, and banana peppers.  The three of these give a nice balance  of sweet-heat.  No tomatoes in this taco dip… but if that's the version you prefer, try my layered taco dip, equally good.
Another special spinn to my Three Pepper Taco Dip is the first layer, homemade refried bean dip.  Yep…and boy is it tasty!  You certainly can use a canned variety for ease and quicker prep, but try my homemade as well sometime…it adds another level of fresh flavor.
Next, the creamy middle layer…it's a combination of cream cheese, sour cream, fire roasted green chilis, and taco seasoning…it's the 'cooling factor' to this appetizer.  And finally, the sprinkle of finely shredded Mexican cheese and chopped red onions…the final 'ta-daa' for this Mexican Favorite.
Enjoy!
Ingredients:
1st layer – Refried Beans – Bean Dip

1 (15 oz) can small white beans or pinto beans (black beans optional too)
1/3 cup favorite gluten free salsa
1 Tbsp of packaged taco seasoning (Ortega is good) (you'll use the remaining package in middle layer)
Combine all three ingredients in a food processor and pulse until completely blended and smooth but still with texture.  If you don't have a food processor, just use a potato masher and do it by hand…this works just as well and gives a bit more texture to the dip.  Spread onto a deep plate or serving platter.
'Cooling Factor' Middle Layer
1 (8 oz) pkg. 1/3 less fat cream cheese, softened
1/2 cup Daisy light sour cream (or other brand-gluten free)
Remaining package of taco seasoning
1/2 of (4 oz) can fire roasted green chilis – reserve the rest for top of this layer
With electric beaters, blend all ingredients together until very creamy.  Spread over the top of the bean layer, smoothing out evenly.  'Sprinkle' the remaining green chilis over this creamy layer.  You can just add the whole can to the cream cheese mixture too…I just wanted a few visible as they are fire roasted and add more heat alone.
Cheese Layer
1 cup finely shredded Mexican cheese – (Montery Jack, Jalapeno, Mexican blend- all work)
Sprinkle the shredded cheese over top of creamy layer.  Don't use too much, we all have a tendency to top like a pizza, but just use the 1 cup or the flavors get lost.
Three Pepper Layer (and some sweet-heat!)
1/2 of each – Red, Yellow, and Green bell peppers, chopped
1/2 fresh Jalapeno pepper, seeds and ribs removed, finely diced (you decide the heat level…use the whole pepper if you like it hot!)
1/4 cup Yellow Banana peppers, chopped (I used jarred and drained each pepper well)
1/4 cup chopped red onion
Layer the peppers on top of shredded cheese layer in order listed ending with the chopped red onion.  Serve immediately or cover with plastic wrap and chill until "Party Time"!!
Serve with corn tortilla chips…use the blue and yellow corn chips for even more color!