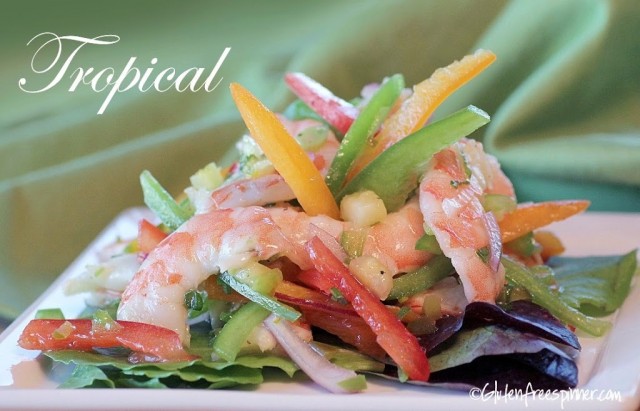 Light, fresh, crisp, and tropical
Upon returning from the Caribbean in beautiful Punta Cana, I'm craving many of the dishes we enjoyed during our stay. 
This was the

f

irst dish I wanted to re-create as I enjoyed it for lunch every day.  But would it taste the same?  As we all know, everything tastes better on vacation, especially in the tropics as it's fresh, different, and beautifully presented.
I have so much to share with you about eating gluten free during my stay, its the best experience I've ever had.  So much so, the resort, Iberostar Grand Bavaro, should add a c
larifier to

their website

saying, "gluten-free friendly".
To start,

t

he concierge gave me

a

letter to give to each rest

aurant as I arrived

explaining w

hat

celiac disease/gluten allergy was.  He

re's

what the letter said;
"This Memo is to inform all departments

involved that Sra. has
This information will be given to the lady, for the p

re

sentation in restaurants where they have the reservation or when

she

has to make use of it in order to be helped effectively. The lady will be hosted on our h

otel until…."
 I put the letter in my cam

era case and carried it with me always.
The entire staff was amazing, especially

o

ne very special chef

I'd like to mention,
She went out of her way to point out the items I could enjoy and the ones to avoid.  One of the evenings they were celebrating Japanese night and Chef Altagarcia took me over to the grill station (everything was cooked to order) and told me she was going to have an "especial" plate of fried rice prepared for me.  She informed the chef behind the grill of my allergy.  From there she took him step-by-step in the process of cleaning his grill, washing his utensils, and starting with fresh ingredients to prepare fried rice for me.  Goodness, I was taken back at the level of professionalism and concern to ensure I didn't get sick.
But the best part of the dining experience at the Grand is I didn't need the special treatment with every meal; I really didn't want all the fuss.  The choices were plentiful with cooked to order fresh grilled fish (salmon, ocean perch, mahi-mahi, swordfish) and seafood (lobster, king crab legs, jumbo shrimp, calamari, scallops) mussels, clams, oysters, whew!!  And yes, chicken, steak, pork, lamb, turkey, sausage, and even burgers.  Every meal also had a wide variety of steamed, sauteed, or grilled veggies prepared without sauce.  Simply fantastic.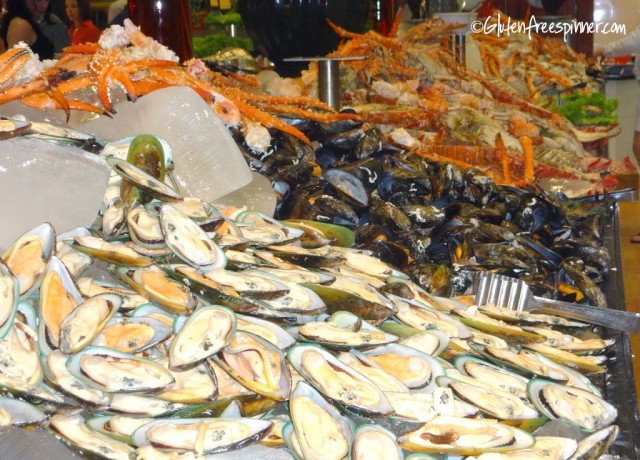 One of the lunch options was

grilled

l

obster!  YUM!  It was grilled to order and served in the open air restaurant.  Fernando, was another

very helpful

chef.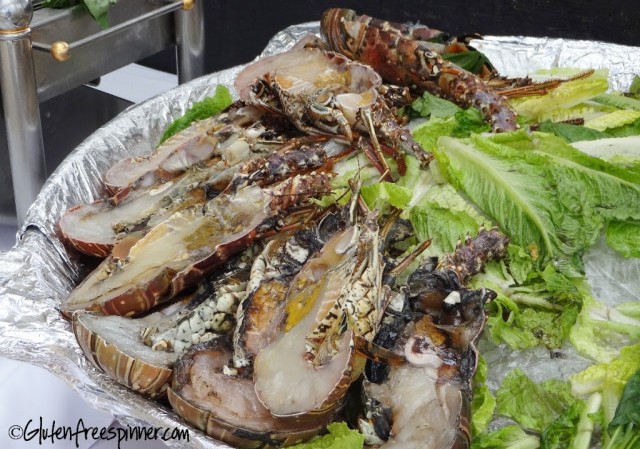 Did I m

ention how special this place is?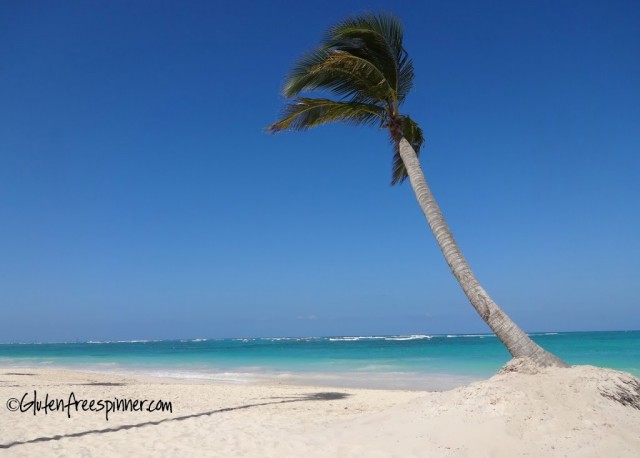 But I would recommend checking it out fo

r yourself.

  You won't be

disappointed

.
* * *  So, lets talk about that

T

ropical Shrimp

S

alad!  * * *
With each bite I memorized the flavors and textures, trying to determine each ingredient… and I think I

did it

!  The bell peppers are sliced very thin adding a crisp sweet crunch, the red onions add the right amount of zing, and the occasional zip of fresh jalapenos give a wonderful bite to the entire salad.  Fresh pineapple is diced very small…almost unnoticeable, just enough to add tropical flavor.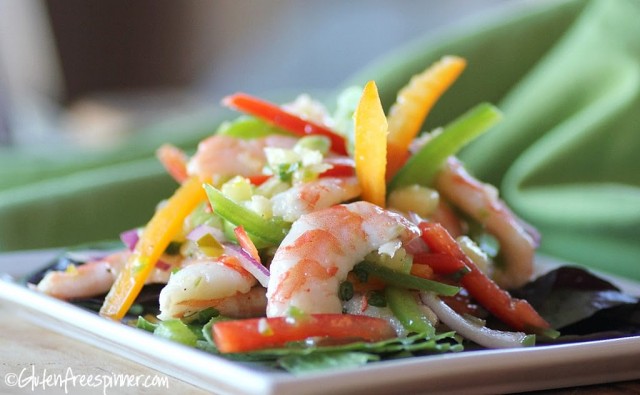 While trying to decide what the dressing was, I had to experiment quite a few times.  It wasn't really a 'dressing', but more of a flavorful compliment to pull the entire salad together which seemed void of any oil, leaving the salad bright and crisp.  My third and final attempt at the dressing was simply fresh pineapple juice, fresh squeezed lime juice, and chopped jalapeno's.  That's it, and it tasted exactly the same as the salad I enjoyed everyday. 

T

he simplicity of the dressing makes total sense as the flavors and foods were bright and uncomplicated, allowing each ingredient to shine.
Here's my re-creation of Tropical Shr

imp Salad
1/2 of each – Red, Green, Yellow (or orange) bell peppers cut into thin strips then cut in half

 

 

1 jalapeno, seeded and chopped – some reserved for dressing

 1/4 cup fresh pineapple, finely diced (be sure to use fresh)

 1/3 cup finely sliced red onion

 10-12 medium sized cooked shrimp, tails removed and cut in half lengthwise
Dressing:
1/2 lime juiced (if really small, use whole)

1/4 cup fresh pineapple juice

D

iced jalapeno to taste

H

oney if your pineapple isn't sweet enough-add as needed but not too much or you'll lose the fresh z

ip!

C

hopped cilantro is optional
Directions:
Toss the salad ingredients together in a medium glass bowl.  Whisk the dressing ingredients together and pour over all.  Toss and serve immediately.  If you make this ahead, don't dress the salad until just before serving.  Adjust ingredients to taste, adding more pineapple juice or lime juice.  Serve over a bed of mixed greens and enjoy!