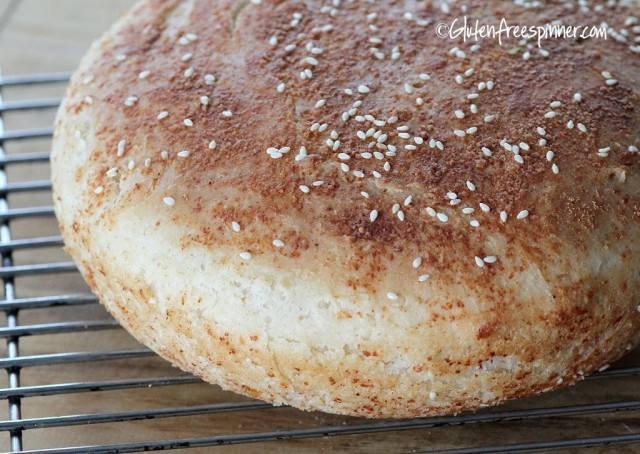 ~ ~Bread~ ~
One Fabulous Recipe
from Gluten Free Girl and the Chef
 This post is dedicated to all the pioneer's of learning to live and cook gluten free…specifically, Gluten Free Girl and the Chef.
I've been watching what I eat and following a specific diet plan since January 2nd to lose a few pounds before heading on vacation to a beach destination.  Scary thought of putting a swimsuit on after enjoying all the goodies during the holidays!  Eeeeek!
On this particular diet you are allowed 2 grissini breadsticks for a snack or 3 melba rounds.  Whelp, that's not going to work for me.  Gluten Free Pretzels were a substitute…which I really like anyway – especially Snyder's of Hanover brand…better than the regular.
But I wondered if I could make a good gluten free breadstick(?)
Dr. Google I went…and Gluten Free Girl pops up with a recipe AND a video on how to make them!  Yipppeee!
Her video is terrific with step-by-step instructions and a "don't worry about it" tone to the whole process.  Love the simplicity of her method.
I watched her video a few times to get the hang of making her dough.  While watching and seeing her 'snap' the breadsticks in half…all I could think of was PIZZA CRUST!!  That would make the perfect pizza crust!
But I had to wait until I lost those few pesky pounds…no pizza on this diet.
When the scale allowed…pizza it was!
 I've been craving a pizzeria style pizza for quite a while.  We found a new pizza place near our home that delivers gluten free pizza, which was sooo exciting!!!  I anticipated a real hand-made crust being delivered to our door!  Yippee!!  But…once I opened the box, I knew it wasn't freshly made.  Oh goodness, don't get me wrong…I still love the convenience of being "normal" for a night by ordering pizza for delivery…especially for Mr. Spinner.  He orders a regular pizza so he is happy, and we both eat our pizza right out of the box…it's the simple things.  The pizza was good, but I think the experience was more fun than anything!  I'm easily pleased.

The next day I called the pizza place to ask what their GF crust is and apparently they use a frozen crust from a gluten free bakery.  I'm familiar with this frozen crust as I've heard of a few other restaurants using it as well.  It's pretty good, but not great for delivery as by the time it gets to our front door there isn't anything crisp about it.  
So!
I was now on a mission to make Gluten Free Girl's breadstick recipe into a pizza crust.  
The flour blend I used in this recipe was Gluten Free Pantry All Purpose Flour.  You can also make your own blend, the recipe is here.

The video Gluten Free Girl has posted is very descriptive with regard to how the dough should look and feel, which is so helpful!  After spending the time making so many gluten free breads, cakes, muffins, cookies, pastries, etc. you definitely get to know the feel of gluten free batter.  Shauna explains what you should look for with regard to the thickness and moisture content in her breadstick batter.  I'm posting pictures of my dough after blending and after rising.
It really is exciting.  I could barely wait the time to start 'playing' with the dough.
Her secret ingredient is Psyllium Husks.
I used powdered Psyllium because it's what I already had.  I bought it awhile ago hearing it was necessary in gluten free baking.  Hmm….this is the first recipe where it's been listed.  Since Shauna used 3 Tbsp of the husks, I only used 1 Tablespoon figuring the powder would measure differently.  And it was perfect.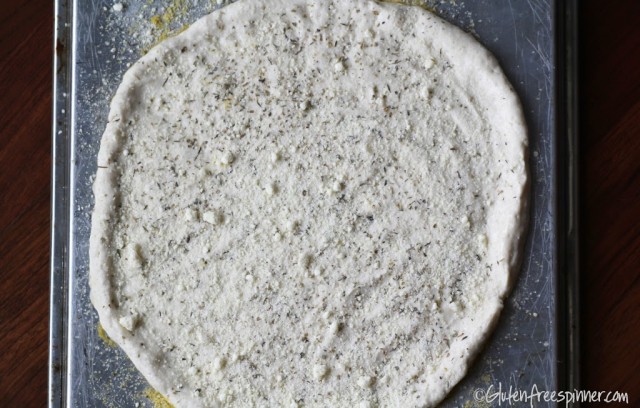 Here's the crust rolled out and shaped into a pizza!
I figured I would need to pre-bake the crust to have it crispy, so I sprinkled a little Parmesan cheese and Italian seasoning over the crust before baking.
I baked it 400 degrees for 12 minutes.
Did I mention how excited I was??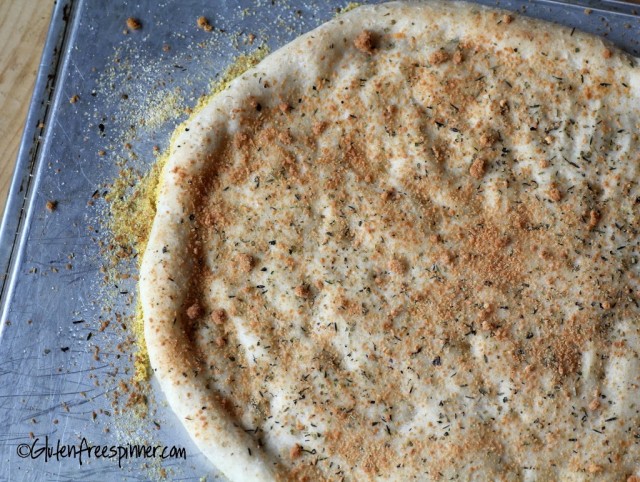 Here it is pre-baked before the toppings.  YUM!  Look at the cool ridge around the crust…just like a pizzeria!!  (hehehe)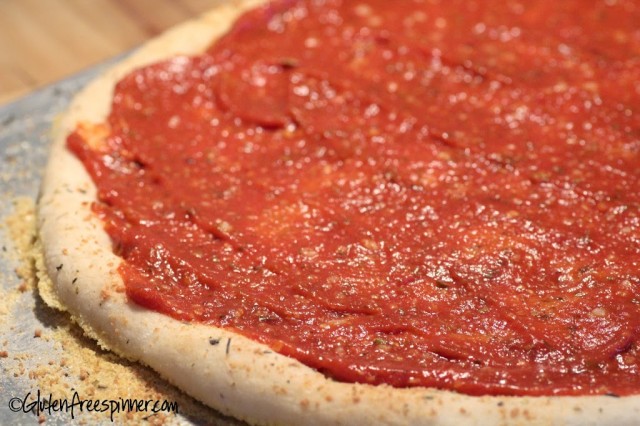 I added the sauce….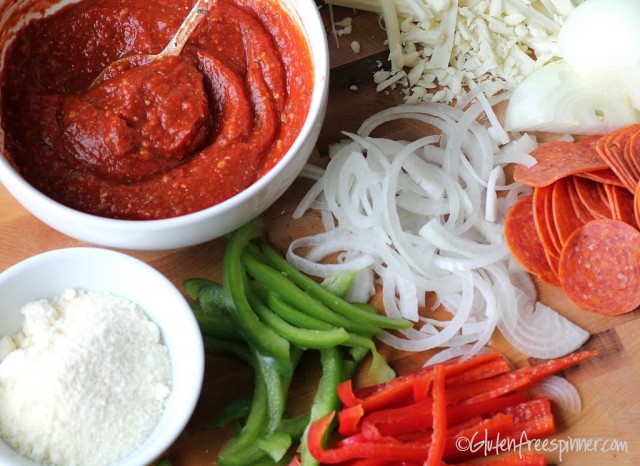 Then all the yummy toppings.  One thing I will do differently next time is not use so many peppers and onions.  They contain so much moisture, I think the crust would have stayed crisper had I not added so many (less is more!).  Next time…just cheese, pepperoni, and onions. OhhhYaaa!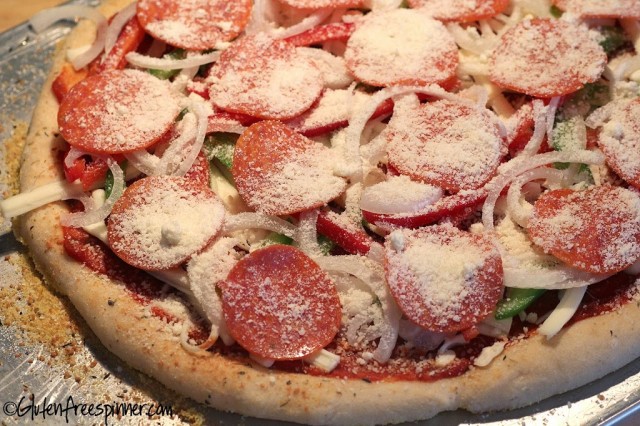 This is before I baked the pizza…see…lots of toppings!  I put the cheese on first because I like my pepperoni and onions to get crispy by being on top.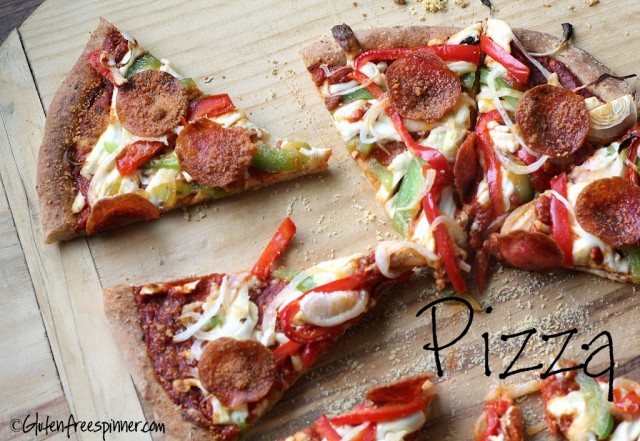 And this is it after baking.  400 degrees for about 14 minutes.
YUMMMMY!!
It. was. so. good.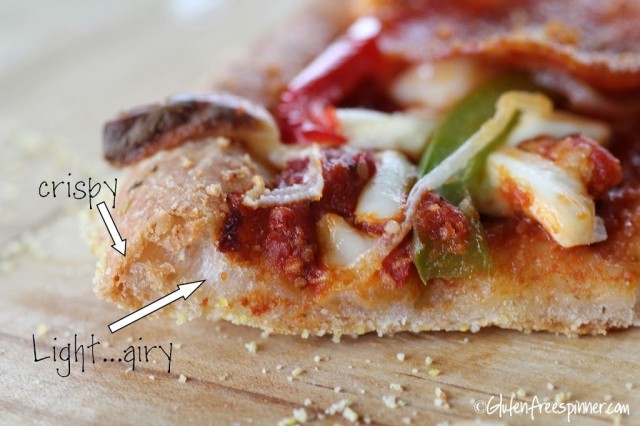 I posted the picture above because you have to see the crust close-up.  Thin, airy, light, crispy yet a little chew…really really good.  I can see now how good the breadsticks must be!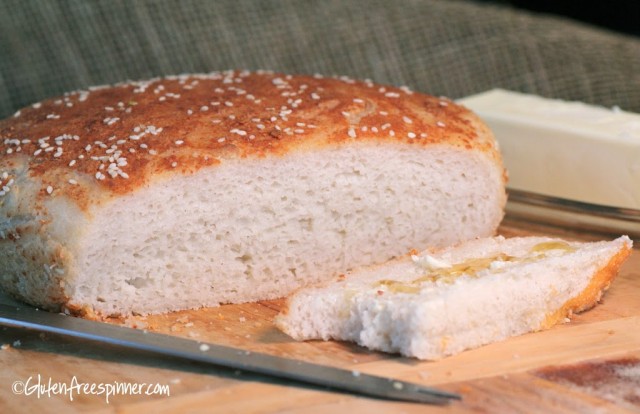 And I haven't forgotten about the bread…I had leftover dough as the recipe makes a lot.  It's easily stored in the refrigerator until you are ready to use.  Cool huh?  So the next day I rolled out the dough and formed into a round loaf and put it into a olive oil rubbed stoneware casserole dish.  I sprinkled a little Parmesan cheese on top for a crust and a few sesame seeds too.  I let it rise again covered with a towel before baking.
I baked it at 350 for about 45 minutes.  It rose beautifully and came out of the stoneware with a little crust on the edges.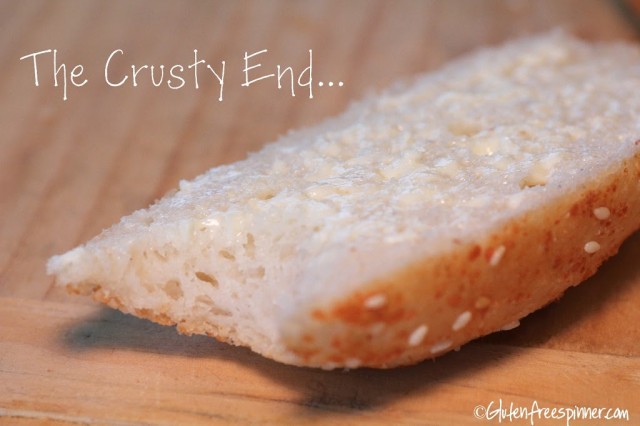 I couldn't wait to slice it…but we all know that we have to be patient with gluten free bread…it must rest and cool before cutting!
Finally…I cut off the end.  It. was. perfect.
Just a little smear of butter and I dove in for the first bite.  YUMMM!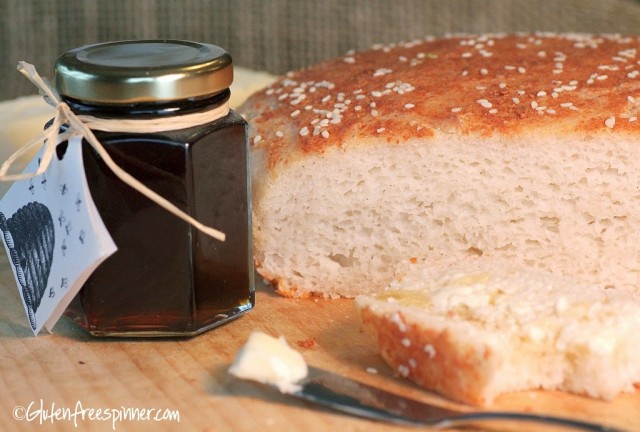 But I didn't stop there…the next slice was with butter and honey…mmmmm.
Thank you again, Shauna…for your continued expertise in creating the most challenging gluten free food of all…bread.  You did it!!
I will be making the breadsticks next time…they must be amazing.
XO Mary
Find the recipe and video here.