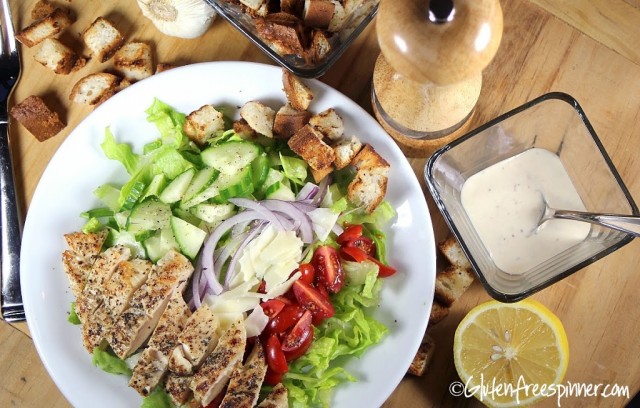 I'm lovin me some tasty salads lately and a grilled chicken caesar is my all-time favorite.
I posted a Caesar salad recipe in 2010 and today I'm posting another with my Caesar 
Let's not forget the homemade croutons…essential.
Today I'm adding cucumbers, red onions, and tomatoes which aren't traditional in a Caesar but they add so much to this salad.
I had leftover Udi's hamburger buns which are perrrrfect for Caesar croutons!  Thick and crunchy.  Take one of the buns, cut the fluffier top half in half making three layers of bun.  Butter one side of all three bun pieces.  Stack them on top of each other and cut into cubes…whatever size you prefer.
 Then add a little olive oil to a saute pan over medium heat.  Toss the cubed bun pieces into the oil and shimmy around in the pan.  Sprinkle with a little Parmesan, sea salt, pepper, garlic powder, and onion powder.  Toss and coat.  Allow the croutons to become nicely browned, tossing in the pan to get all the sides.  When they are all golden and crunchy, turn the heat off and allow them to just hang in the pan while you make the salad.  They become even crispier sitting.  You can make them a day ahead if you want and store in a parchment paper lined plastic container.  This is also a great way to make croistini's for

brochette

.
 Be careful…you'll want to eat all of them before you toss them into your salad.
Use any leftover croutons as bread crumbs…I used mine for my Chicken Piccata…ohhhh boy…so good!
The marinade is super easy to make and adds so much flavor to the chicken.  It's very similar to the dressing so make both at the same time.  For grilling the chicken I used my new favorite grill pan instead of heating the grill in the frigid temps we've been experiencing. I've

mentioned this pan before and I can't tell you how much it's simplified many of our meals! 
We've grilled everything on this thing; veggies, burgers, shrimp, steak, chicken, sandwiches, tortillas, etc.,  I

absolutely love it…and so does Mr. Spinner.   
Anyway…now about the dressing…it's also super easy to make, and if you love creamy Caesar you won't go back to bottled…it's reeeally good.  If you prefer a traditional Caesar, just mix

an

egg yolk, anchovy paste, lemon, garlic and salt & pepper in the bottom of a salad bowl and whisk in olive oil until dressing consistency

.
Grilled Chicken Caesar Salad with Creamy Dressing
Make the croutons as listed above using as many buns/bread as you want croutons.
Marinade for Chicken:
4 Boneless skinless chicken breasts

1/2 cup olive oil

1/4 cup white wine or red wine vinegar

1/4 cup Dijon mustard 

1 Tbsp chopped red onion

1 Tbsp minced garlic

 

2 Tbsp lemon juice

1/2 tsp honey

2 tsp Worcestershire sauce

Fresh ground black pepper   
Whisk all ingredients together and pour over the chicken breasts in a resealable plastic bag.  Refrigerate for at least 3 hours, longer is good too.
Remove chicken from the marinade and discard the marinade.  Spray grill pan (or grill) with non-stick spray and heat on med-high until very hot. Add the chicken breasts and cook about 8-9 minutes per side or until juices run clear. (I needed to turn the vent on high as the marinade was wonderfully caramelizing in the pan.)  After about 16 minutes I turned the heat off my grill pan and covered with a lid to sit for an additional 5 minutes…just to ensure it was completely cooked inside.  Remove to a cutting board and allow to cool slightly.  Slice the chicken and serve over the top of salad.
Creamy Caesar Dressing:


¼ cup olive oil

2 Tbsp. mayonnaise made with olive oil (it's less fat)

1 Tbsp light sour cream or Greek yogurt

Juice of 1/2 lemon (or use the whole lemon if they are small)

2

Tbsp –

1/4 cup water…depends on your desired consistency, I like it a little thinner
1 1/2

t

sp minced garlic (or

more to your liking)

1 Tbsp fresh chopped chives

1 Tbsp grated Parmesan cheese

½ tsp onion powder

½ tsp garlic powder

1-2 tsp Worcestershire sauce

1 tsp honey

Dash of red pepper flakes

Sea salt and fresh ground pepper to taste
Whisk together until smooth……adjust seasonings as needed adding more lemon or honey or salt to taste.  Refrigerate until ready to serve.  Store any leftover dressing covered in frig.
1 large bunch of Romaine lettuce, rinsed and drained then dried on paper towels.  Best if done ahead of time – like at least 3 hours or the previous day so the lettuce is dry and crisp.  Store in large resealable bag lined with paper towels.  Tear or shred into serving size pieces

English cucumber, diced

Grape tomatoes, cut into fourth's 

Red onion thinly sliced 

Fresh grated and shaved Parmesan cheese, divided

Fresh ground black pepper
Layer the salad:
First add the lettuce to the salad bowl.  Top with the cucumbers, tomatoes, red onions, croutons, and grated Parmesan.  Grind black pepper over all.  Add the dressing, a few Tbsp at a time and toss to coat…don't over-dress the salad.  Serve into individual salad bowls and top with the sliced chicken and shaved Parmesan.  Add a side of dressing to the table for those who want more.
Enjoy!