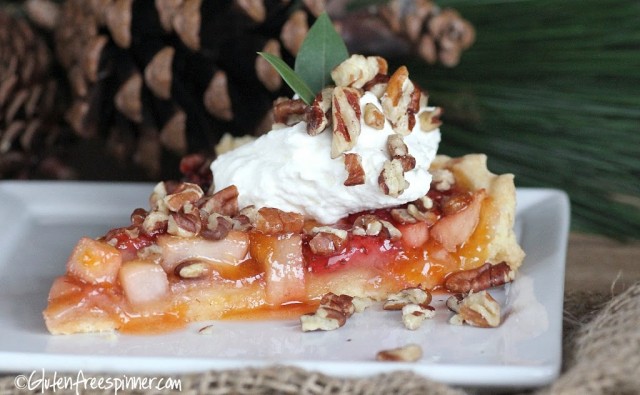 Easiest and B

est

t

art crust ever…just in time for the Holidays!
I spent yesterday baking Christmas Cookies which had me in the kitchen most of the day…and I loved every minute of it! This will be the first year I've decided to make an entire assortment of Christmas Cookies…gluten free of course. I have about three more full days of baking before I post all the different varieties with pictures…stay tuned!
But for today…it's a pear and strawberry tart, and oh what a treat it is! First and foremost, the tart crust I'm sharing with you is by far…the easiest and best tart crust you'll ever make. It's slightly sweet, full of flavor, and flaky to boot

!
A few weeks ago I posted my Tripleberry Pie with Pastry Crust , which I took help from a packaged pie crust mix. It was very good, and in that post I noted how the rolled-out crust broke as I placed it in the pan so I just pieced it together with great results. So…why not just 'create' the crust in the tart pan without all the hassle of rolling it out? Seemed logical to me and being I had been in the kitchen all day yesterday, I wanted to make it as quick and easy as possible.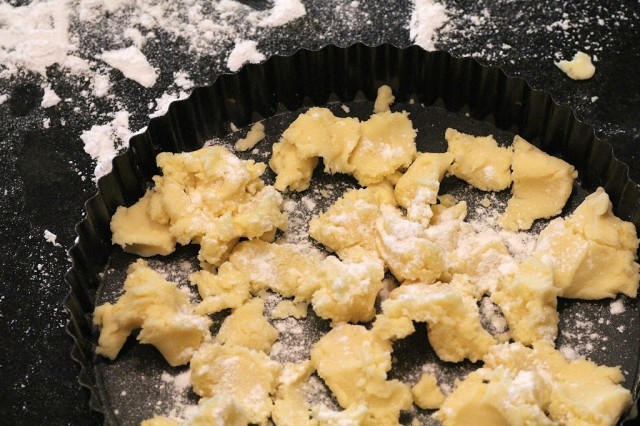 As for making the dough, I used my go-to All Purpose GF flour blend, dash of salt, two kinds of shortening and an egg. That's it! No water and no vinegar this time…and to make it sweet, I kneaded powdered sugar into the dough. Once the dough was done I broke it into pieces and placed them around the tart pan to make sure I would have enough to cover the entire bottom and halfway up the sides. Then I just started pressing it into place, dusting with a little powdered sugar until I had a finished tart crust. Waaaalaaa! So simple

a

nd so flaky too!
With the holidays just weeks away, this recipe couldn't come at a better time. I will be making my French Silk Pie as a tart this year using my new tart crust recipe. And for Christmas morning, how about mini apple cranberry tarts? Yum!!
But for

now

, it's my Pear and Strawberry Tart filled with the subtle sweetness of pears and strawberries blended with a little brown sugar and lemon to keep it bright. I used

Cardamom

for the spice which is wonderful with pears, but if you don't have, just use

cinnamon.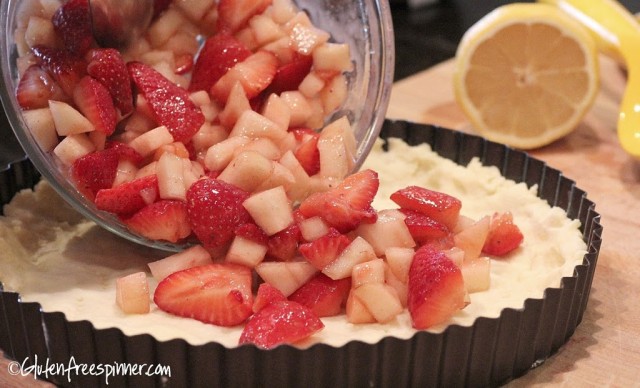 The final taa-daa is an apricot glaze and chopped pecans.
It looks a bit like Christmas, yes?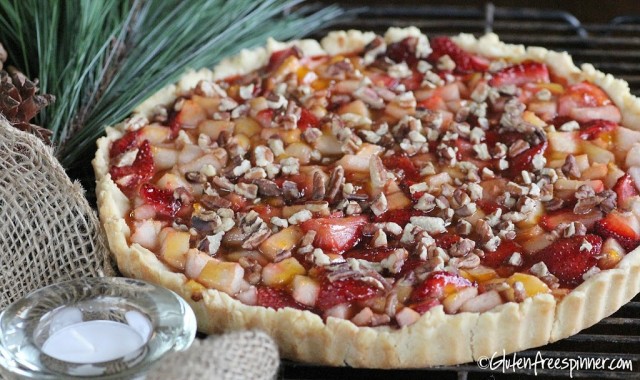 Serve with sweetened whipping cream and enjoy

!
Have fun this month of December

with all the festivities
and goodies as we prepare to celebrate

the most Blessed Time of the Year, Christmas.
~ XO Mary
1 1/4 cups all purpose gluten free flour (see below for my go-to AP blend)

Pinch of salt

4 Tbsp cold butter cut into cubes

3 Tbsp Crisco butter flavored shortening

1 egg, beaten

1/4 cup powdered sugar for kneading/dusting
Directions:
Preheat oven to 350 degrees

Pulse the flour, salt, butter, and shortening in food processor until small pea like crumbles form. Add the beaten egg and blend until totally combined into the dough.
Dust your working surface with the 1/4 cup of powdered sugar and gather the dough in to a ball. Knead the powdered sugar into the dough, not working too much, but blending it (you won't use all the sugar at this point). Break the dough into pieces (see picture above) and distribute around the tart pan. Start by pressing the dough out to cover the bottom of pan, creating a 'crust' then halfway up the sides. Dust a little of the remaining sugar onto the dough when done. Prick the bottom with a fork.
Bake in preheated 350 degree oven for 10 minutes. Remove and set aside to cool.
Filling:
2 pears, peeled, cored, and diced

10 strawberries – washed, cored, quartered

(Total of about 3 cups fruit)

2 Tbsp fresh lemon juice

3 Tbsp brown sugar

1 tsp corn starch

1/2 tsp cardamom (or cinnamon if you don't have)
In a medium glass bowl combine all filling ingredients and toss to combine. Pour into par-baked tart shell and bake 30 minutes. Pour the glaze over top and sprinkle with chopped pecans. Return to oven for another 10 minutes.
Remove from oven and allow to cool before taking outer rim off tart pan. Cut into wedges and serve with sweetened whipping cream.
Glaze:
1/3 cup Apricot preserves

1 Tbsp fresh squeezed lemon juice

1/4 cup chopped pecans

Sweetened whipping cream for serving
Melt the apricot preserves and lemon juice in a small ramekin in microwave for 30 se

conds, stir to combine.
All Purpose Gluten Free Flour Blend:
Combine with a whisk and store in container with tight-fitting lid.

2 cups white rice flour (sometimes I use sweet white rice flour for cakes)

2/3 cup potato starch

1/3 cup tapioca flour

3/4 tsp gu

ar gum