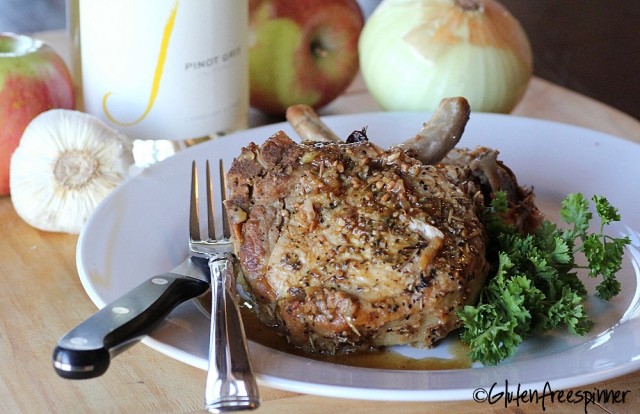 Roasted Bone-in P
ork Loin with Apples
Sunday Summer BBQ's on the deck have been replaced with warm cozy nights around the dining table.

I

t's November in Minnesota and I'm loving every minute of it.
The scene:
Warm amber flames flicker in the fireplace, Amos Lee serenades me in the background with 'Arms of a Woman', tea lights glow on the table set with cloth napkins and wine glasses, and
savory aromas of roasted pork loin tempt our every sense.
My Roasted Bone-in Pork Loin with Apples is possibly the best I've ever made. Apples, onions, and sweet potatoes roast alongside the rosemary and thyme seasoned pork and it all bathes in a pool of Chardonnay. It couldn't be easier or more satisfying.
I love Sunday Dinner…
I love Family and Friends…
I love Good Food and Special Settings…
I'm Thankful for all the Lord's Blessings.
~ ~ ~
I'm a Summer girl and each year as Fall approaches I dread the cold, grey days ahead with barren lifeless trees and windows locked tight as we brace for the frigid temperatures. But this year is different…the Summer seemed wonderfully long, filled with family and friends sharing extended weekends of beachy days and bonfire nights. I find myself embracing the change of seasons this year and welcome the transforming landscape.
The Autumn leaves in Northern MN were spectacular this year displaying brilliant shades of crimson, gold, amber, yellow and orange.
A fishing boat gli

des through the autumn waters…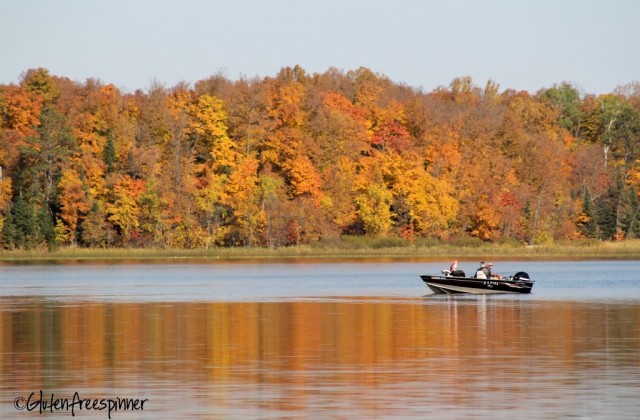 And a walk in the woods proved tranquil as the morning sun shone through the trees.
But Autumn has shed it's beautiful leaves and yet another change is in store.
I welcome you Winter 2012, I welcome your bare trees and crisp cool air.
I will fill those chilly nights with warm toasty fires, savory roasted meals, and sounds of laughter at my dining table.
For each day is a gift and I am grateful…
XO Mary

2-3 Tbsp olive oil

1 Tbsp butter

1 large vidalia onion (or other sweet onion), cut in wedges

1 large or

2 s

mall

gala (or similar) apples, cored and cut in wedges (I left the skin on…more flavor)

3-4 lb bone-in pork loin center cut roast

Sea Salt and fresh ground black pepper

1 1/2 Tbsp grill seasoning

2 tsp dried rosemary or 3 sprigs of fresh

1 tsp dried thyme or 3 sprigs of fresh

1 Tbsp minced garlic

2 large Sweet Potatoes, peeled and cut into 2″ chunks

1 cup Chardonnay or other white wine
Season the pork roast evenly on all sides with the sea salt, pepper, grill seasoning, rosemary and thyme (don't add garlic yet). Set asi

de.
Swirl olive oil in the bottom of a heavy Dutch oven and add the Tbsp of butter heating both on medium high until butter starts to

bubble

. Saute the onion and apple wedges in the oil until they become lightly browned. Push to outer sides of pan, creating a space in the center for the pork. Sear all sides of the pork, about 2 minutes each side. Finish with the fat side up and with a spoon,

spread

the minced garlic evenly over

the

top of the roast. Add the sweet potatoes along the sides and nestle them into the apples and onions so they have a bit of oil and juices on them. While the pan is still hot on the burner, add the Chardonnay and allow to simmer and bubble with the juices for about 3-4 minutes.
Turn heat off and cover. Put in the preheated 325 degree oven for 2 hours…don't peek…just let it cook into a marvelous dinner.
Cut the roast into individual servings

and drizzle with the pan juices. Serve

with the sweet potatoes and vegetable of choice. Chardonnay or a nice Pinot Gris is wonderful

with this meal as would a Pinot Noir.