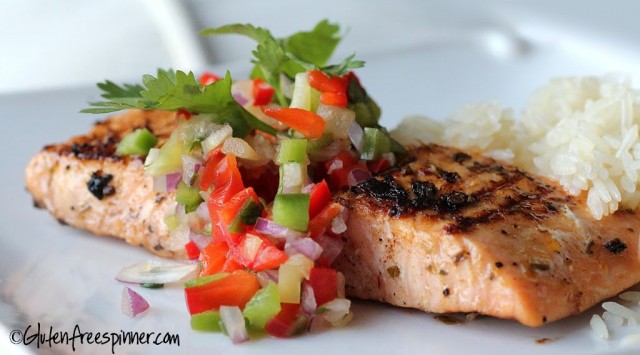 Blackened Salmon with Pineapple Pepper Sals

a
Another salmon recipe that's quick, easy, and so very good.
You know how I love salmon, right? Well this recipe came together quickly with great results and I'm excited to share it with you.
I lightly seasoned the salmon with sea salt and pepper then made a paste-rub of adobe chipotle peppers, garlic, butter, and oregano. How easy is that? Then it's quickly seared in a scorching hot cast-iron pan (mine has grill groves) and topped off with a light pineapple pepper salsa.
Serve with Jasmine rice and a chilled glass of chardonnay for a deliciously light dinner.
** I need to quickly tell you about my latest-greatest purchase: the pan I used to blacken this fish. I purchased th

is

pan and LOVE it! Not only is it great for blackening fish/chicken, I started heating my corn tortilla's on it for taco night which makes them warm and soft yet a little crisp…now even Mr. Spinner will eat corn tortillas! My next project for this pan will be flat bread!
Ingredients:
2 (7 oz) skinless salmon fillets

Sea salt and pepper

1 Tbsp olive oil and 1 Tbsp butter
Rub:
2 adobe chipotle peppers minced with a little of the sauce

2 tsp minced garlic

2 Tbsp softened butter

1 tsp oregano
Pineapple Pepper Salsa:
1 (8 oz) can pineapple tidbits, lightly drained – some juice remaining

1/2 red bell pepper, diced

1/2 green bell pepper, diced

1 jalepeno, seeded and diced (more if you like it hot)

1/4 cup chopped red onion

2 Tbsp chopped fresh Cilantro

Squeeze of fresh lime juice
Directions:
Mix the rub ingredients together in a small ramekin until combined into a paste and set aside. Combine the salsa ingredients in a glass bowl and set aside. (You can prepare both ahead of time if needed)
Lightly season both sides of the salmon with sea salt and pepper. Coat the fillets with the Rub on both sides, rubbing into the flesh.
Heat a heavy skillet (cast iron is ideal) over med-high heat until extremely hot. Add the Tbsp of olive oil and butter and once it starts to bubble and lightly smoke, lay the salmon fillets down into the hot oil/butter mixture.
Sear 3-4 minutes per side (depending on thickness). Remove to serving plate.
Top with the salsa and serve with a side of jasmine rice. A chilled glass of chardonnay is a wonderful pairing.