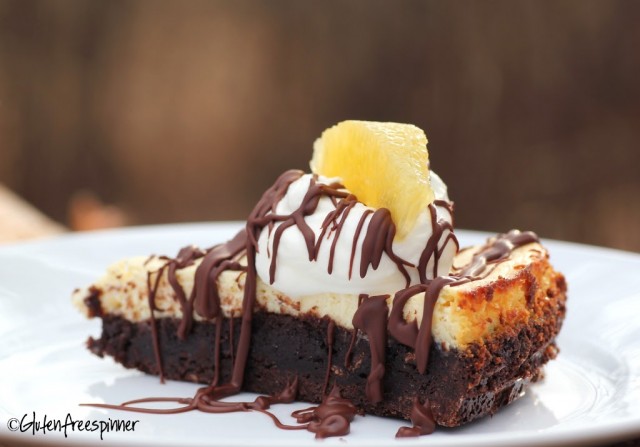 Black Bottom Orange Cheesecake
Orange and Chocolate…a winning combination.
We spent this past weekend at the cabin cutting down brush and splitting wood in anticipation of the winter months ahead. It was a beautiful 47 degrees, which is a treat on this third week of November.
Early Friday morning our neighbor called to alert us to the trumpeter swans enjoying the open water on the lake. Throwing on my Uggs I raced out the front door and headed down the boardwalk with my camera. The overnight low had been 11 degrees and although the sun was rising, it hadn't yet warmed the thin layer of ice coating the wooden planks. Whhhiiiirrrppp, down I went falling flat on my behind! Grrrrrr!! Luckily, I

instinctively

used my shoulder to soften the b

low…

saving my beloved camera.

Whew!! Down to the lake I went.
To my wonderful surprise, they were everywhere! Look across the lake to the left…two taking off and even more behind them and across the other side.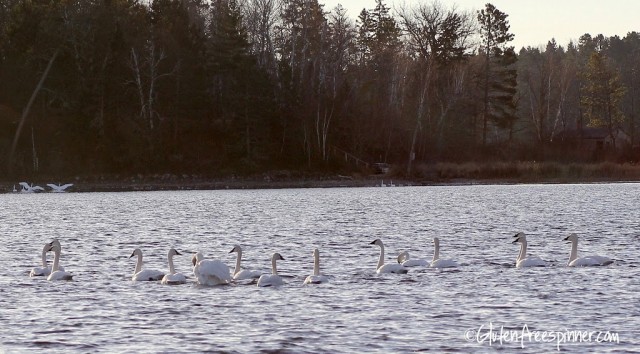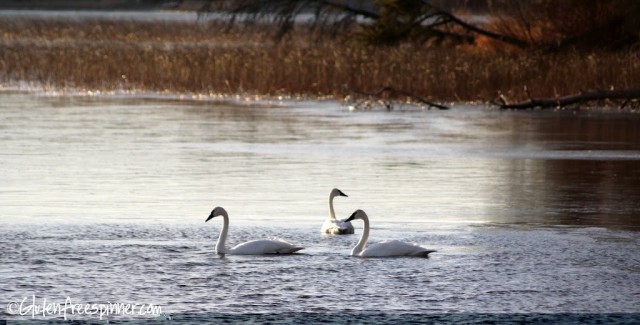 A few were in pairs while others gathered in clusters. They sensed me near and shifted about nervously voicing their objection with 'trumpeter' calls echoing across the lake.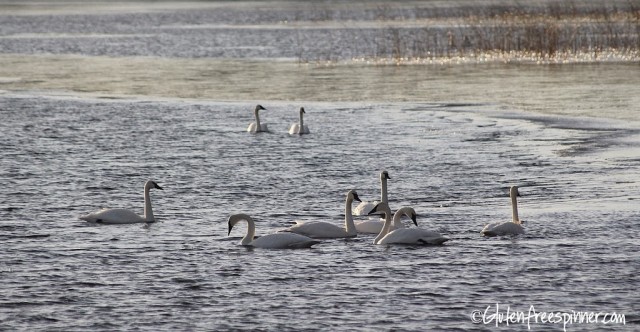 I never tire the opportunity to view the grace of a trumpeter swan… they command your attention as they glide across the water fluffing their snow-white fe

athers

with pride.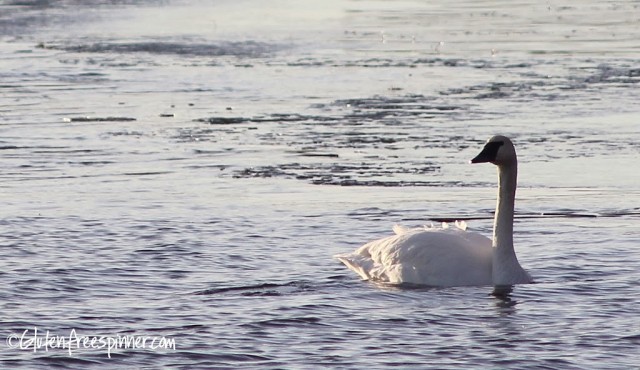 After thirty minutes of gazing through my lens my fingers were frozen so I headed back to the cabin. Just as I approached our

d

oorstep I heard one final call…then a thunderous clapping of their wings on the water as they took off in unison. It was awesome…no other word could describe. Their seven foot wingspan set these magnificent birds in flight and my only regret was not having stayed long enough to catch it on film. Next time…I will be prepared…next time!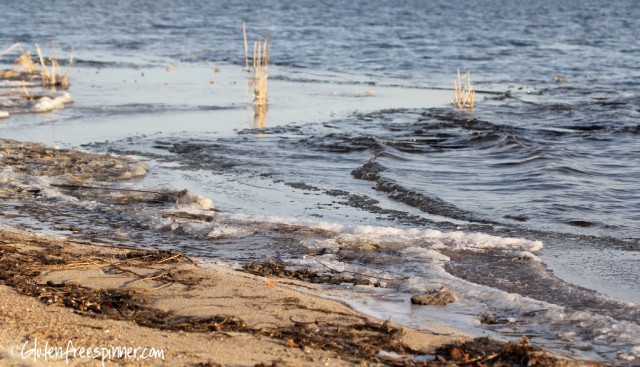 Throughout the weekend, li

ttle signs of winter whispered

it's

presence.

T

he slushy ripples on shore gave clear notice that frozen waters were near. The birds flocked to the feeders almost landing o

n our heads while

we filled them wit

h weeks worth of food.
We continu
ed with our chores the rest of the day and finished with a bonfire just in time for happy hour. We love happ

y hour around the fire…especially when shared with family and friends.
Which brings me back to my post…Black Bottom Orange Cheesecake.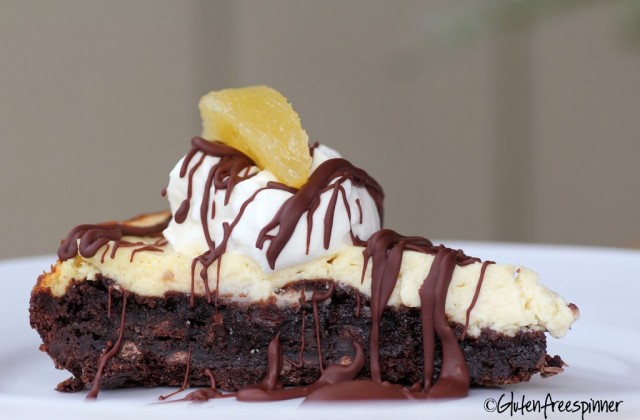 We hosted dinner Friday night with our neighbors

and served
m

y Turkey Meatloaf with crockette potatoes and fresh green beans. If you haven't tried my Turkey Meatloaf, you must add it to your list.

It's

always a hit

…

espe

ci

ally for those meatloaf die-hards who don't believe you can sway from the traditional beef and pork. I love surprising them with the rich savory flavors they never expect from turkey!

A first for my neighbors, who even asked if they could

bring home the leftovers…I love that!!!!
And a special meal with g

ood

friends always calls for a fancy dessert. My B

lack

Bottom Orange Cheesecake is as easy as you can get, but you'd never know it from the presentation o

r

the taste. A shortcut taken from Betty Crocker's Gluten Free Brownies makes the black bottom layer, while 1/3 less fat cream cheese, vanilla yogurt and grand marnier create the cheesecake

layer.

So easy and richly delicious! Top it off with fresh whipped cream and a drizzle of semi-sweet chocolate…and don't forget to supreme a

n orange for garnish!
Divin

e…
XO Mary
Ingredients:
Preheat oven to 350 degrees and spray a 9″ springform pan with non

-stick spray.
1 pkg (16 oz) Betty Crocker Gluten Free Brownie Mix
Prepare the brownie mix according to the package directions and pour into springform pan. Bake 23-26 minutes or until done. Re

move and set aside.
Meanwhile, prepare the cheesecake layer.
1 (8 oz) pkg 1/3 less fat cream cheese

1/3 cup sugar

1/2 cup vanilla

Greek

yogurt (or 5.3 oz pkg)

1 tsp vanilla

1 Tbsp Grand Marnier

2 Tbsp orange juice concentrate (put in microwave for 20-30

seconds if frozen hard)

1 tsp zest of orange
Directions:
Reduce the oven to 325 degrees once the brownie layer is done.
Add all cheesecake layer ingredients together in a medium glass bowl and beat together until creamy and smooth. Pour over top of baked brownie layer (it's ok if it's still warm). Smooth to cover the entire bottom layer and bake in 325 degree oven for 40-45 minutes or until set and a knife inserted gives a little resistance.
Allow to cool on a wire rack. Then refrigerate for at least two hours. Cut into individual slices and garnish with whipped cream, chocolate drizzle, and a supreme orange slice.
Chocolate Drizzle:
1/2 cup semi sweet chocolate chips
1 tsp butter Crisco
Melt in a glass dish at 30 second intervals until smooth…don't over cook!
Sweetened whip cream