Easy and Totally Delicious!
Oh my…it's been much too long between posts! I have so many new recipes to share with you, cross my heart I'll find the time to post them. Here goes one….
Do you remember making Spaghetti Pie? I sure do…and I remember how easy it was. Funny how forgotten recipes re-surface as we comb through our recipe files looking for inspiration for the next meal. My kids loved this meal as it was more like a pizza than

spaghetti. Traditionally I made this in a pie plate and cut it in wedges…but I remember it being a bit dry. This time I baked it in a cake pan (13×9) to spread out the noodles then cut it into squares…similar to lasagna. Mmmm, soo-sooo good!
A few other changes I made in my Gluten Free Spaghetti Pie are healthier choices without compromising flavor…I think it's actually better. For the base of my pie I used GF Spaghetti to which I simply added Parmesan cheese – omitting the eggs. (I could stop here and just eat the spaghetti.) Toss it together and pour into the bottom of a 13×9 dish that has been sprayed with non-stick spray. Next comes the layer of creaminess…a combination of lite sour cream, low-fat cream cheese, parsley, garlic powder, Italian seasoning, and more Parmesan.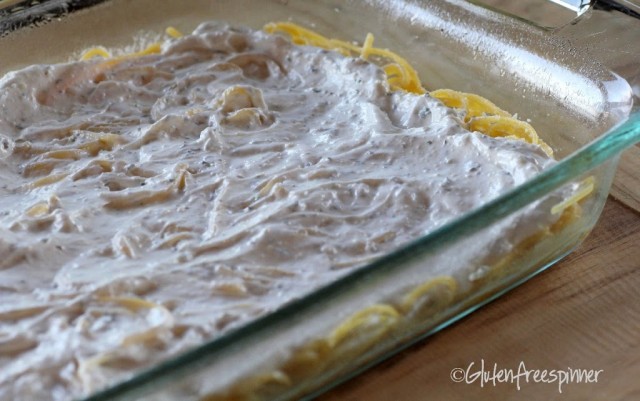 Easy right? And now you add the meat sauce…ground sirloin (or beef) browned with some onions and combined with your favorite pasta sauce. Pour over the creamy noodle layer.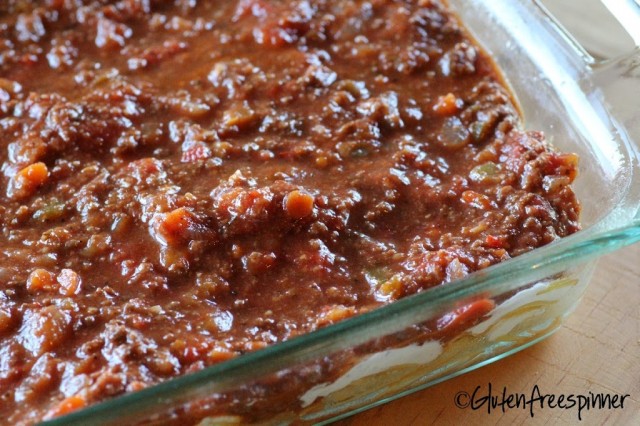 Next comes the cheesy part. First mozzarella, then the cheddar – not too much but just enough – then I top it off with shaved Parmesan ( I just love shaved Parmesan…you can use grated or shredded too).
Can we say spaghetti-pizza pie???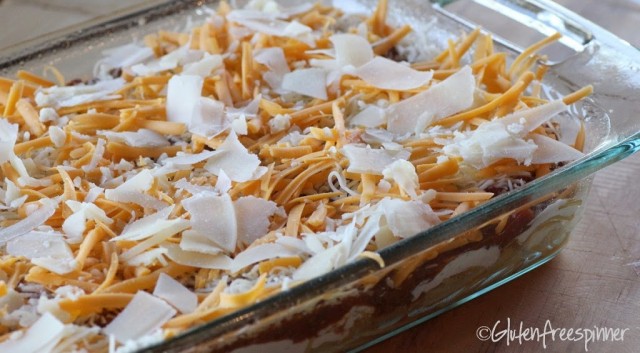 Bake for 40 minutes or until brown and bubbly.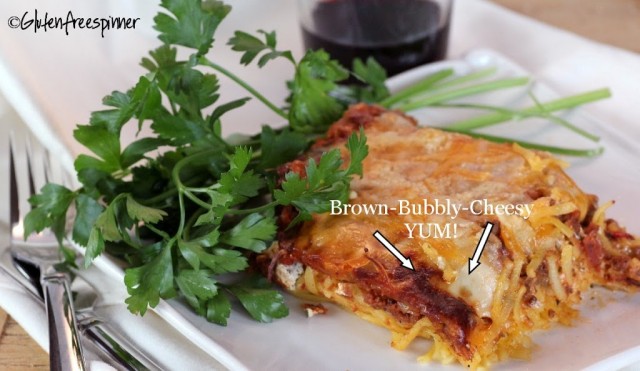 Waaaa-laaa! Dinner is done.
Serve with a simple green dinner salad and a nice glass of red wine.
Enjoy!
1 lb ground sirloin (or beef)

2 tsp grill seasoning

1/4 cup chopped onions

1 jar (24-26 oz) favorite pasta sauce

8 oz pkg GF spaghetti noodles

1/2 cup grated Parmesan cheese (divided into 1/4 cups)

4 oz 1/3 less fat cream cheese

– softened

1 1/4 cups light sour cream (check!) Daisy is a good GF brand

2 Tbsp chopped parsley

1 tsp Italian seasoning

1/2 tsp garlic powder

1 1/4 cups shredded mozzarella cheese (or Italian blend is good too)

1 cup shredded cheddar cheese

1/3 cup shaved Parmesan (or grated/shredded is fine too)
Bring a large pot of lightly salted water to a boil. Add the pasta and stir well to release the starch and separate the noodles. Bring back to a boil, stirring, and cook for 8-10 minutes. Rinse and drain then return to the pot and toss 1/4 cup of the grated Parmesan cheese into the noodles. Pour into a 13×9 pan that has been sprayed with non-stick spray. Set aside.
Preheat the oven to 350 degrees
In a skillet over medium heat, brown the ground sirloin adding the grill seasoning as it brown. Add the onions and saute until soft and blended into the meat. You won't have grease to drain if you use sirloin, but if you use regular ground beef, drain. Turn heat off. Add the pasta sauce and stir into the meat to combine. Set aside.
In a small bowl combine the sour cream and cream cheese, mixing until smooth. Add the parsley, garlic powder, Italian seasoning, and remaining 1/4 cup of grated Parmesan. Spread the cream cheese mixture over the noodles covering evenly. Top with the meat sauce distributing evenly. Sprinkle the mozzarella cheese first, then the cheddar, lastly the shaved Parmesan. (To make ahead, you can cover and place in refrigerator until ready to bake.)
Cover with foil and bake for 30 minutes. Uncover and bake for 10 more minutes until the cheese is brown and bubbly. You can also broil a few minutes if you like the top crusty.
Allow to sit for 5-10 minutes before cutting into serving size pieces. Serve with a simple green dinner salad and a nice glass of red wine.