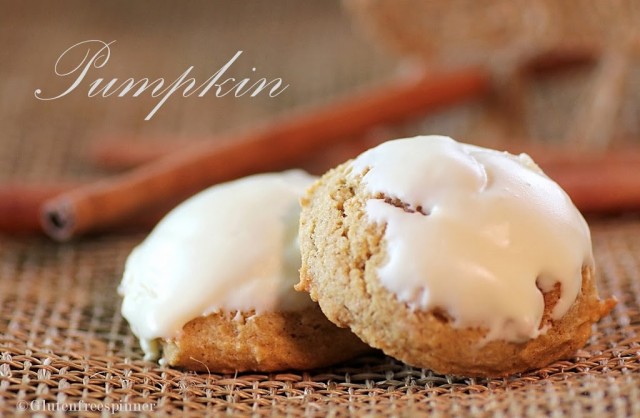 Soft Pumpkin Cookies
Worthy of a re-post for "Pumpkin Day" as claimed on the Nibble
Today, Saturday October 26th, is Pumpkin Day
'Tis the season for everything pumpkin! These super soft pumpkin cookies are like little spice cakes only in a cookie. The original recipe is an old favorite by Libby Brand Pumpkin and I converted it to gluten free by using gluten free all purpose flour and a little guar gum. I'm having great luck with Gluten Free Pantry All Purpose Flour and highly recommend it. I also added cloves for a bit more spice and I kicked up the icing with rum extract and orange juice. Yummy!
But then….how about adding chocolate chips? Mmm…chocolate and pumpkin? That would be really good too…but I don't want all of them to have chocolate. I know…a chocolate kiss! Oh yah…and not just any kiss….a dark chocolate kiss.
Taa Daa! A pumpkin kiss cookie. (Tee Hee)
Happy Pumpkin Time….Pumpkin.
Ingredients
2 1/2 cups all-purpose Gluten Free flour (I used Gluten Free Pantry AP Flour)

1 teaspoon baking soda

1 teaspoon baking powder

½ tsp guar gum

1 1/2 teaspoons ground cinnamon

1/2 teaspoon fresh ground nutmeg

1/2 teaspoon ground cloves

1/2 teaspoon salt

1/2 cup butter, softened

1 1/2 cups granulated sugar

1 cup Libby's 100% Pure Pumpkin

1 egg

1 teaspoon vanilla extract
Directions
Preheat oven to 350 degrees. Prepare two baking sheets with parchment paper.
Combine flour, baking soda, baking powder, guar gum, cinnamon, nutmeg, ground cloves, and salt; set aside.
In a medium bowl, cream together the butter and sugar. Add pumpkin, egg, and vanilla to butter mixture, and beat until creamy. Mix in dry ingredients. Drop on cookie sheet by heaping tablespoonfuls.
Bake for 14 to 15 minutes in the preheated oven. Allow cookies to cool. Dip the top of cookies in the glaze and spin to coat. Allow icing to set on cooling rack. Makes about 30-33 cookies.
FOR GLAZE:
2 cups powdered sugar

3 Tbsp orange juice

1 Tbsp melted butter

¼ tsp rum extract (no more…it's very strong) (can substitute vanilla)
Combine all ingredients and adjust for consistency. Orange zest would be wonderful added to this glaze too.
** For Pumpkin Kiss Cookies, use Hershey's Dark Chocolate Kisses, remove wrapper and press in the center of cookie prior to baking.