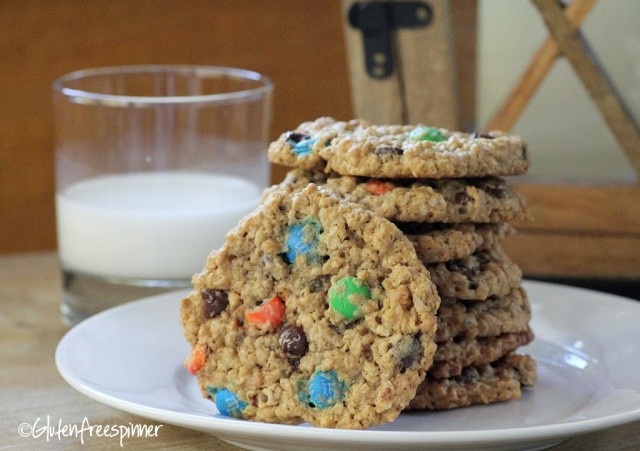 Monster Cookies
Revisiting an old favorite and adding a little spinn.  These tasty little gems filled with grains and goodies were a favorite in our house when the kids were little, and at that time their natural gluten free qualities weren't even recognized as such (with gluten free oats of course).
Two weeks ago my nephew came for a visit and brought a batch of Monster Cookies that his mom made knowing I lived gluten free.  Each yummy bite brought back memories of those happy little faces picking out the colored candies and gobbling up the peanutty goodness.
A batch of Monster Cookies was now a must..for both the nostalgic trip I'd be taking as well as the fun of sharing them with you.
Thanks Nathan and Katie…I loved the memories as much as the yumminess!
XOXO…. Mary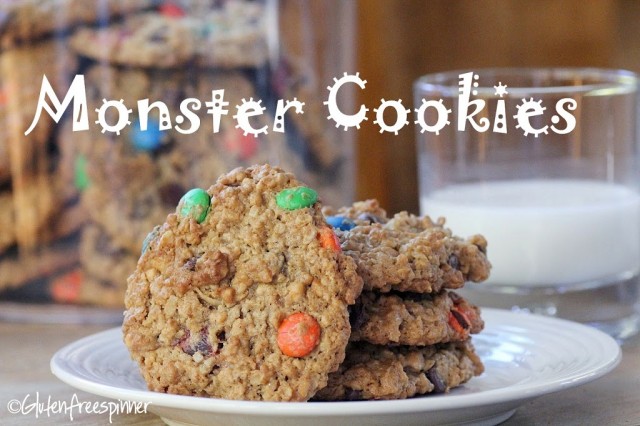 My 'spinn' on these classic cookies was adding a little coconut and a bit of Karo Light Corn Syrup to keep them chewy.  If you like a crisper cookie, omit the corn syrup.
Ingredients:
1 1/2 cups chunky peanut butter
1 cup packed light brown sugar
1 cup white sugar
1/2 cup (1 stick) butter, softened
3 large eggs
1 Tbsp light corn syrup (keeps them chewy!)
1 Tbsp vanilla extract
4 3/4 cups gluten free quick cooking oats
1/2 cup flaked coconut
2 tsp baking soda
1 cup semi-sweet chocolate chips
1 cup plain M&M milk chocolate candies (or a 8.2 oz pkg)
Directions:
Preheat oven to 350 degrees.  Line a cookie sheet with parchment paper.
In a large mixing bowl combine, the peanut butter, sugars, and butter with an electric mixer until well combined.  Mix in the eggs, corn syrup, and vanilla.  Mix in the oats, coconut, and baking soda.  Stir in the chocolate chips and M&M's.
Gather a heaping Tbsp of dough pressing it together as you drop onto the prepared baking sheet.  Bake 13-15 minutes or until they are golden on top (cookies will be about 3″ in diameter when baked).  Cool for 5 minutes to allow the cookie to bind before transferring to a cooling rack.  Cool completely and store in an airtight container.