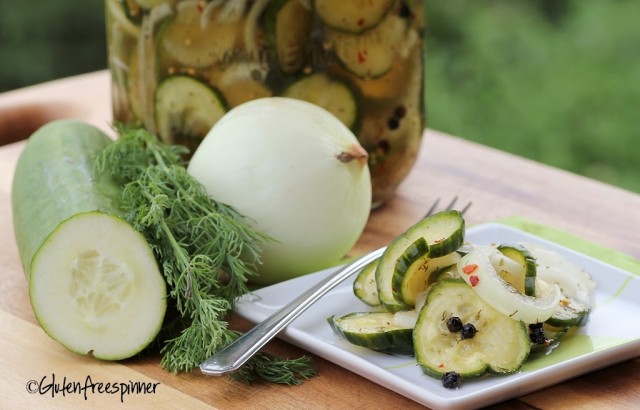 Zesty Refrigerator Pickles
Cucumbers….glorious cucumbers!
The fragrance alone of a fresh cut cucumber says Summer unlike any other vegetable, and our favorite preparation is the refrigerator pickle.
Mr. Spinner's birthday was this past weekend so I made a two quart jar filled with refrigerator pickles just for him. But these aren't your ordinary pickle, oh no…these are zesty with the addition of pepper corns and red pepper flakes, because…you see…Mr. Spinner loves all things spicy.
So to kick it up yet one more level and add my special spinn, I used three different vinegars to get even better results for these zesty birthday pickles. The result is an absolutely wonderfully birthdaylicious refrigerator pickle.
Happy Birthday to You…Mr. Spinner…My Love
3 large English cucumbers, thinly sliced – unpeeled (about 6-7 cups)

2 medium vidalia onions (or other sweet onion) sliced thin

1 cup rice wine vinegar

1/4 cup apple cider vinegar (Bragg)

1/4 cup white balsamic vinegar

1/2 cup water

1 1/2 cups white sugar

1 Tbsp fine sea salt

1/2 tsp white pepper

2 tsp celery seed

2 tsp mustard seed

2 tsp green peppercorns

2 tsp black peppercorns

1 Tbsp dried dill weed

3 springs of fresh dill weed

1 tsp red pepper flakes
Directions:
Place the sliced cucumbers and onions in a large glass bowl and set aside.
In a medium sauce pan bring the vinegars, water, sugar and salt to a boil. Reduce to med-low and allow to quick simmer for 6-8 minutes or until the sugar dissolves. Remove from heat and add the white pepper, celery seed, mustard seed, green and black peppercorns, dried dill weed, and red pepper flakes. Stir to combine all ingredients. Pour over the sliced cucumbers and toss with tongs to coat all the cucumber slices with the brine. Allow to cool for 15 minutes, stirring frequently.
Transfer to a 2 quart jar and add the sprigs of fresh dill weed, pushing down to submerge into the brine. Allow to cool then place lid on tightly and refrigerate at least overnight.