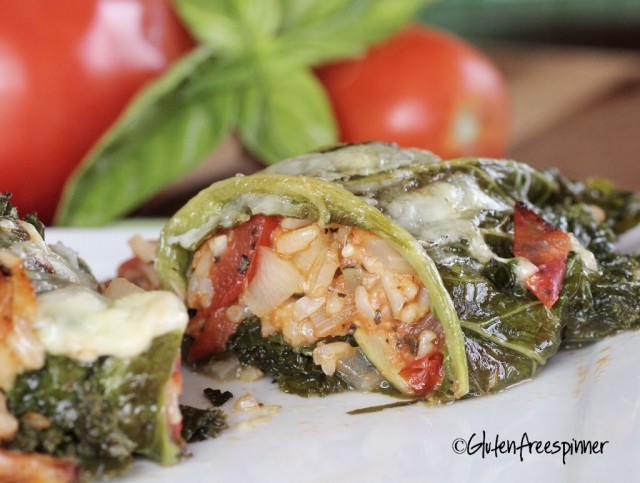 A bunch of leafy kale, 1 ripe zucchini, and 3 Roma tomatoes are the remaining vegetables I received as gifts from my gardening friends. I'm always honored when they share their harvest with me as I appreciate the work and talent in growing your own. But I'm not much of a gardener, and honestly I could be if I didn't have to encounter bugs, worms, and other creatures that inhabit the earth. And yes, I know they are necessary for healthy plants and they won't hurt me…I just don't want to see or touch them. Pansy I am…admittedly. Which adds to my admiration for those who garden.
So these remaining beauties are staring at me waiting for the magic to begin…oh what to do to best showcase these veggies? It's too warm for soup…not enough for a casserole…
Stuffed Kale and Zucchini Rolls…perfect.
Thank you Kim and Melanie…
One bunch of kale, stems cut, washed

1 Tbsp olive oil

1 Tbsp butter

2 -3 roma tomatoes, chopped (about 1 cup)

1 medium zucchini, center seeds removed, chopped (about 1 cup)

1/2 cup chopped onion

2 tsp sea salt

1 tsp fresh black pepper

1 tsp dried basil or 1 Tbsp fresh, chopped

2 tsp minced garlic

1 Tbsp tomato paste

1/2 tsp sugar

1/2 cup cooked brown rice

1/4 cup grated parmesan cheese

4 thin slices of Swiss cheese
Preheat oven to 375 degrees. Prepare a buttered casserole dish.
Blanch the kale leaves in boiling salted water just until color turns bright, about 45 seconds to 1 minute. Remove from water and open the leaves laying flat on paper towel.
Heat the olive oil and butter in medium skillet and saute the onions, zucchini, and tomatoes. Season with salt, pepper, and basil. As they start to become tender, add the garlic, tomato paste, and sugar and saute for another minute or two. Add the cooked brown rice and parmesan cheese. Taste for seasoning.
Fill each Kale leaf with about 2-4 Tbsp of the filling, depending on the size of your leaves. This is a rustic roll, so don't expect them to behave as cabbage. Just roll the leaf over the filling and place seam side down in buttered casserole dish. Some of the filling may fall out, just tuck in or place it in the dish next to the roll. Any remaining filling can be placed along the sides of rolls.
Lay the Swiss cheese slices across the top and bake in preheated 375 degree oven for 16-18 minutes. Turn oven to broil to brown the tops a little. Allow to rest 5 minutes and serve.