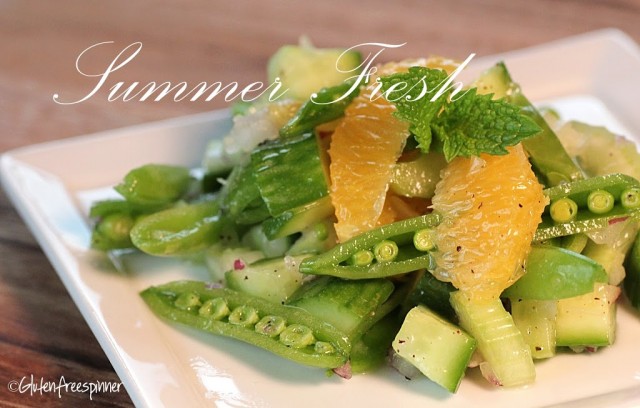 A deliciously light and fresh salad bursting with the flavors of Summer.
Racing out the door on those busy mornings often has me scrambling to find something to pack for lunch. Options are limited when on the road so I either drink a lot of water or snack on gluten free protein bars. Not the best plan for increasing my metabolism, so I keep my eye out for quick salad ideas that vary from the ordinary lettuce varieties.

This was the inspiration for my salad as I love anything involving sugar snap peas! I started with the basics and 'spunn' more flavor into the salad by adding mint, fresh orange segments, red onions, and celery for even more crunch. I kicked up the dressing with limes and fresh squeezed orange juice creating a slightly sweet-tangy drizzle of yumminess. It made about 2 cups of salad and I devoured the entire container in one sitting. You can easily make this the night before or whip it up before walking out the door. Double the recipe and serve for dinner with grilled fish or chicken. Crisp, light, fresh…..Mmm.
1 cup sugar snap peas cut in half lengthwise

1 cup English cucumbers cut in large dice (don't peel)

1/2 cup diced celery

2 Tbsp minced red onion

1 orange, segmented into supreme's… reserving juice (watch video – so easy!)
Dressing:
Juice of the segmented orange (squeeze the orange after segmenting to get all!)

Juice of 1/2 lime

2 Tbsp olive oil (I use light)

1 tsp fresh minced ginger

1 tsp sugar (or honey)

5 mint leaves, torn into small pieces plus more for garnish

Sea salt and fresh ground pepper
Directions:
Assemble the pea pods, cucumbers, celery, onions, and orange in a medium glass bowl. Whisk or shake the dressing ingredients until blended and pour over the salad. Toss to combine. Enjoy immediately or refrigerate until ready to serve. Garnish with fresh mint leaves.