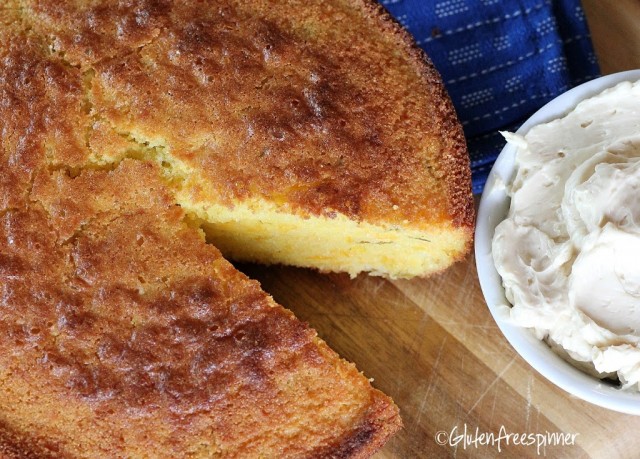 Chili Cornbread with Maple Butter
There is a restaurant near our home called, "Redstone Grill" and it's one of those places where you always leave happy and satisfied. The warm atmosphere has a classy-rustic feel from the woodfire grill that fills your senses with smokey fireside aroma's as you walk through the mahogany doors.

Fireplaces glow on both sides of the foyer framing the center-front bar that pulls you in for a starter cocktail. We've celebrated many girls-nights-out at Redstone enjoying their unmatched Rotisserie Chicken Chopped Salad and the Lodge Cornbread with Maple Butter. Cornbread wasn't a favorite of mine until I had it at Redstone Grill…it's over the top!
In 2006 a friend of mine found the recipe, and whether it's original or not, it does a great job of mimicking Redstone's. First thing to note, this is not a low calorie fat-free choice…it's full flavor and full fat…but oh what an indulgence it is! Its worth the calories…at least once in a while.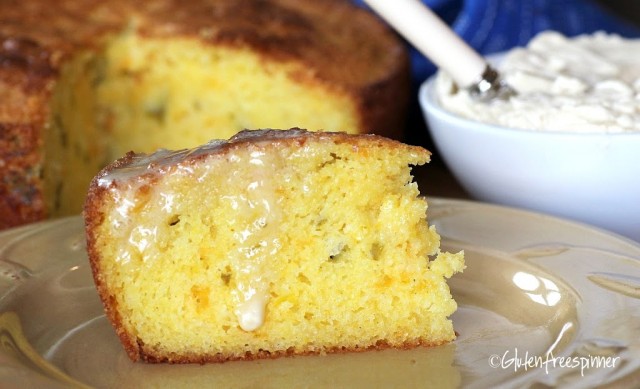 Here's my gluten free version of Redstone's Lodge Cornbread with Maple Butter. I converted it to gluten free to bring to my son's birthday celebration where he served fried fish…it was a great compliment to the meal. The Maple Butter is a must as it's sweet and creamy giving a wonderful touch of maple to the mild heat from the chili's. The original recipe for maple butter makes waaaay too much so I cut mine in half…it's just too tempting to have leftover maple butter around…I would put it on everything.
A few quick notes for my alterations: One of the ingredients in the original recipe is canned creamed corn, which isn't gluten free, so I made a version of creamed corn that's easy and worked perfectly in this recipe. I also used a round heavy stone casserole dish which created a nice golden brown outer crust leaving the inside moist and tender. Lastly, I lowered the temperature after 25 minutes as the top was browning quickly. This method worked perfectly allowing the bread to rise high and cook through while keeping it moist.
This cornbread is best served warm because the maple butter melts down the side and…ummmm…..its just an experience you shouldn't miss.
XO Mary
Corn Bread:
3/4 cup cornmeal

3/4 cup GF all-purpose flour

1/4 tsp salt

1 1/2 Tbsp baking powder

½ tsp guar gum (omit if your GF all-purpose already has)

4 eggs

3/4 cup sugar

Creamed corn mixture: 3/4 cup frozen corn, thawed mixed with ¼ cup half and half and 2 Tbsp grated parmesan– ground in food processor to resemble creamed corn

4 ounce can diced green chilies, drained well

1/2 cup butter softened

1/2 cup shredded monterey jack and cheddar cheese blend
Maple Butter
1 cup butter, softened

1/2 cup 100% maple syrup

1/2 tsp sea salt
Allow butter to soften to room temperature. With a mixer, whip butter & Salt until creamy. Slowly drizzle syrup into mixture until well blended.
Directions:
Preheat oven to 400 degrees.
(If you're looking for a good gluten free all purpose flour, check out my recipe here.)
Mix all ingredients together in the order given, pour into greased 8″ or 9″ round stone casserole dish or iron skillet.
Bake 25 minutes, reduce heat to 375 and bake another 13-16 minutes – Insert toothpick- if it comes out clean the corn bread is done. If not, continue baking & check every 5 minutes with a toothpick.
Serve warm with Maple Butter.